Hi friends! Happy Friday!! So excited for the weekend. What are you up to?? We're headed to a holiday party, my aunt and uncle will be in town, and I'm getting a much-needed haircut. I may fall asleep in the shampoo chair.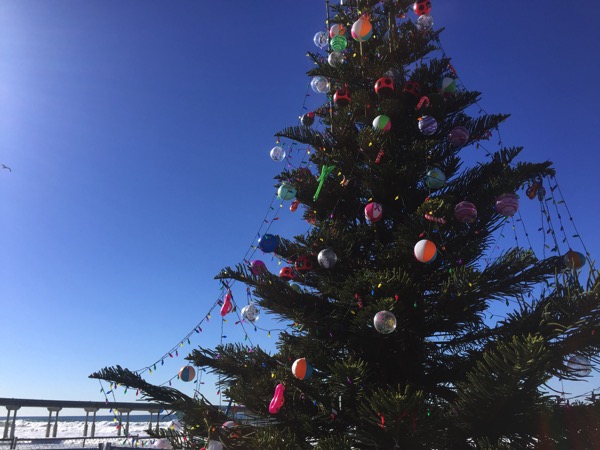 (Love the OB tree!)
Before we get this Friday Faves party started, HUGE congratulations to all of the winners of the Favorite Things giveaways. I'm so happy that you were excited about the giveaways and I had such a blast putting all of them together. I hope the winners enjoy their goodies!
Rewined: Allison M., Melanie H.

Fabletics: Jody H., Karin H.

Suja: Nicole G.

White Plum: Waiting on the name of the winner and will update when I receive it 🙂

Physique 57: Laura G., Emily D., Danielle M., Kate W., Mary C., Laura G., Tiffany, Stacey, Kelly J., Amanda C., Lindsay H., Angie M., Julya R.

Manduka: Erika S.

My giveaway: Aimee S.
Thank you so much for all of the amazing survey responses, too. I've been sorting through everything and making a giant list of ideas and plans for 2016. Ya'll have me very excited about the New Year! Also, please follow me on Periscope (fitnessista) if you want to join in some impromptu workout fun. 😉
It's been a pretty great week. Yesterday was Livi's first play ever, and of course, she crushed it.
The cutest little piggy I ever did see.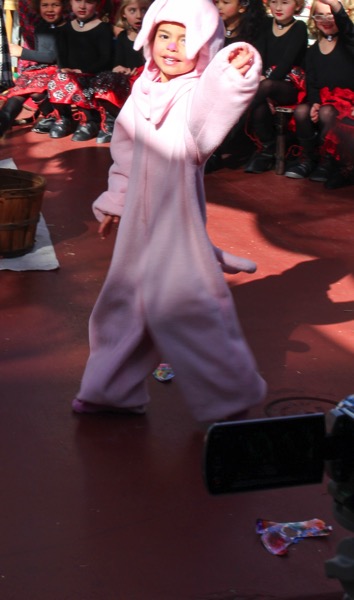 I'm so happy her school is giving each family a DVD copy of the performance so our family can watch it.
Later that afternoon, we took the girls to the mall for their Santa pic.
In the past, Santa has been hit or miss, and last year was the first time Livi let a candy cane convince her to have her photo taken. (In all fairness, it's totally creepy to have to get a photo taken with a total stranger, so I get it. This is why I usually don't push the Santa thing if she's not feeling it.) This year, she walked right up and had a full conversation with him. When he asked what she'd like for Christmas, she said "a teddy bear."
P was just like whatevs. You hold me? Cool.
We had dinner at Tender Greens after: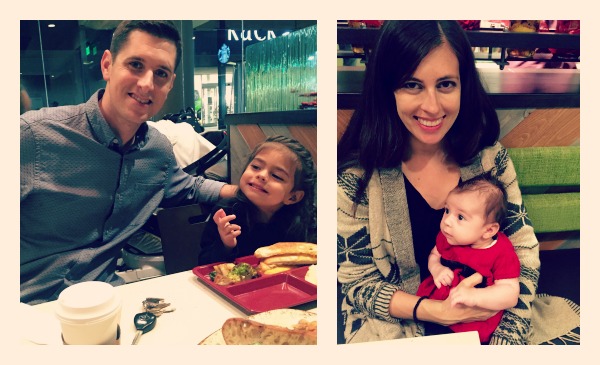 Here are some faves from the week and around the web:
#1: RETURN TO ORANGETHEORY. This was the #1 fitness event I was looking forward to post-baby, and it did not disappoint. I was totally roadkill, but in the best way possible. It was a power day, which is my personal favorite, and my body was like, "What is this burpee you speak of?" Class was fantastic, the instructor (Kelli!) was energetic and knowledgeable, and I left flying on a cloud of much-needed endorphins.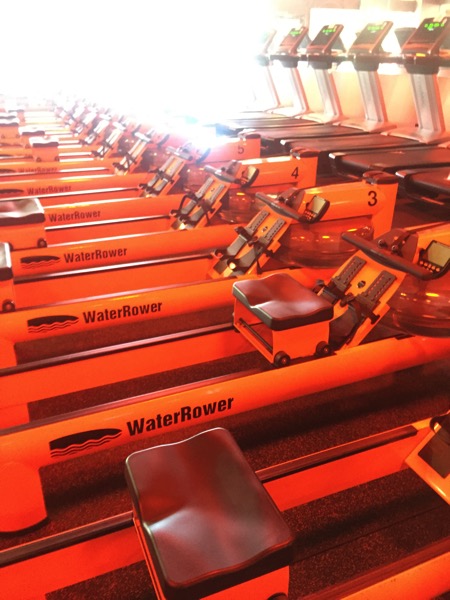 I walked almost the entire treadmill set, and still had 20 orange points! I'm excited to start building my strength and endurance back up.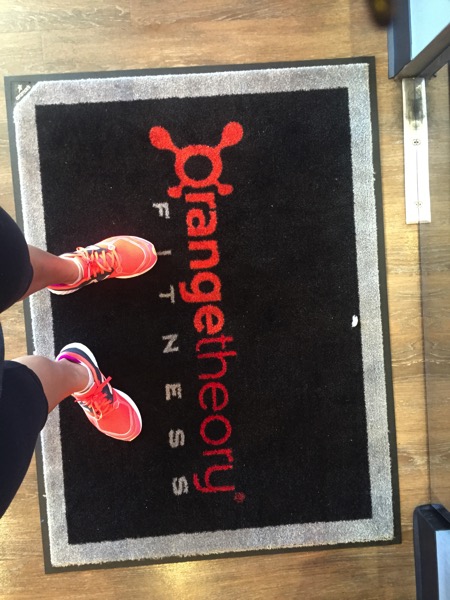 Solid advice if you're considering becoming a fitness instructor.
Validation. haha.
A morning breakfast date with my love (and P! Livi was at school). We got Better Buzz, and their oatmeal was served in this cute little container: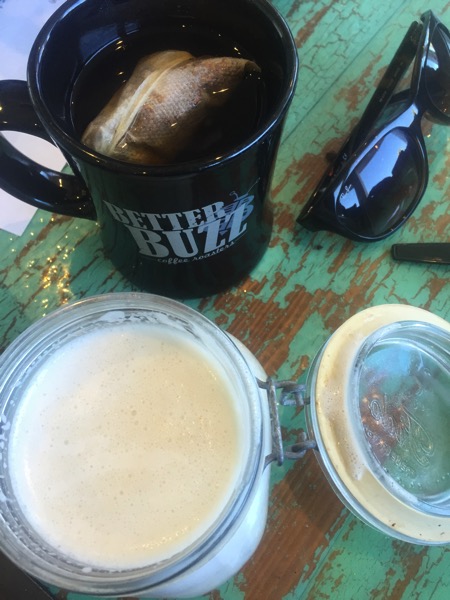 I had oats with almond milk, banana, dried cranberries and almonds.
P wearing real clothes. 🙂 She is usually is jammies, but she decided to test out her Freshly Picked moccs with her head wrap and "I'm so Fancy" onesie.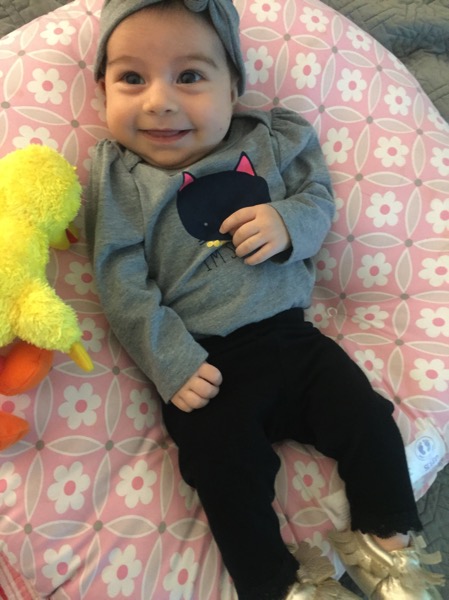 Healthier versions of favorite holiday cookies.
Me watching with a container or popcorn.
THE VOICE! (<— the Pilot and I call it "La Voz")
I won't spoil it if you haven't watched the finale yet, but I stayed up wayyyy too late to get the news. It was my favorite season so far!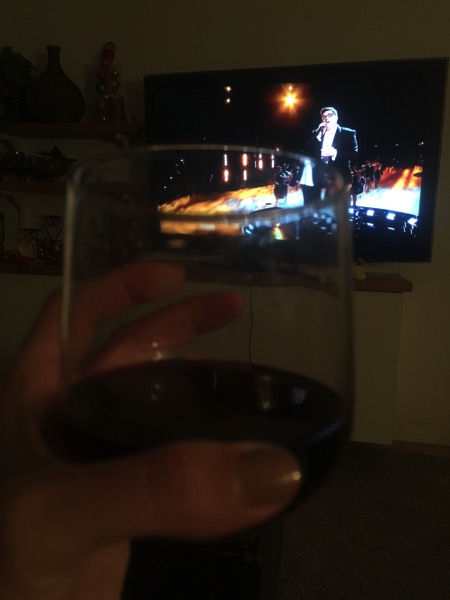 10 things I want my daughter to know about working out.
Fuller House is really coming.
Obsessed with these layered sweaters at Athro. (<— 40% off all sweaters right now! Merry Christmas to me? haha)
These two make my heart so happy.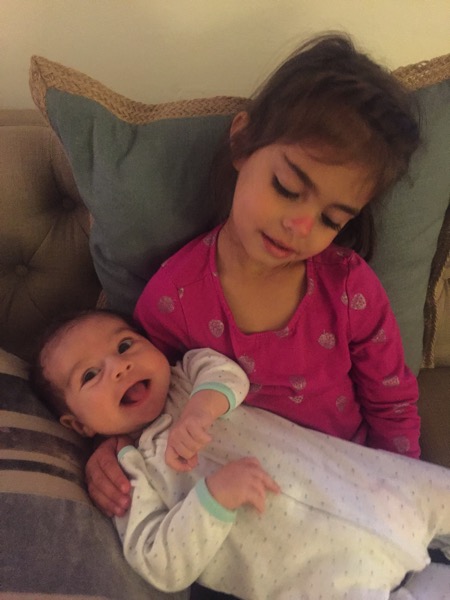 Happy Friday, friends! What are you loving this week? Anyone else rekindled with an old fitness love?
xoxo
Gina