Heading towards the Invisalign finish line
I am partnering with the Invisalign® brand, but all opinions expressed are my own. Full disclosure.
It's hard to believe that just a couple of weeks ago, I received my LAST set of Invisalign® clear aligners, and I should be done in February.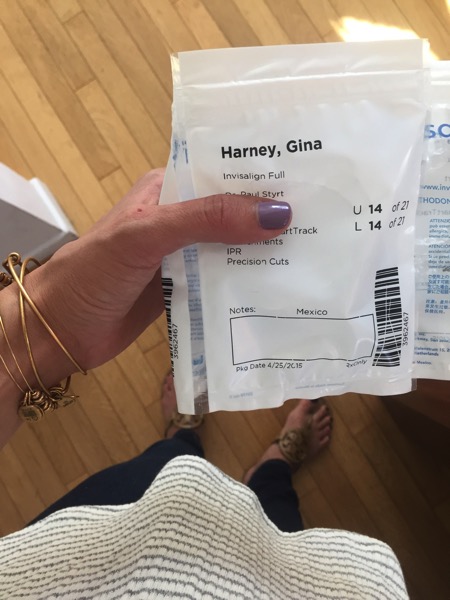 (After that point, I'll receive my retainers and will transition to only wearing them at night, instead of the 22 hours a day.)
Since early spring Invisalign clear aligners has been a big part of my everyday life and has become such a habit. It's strange to think that I'm almost done and I won't have to wear them anymore. For the first time ever, in a fraction of the time that I had traditional metal braces, I'm going to have straight teeth.
When I went into the office, my orthodontist (who is awesome, btw), asked how I was doing with the clear aligners. I've been diligent about wearing them the 22 hours a day -only taking them out to eat, drink something hot/colored, and brush- and I told him I'd been slacking a bit with the rubber bands.
"Why haven't you been wearing them?"
"I had a baby two weeks ago, and I just haven't felt like it."
He forgave me for that one (haha), and I've gotten back on the rubber band wagon. I'll only have to wear the rubber bands until set #18 -I'm on 14 right now- and then my bite should be good to go.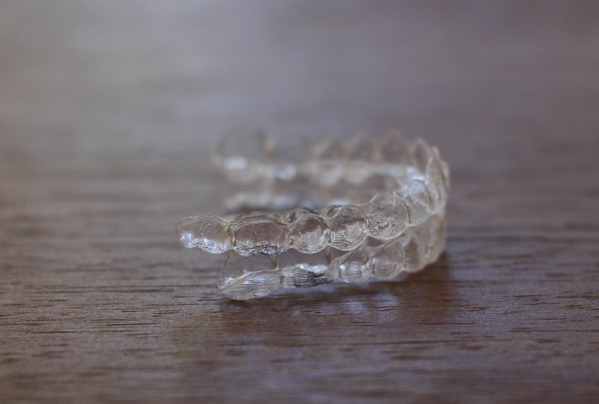 Some of the things I've noticed during my treatment journey:
-It feels great to brush and floss more often. I used to do it 2x a day, but since wearing the clear aligners, I like to keep my teeth super clean, I now brush more often. This is a good habit that will likely stick with me.
-As an adult, with a busy schedule, I was really thankful that I only had a few orthodontist appointments. Instead of the constant visits when I was younger, often to make adjustments, change the wires, etc., I've only needed to go a few times to get checked and receive my new trays. It was nice to not feel bombarded with constant appointments. When I go, it's quick and easy. No picking, prodding, wiring, or drawn out appointments.
-A couple of front bottom teeth are loose, which freaked me out at first. It was good to learn that this is totally normal as the teeth shift, and everything can settle into place.
-SO many people are curious about Invisalign clear aligners. No one seems to notice the trays from afar, but I'm often asked about how I like my treatment. I'm always excited to share the word with how convenient they've been. They're inconspicuous, I can take them out to eat, and they work well, and quickly. For a long time, I didn't think I'd be a candidate for Invisalign clear aligners because of my overbite/crossbite situation. The technology has become so advanced that they're able to treat more difficult cases, so it's definitely worth getting a consultation if it's something you've considered. Click here to find a doctor near you.
-I'm going to do what I need to do to maintain my results, whether it's through a permanent retainer, or continuing to wear my refinement trays after my treatment is over. I'm already so happy with the results, and I can't wait to see what the final outcome looks like.
Xoxo
Gina
To learn more about treatment, check it out here!