Hi friends! Happy Friday! Hope you have a wonderful weekend ahead. We are going apple picking (and pie-eating haha), going out with friends, and celebrating the Pilot's birthday (which is on Monday). It's going to be a great one.
I wanted to apologize for the tech issues lately with the blog. First my baby site crashes my full site (PBB was a little firecracker this week), and many of you have let me know my posts haven't been showing up on Bloglovin' and Feedly. Bloglovin' fixed the problem, but I'm hoping we can get Feedly figured out soon. Latest post is on the family page here if you missed it!
It's time to head into the Faves from the week and around the web. I always love to hear what you're enjoying, too, so please shout it out in the comments section if you would like to join in the fun.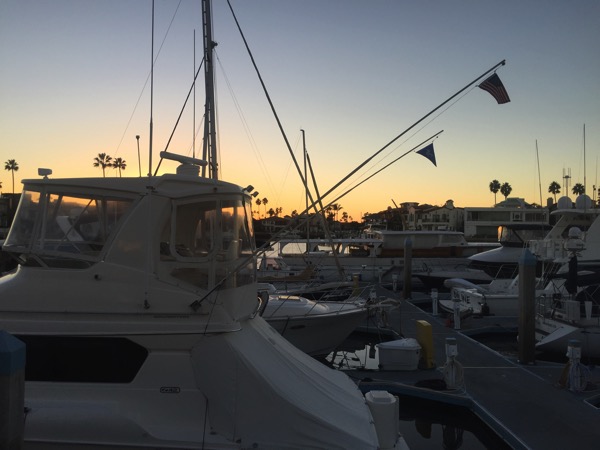 It's challenge time! I'm going to be hosting a quick 7-day challenge, starting on November 1st. If you want to join in the party, make sure you're on my email list by signing up below. I'll be emailing out all of the details next week so we can rock it on November 1. It's a great way to reset cravings, bump up the motivation, and have a team to cheer each other on. We'll also have a private Facebook group where I'll chime in each day to answer questions.
A special thanks to Jazzercise for inviting me to guest post on their blog! Please check out my post here with tips on staying healthy (and sane) during the busy holiday season. 🙂
A fun date night. We had a formal event for the Pilot's work, and I officially took my dress shopping procrastination to a new level. It started at 5pm, and at 2pm yesterday, I was at Macy's scurrying around for a dress and taking votes/advice via Snapchat. (Username is fitnessista if you'd like to follow the shenanigans.)
I was IN LOVE with this dress.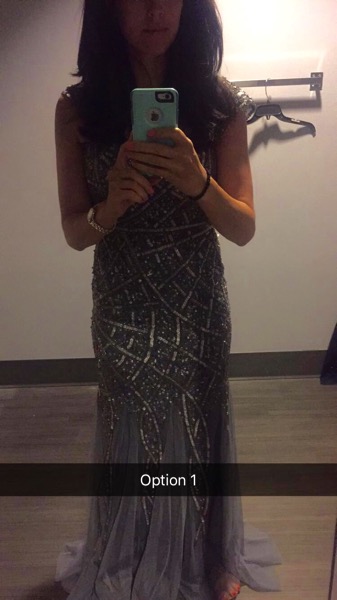 I'm tempted to go back and get it for upcoming holiday fancypants events because it's so gorgeous in person. I'm in between sizes and obviously wouldn't have had time to get it tailored in the 3 hours yesterday, but it's seriously amazing. (Also, dresses are 20% off in our store right now! I'm not sure if all Macy's are doing it, but definitely worth checking out.)
I rolled with the red Ralph Lauren dress that was super comfy and fit perfectly.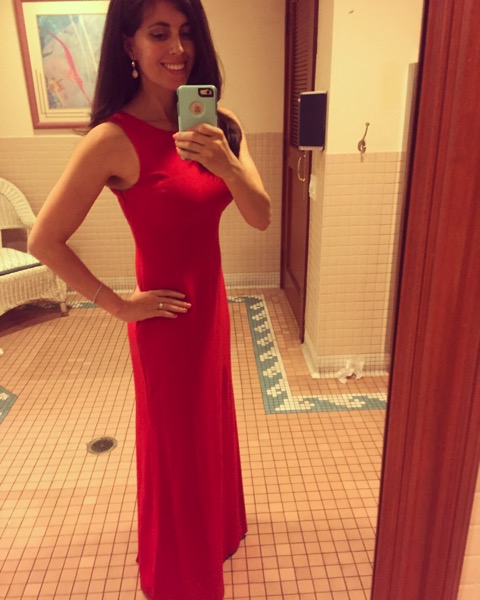 (with Givenchy earrings and nude pumps)
With my handsome date. 🙂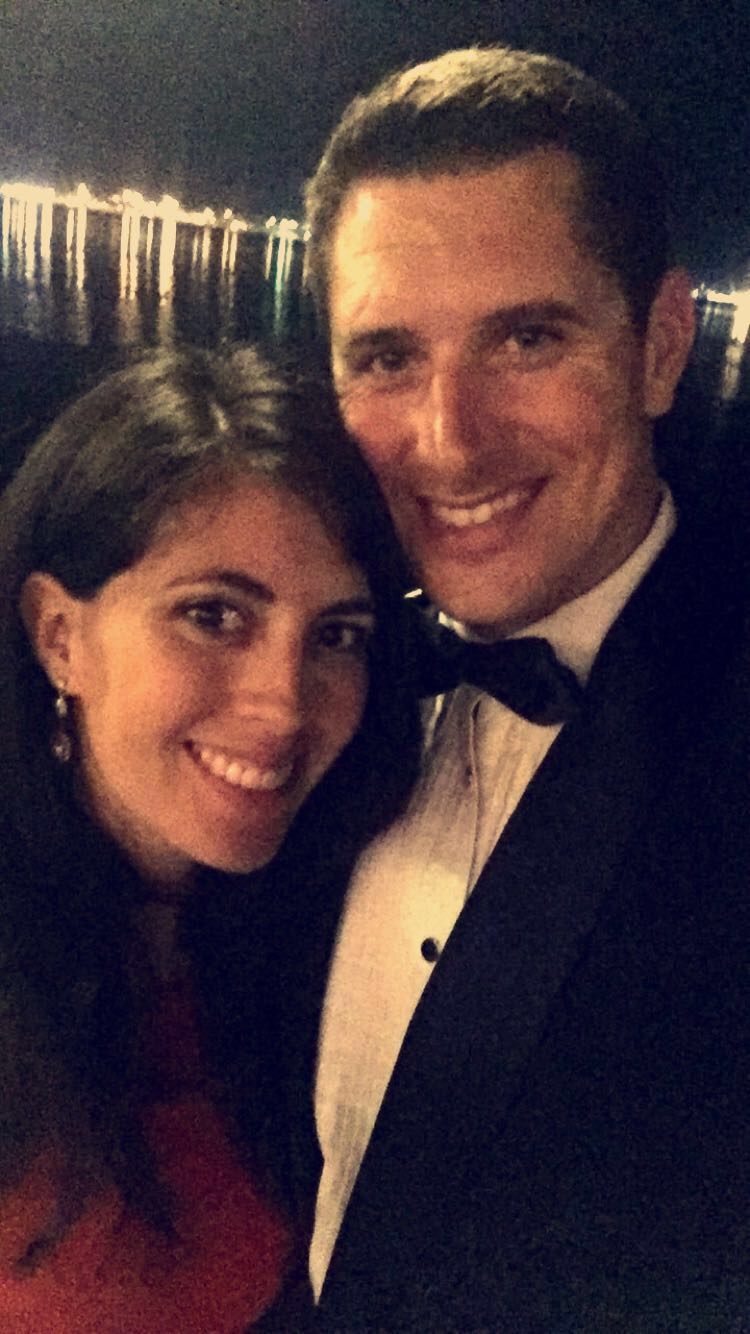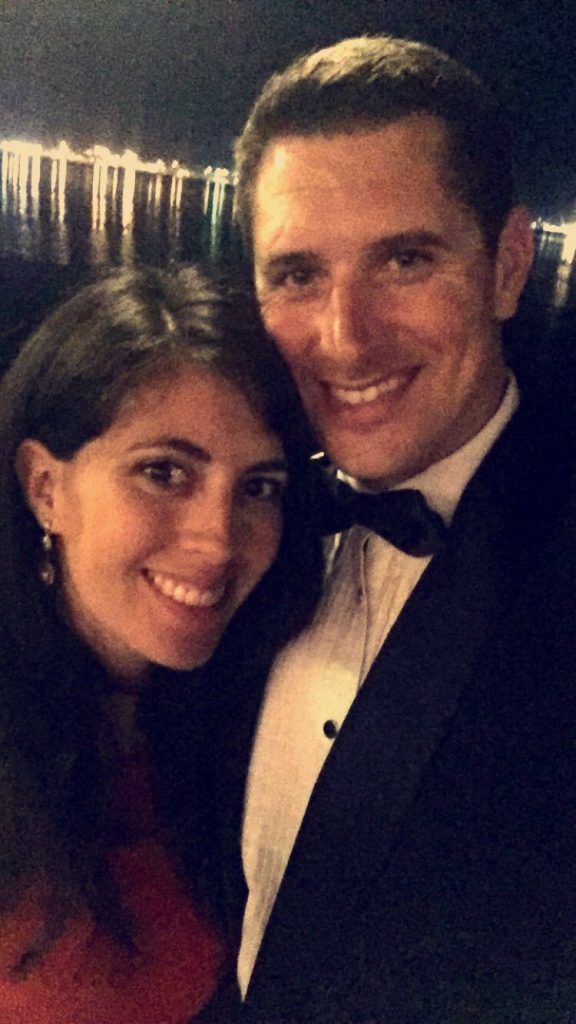 We had a blast hanging out with everyone, drinking margaritas, and listening to inspiring speakers. Also, the DJ got it bumpin' EARLY. He was playing Drake before I could finish my Caesar salad. It was a great night, and Livi had so much fun painting pumpkins with our awesome babysitter after P crashed for bed.
Tips on bullet journaling. I already kind of do this in my Erin Condren planner, but am thinking about switching over in the new year. I'm wondering if there's a great hybrid planner out there?
Really love this new feature on Instagram.
I want to try this golden cauliflower bread!
Need this sugary goodness in my life.
The matching jammies crew. I can't even.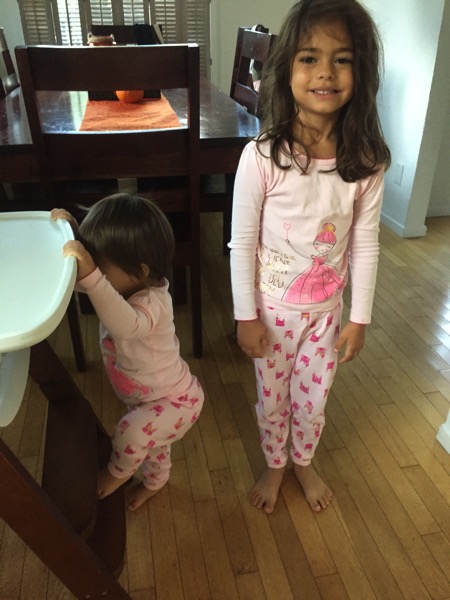 I couldn't get a pic of them both smiling at the same time haha.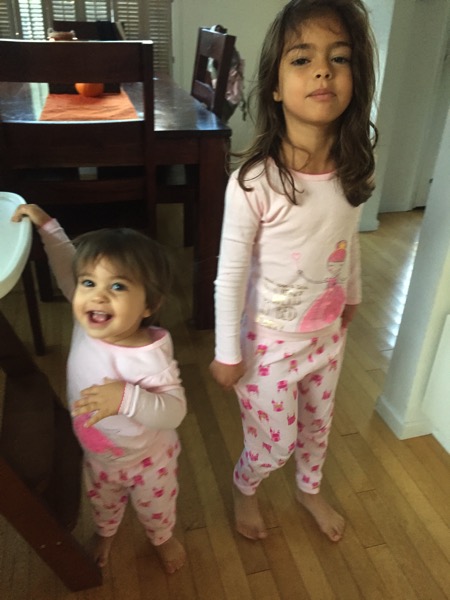 KIMCHI. Ever since I made that tempeh sandwich -I'll have the how-to for my favorite tempeh up next week- I've been enjoying kimchi each day. This version from Whole Foods is delicious! Kimchi is a great source of fiber and probiotics, and the spicy kick in this flavor is perfection.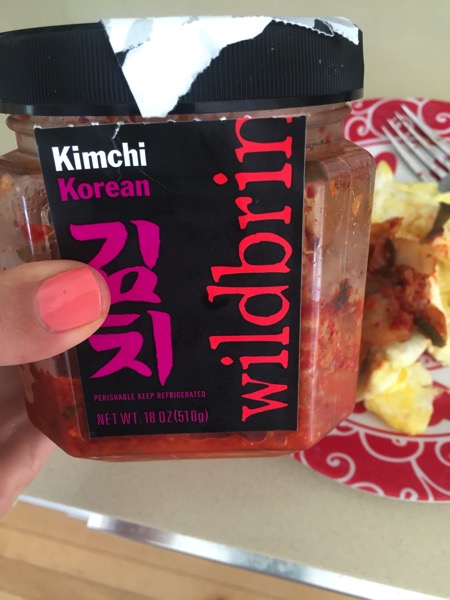 True life. Even though if I have more than 1 glass, I'm hurting the next day.
BBQ sweet potato chicken casserole.
This chia pudding looks amaaaaazing.
This is like two faves mixed together, but I've been really into the Model Health podcast. Shawn's voice is so.dang.smooth, and I could listen to him talk about health and fitness all day haha. (His co-host and producer Jade is so lovely and fun, too.) They invite experts and medical professionals from the wellness space, and I recently listened to the episode about the microbiome with MD and author Robynne Chutkan. I didn't even know what the microbiome was (it's the collection of bacteria, viruses and organisms living within or on the human body) until listening, and downloaded her book on my Kindle immediately. She spoke about how we're over-sanitized as a population, and that bacteria and germs are actually helpful for the human body. She discussed how certain medications and foods can disrupt balance, and ideas to replace important bacteria and restore health. I'm so excited to dive in and learn more about internal healing.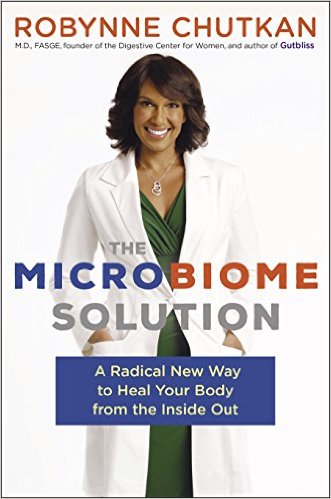 Can't wait to try this baked salmon.
Today, I'm checking out a new spin class, taking care of some chores and to-dos, and then hitting the zoo with the girls.
Have a very happy Friday!
xoxo
Gina