Thank you so much for all of the sweet comments on the belly slideshow– it will be a fun thing to look back on.
It's amazing that the belly went from this: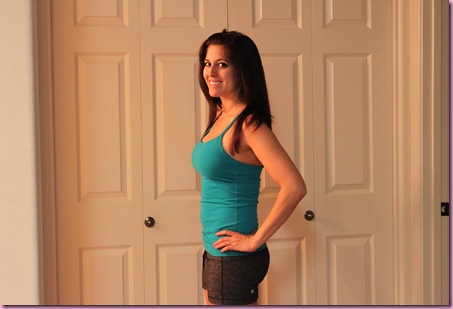 to THIS: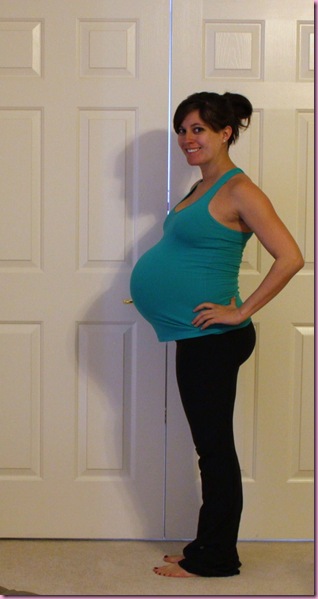 and mad props to lululemon for stretching with me along the way.
Yesterday was my original due date. I asked the midwife to extend it by a few days because my cycle is longer, and I was glad she was totally cool with it. I was really worried about being set up for induction before I'd need to, but it looks like that could end up being an option anyway if little baby doesn't decide to come out in the next week. I have a midwife appointment tomorrow, which I'm a little anxious about because we'll figure out a plan and it will be my first time getting checked for progress. I heard it's uncomfortable/not fun, so I can't really say I'm stoked about it.
Today was my second day of acupuncture in a row to encourage the little lady along. The brilliant thing about acupuncture is that it won't work if the baby isn't ready, but has many benefits besides the ability to initiate labor, like stress reduction, balancing the body's systems, etc. When I went yesterday, I didn't feel extremely confident about it because I couldn't focus or relax. The baby was moving and kicking like crazy, but I was distracted the entire time by the bra that was cutting off my circulation. Nothing to restrict energy flow like a bra that could break at any second. I was wearing athletic clothes, and had grabbed a sports bra out of the drawer to wear. I looked at it and thought "I think it might be too small" and then wore it anyway. During my treatment, I debated asking the acupuncturist to bring me a pair of scissors so I could cut said bra down the middle… but that would be weird.
For today's appointment, I could relax a lot more, and feel like even if it doesn't get the ball rolling, I feel really good, refreshed and relaxed.
I also don't feel like going anywhere in public, but have to for sanity purposes- if I stay in the house right now, I think I'll go crazy. But when I venture out, I think it's obvious that I'm about to pop because everyone keeps asking me. Yesterday, the optical tech at Costco asked if I was "feeling preggy today." Feeling preggy? What does that even mean? I just said "Haha, yeah" and punched him in the face in my mind.
In other news:
-My pump came. I tested it out on my thigh (and on Tom's belly) and it was intense! I do like the tote bag it came with and can definitely see how it will come in handy. Thank you so much for your pump tips, too <3
-I've gotten really good at picking things up with my toes. I'm like a monkey.
-I've been checking out my nose every morning. Apparently –it's a wives' tale- your nose will appear wider the day you go into labor. It's a common question in our house to ask how my nose is looking today.
-Also, word on the street is that a full moon can induce labor. Full moon this weekend……
<3