Someone was up sick all night last night :/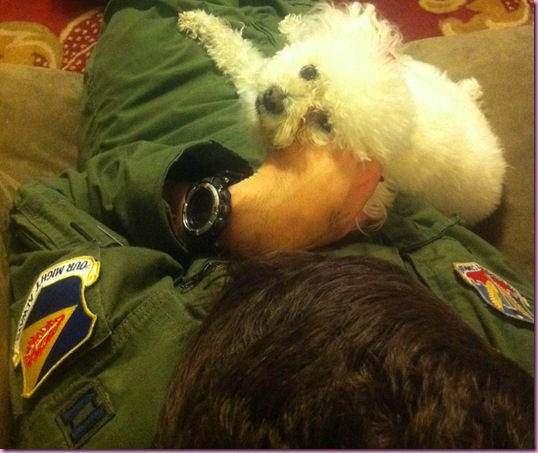 After her canoodle sesh with the Pilot, we all went to bed and she woke up throughout the night. The Pilot took care of her since it's hard for me to get in and out of bed right now, and this morning she's walking around with her tail tucked. If she's not back to her sassy Bella self within a couple of hours, it's off to the vet for us.
Breakfast: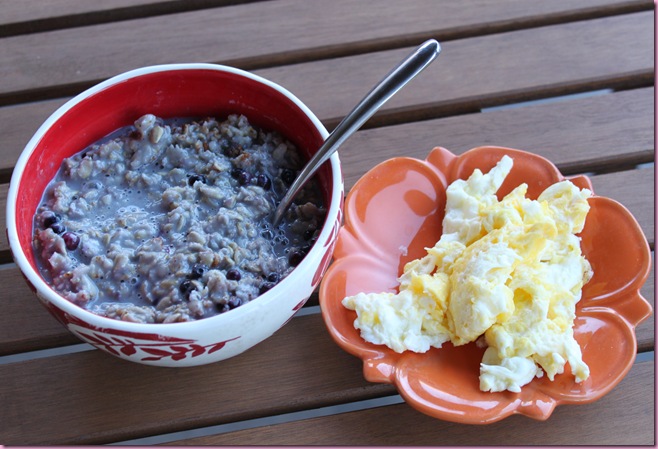 Blueberry oats and two eggs
I actually cracked an egg underneath the pan and basically into the fire- it was fun to clean up 😉 Yes, it's that kinda morning over here… and I'm definitely going to hit up a relaxing yoga podcast later this afternoon.
There are a lot of great podcasts and other at-home yoga options. Since we've already gone over favorite at-home workout options I thought it would be fun to talk about how to "om" at home.
When we lived in Valdosta, it was the most consistently I've practiced yoga, and we didn't have a single yoga studio.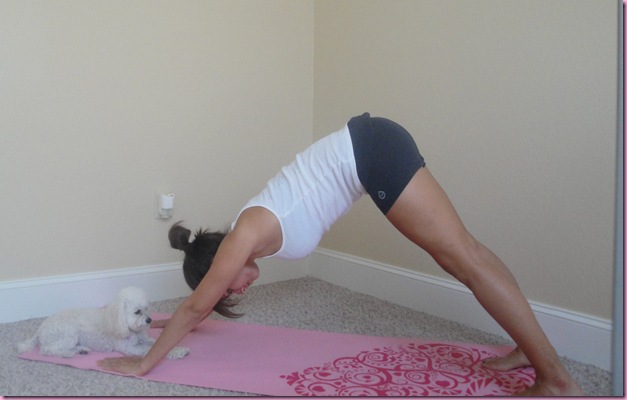 (practicing with my favorite downward dog)
So we converted one of our extra guest rooms into a yoga/workout room, with a space heater, TV with a DVD player and cable- we got the FitTV channel in there, which I loved. My friends and I could do our Insanity and Turbofire DVDs in the workout room, and it was also the perfect space for a good yoga practice.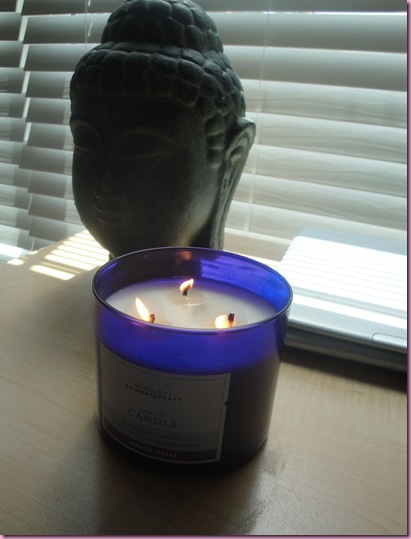 Here are some of my favorite at-home workout options:
1) Podcasts: YogaDownload.com is my favorite (I just wish they would add some new ones), and iTunes is a great resource. Yoga to the People and Dave Farmer are other ones I've really enjoyed. Gaiam TV is pretty new, and has SO many fantastic options- it's $9.95 a month for unlimited access, which is much less expensive than a gym membership.
2) DVDs: The yoga DVDs I've tried are Eoin Finn (amazing), Core Fusion, Yogalosophy and Shiva Rea. I also used to do the Rodney Yee ones back in the day, and they're a great option for beginners. Core Fusion and Yogalosophy are most yoga-inspired than traditional –they add in some fun toning movements and isometric exercises. Shiva Rea is incredible, but may be a little intense for those who just want a workout and not necessarily the spiritual aspect of practicing. (Like when she told me to "massage my womanly buttocks" I lost it- was cracking up and had to switch to something else)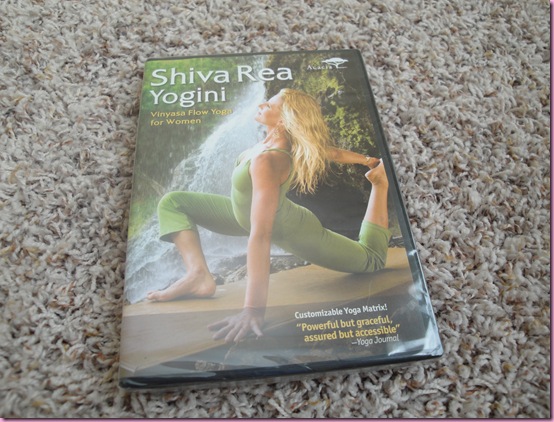 3) TV: FitTV and Exercise TV both include a variety of yoga programs. The only one I've tried is Namaste Yoga, and I really enjoyed it. Some of the flows are pretty challenging, too, especially when I was first getting started.
Some tips for practicing at home:
– Attend a live class so you have an idea of proper form for the basic postures. If you're doing a DVD or podcast, I recommend watching or listening to it first so you know what to expect and can determine whether it's a good option for you.
– Don't do anything crazy at home that you've never tried with a certified instructor. I asked the Pilot to spot me in headstand once and almost ended up slamming into the tile. Be careful!
– If you don't like a particular podcast or DVD that you try, give another one a chance. The beauty about yoga is that there are so many unique instructors,, types and practices out there- you're bound to find something you love. It's a perfect component to a traditional cardio and strength program, as it promotes flexibility, prevents injury through stretching and is good for sanity, too 😉
What's your favorite at-home yoga option?
Do you practice at home or in a studio?
If you've never practiced yoga before, I'm challenging you to try out a class this January- you may find a new workout love <3
I'm off to cuddle a sick pup.
See ya later today with a Family post!
xoxo
Gina
More:
Does yoga count as strength training?