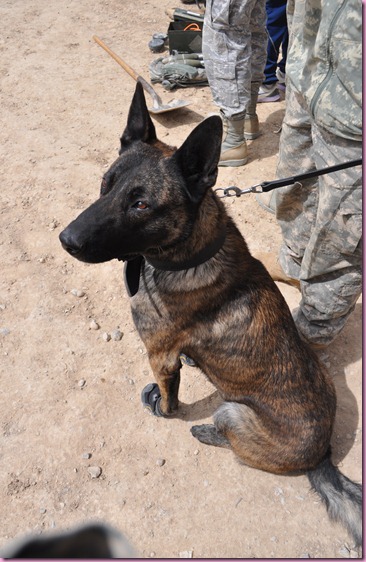 (Kind of looks like a big Viesa, huh?)
Hey hey, what's up, everybody? As you might have guessed, this is the Pilot. How're you all doing? I'm subbing in for the wife who's all kinds of busy today. The past couple weeks have been kind of slow, so when she asked me to blog, I honestly couldn't think of a fun topic. Then we got some visitors.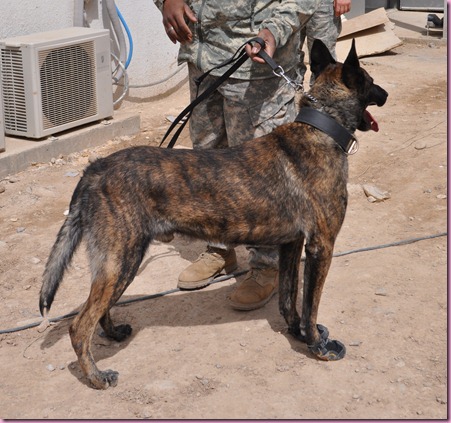 (Faces cropped for operational security)
The squadron did some favors for the security forces that train the K-9s, so they stopped by with a few friends. The dogs perform a variety of roles including the attack function you might see watching "Cops." I've had the privilege of watching them from the targeting pod and it's pretty darn impressive.  The handlers develop a very strong bond with their hounds; growing attached to them as they work missions together. In the field, the dogs wear Kevlar vests designed especially for them that helps protect their vital organs just like any other soldier. However, unlike your typical soldier, they don't carry rifles…because, well, they don't need to.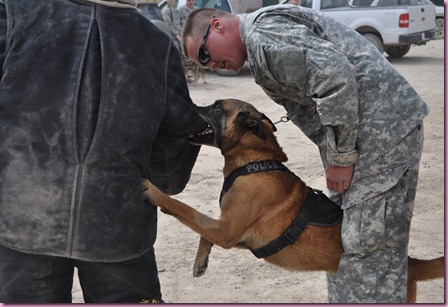 So, here's the kicker. These dogs are in training and they need lots of practice to build confidence…practice running down people.
And they needed volunteers…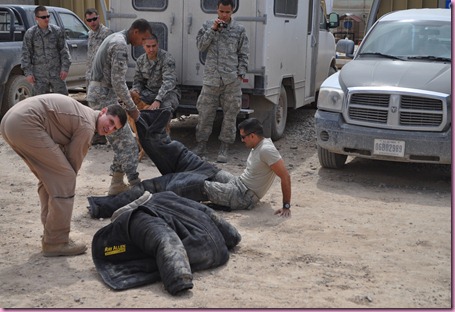 (That's my "what the worst that could happen?" face)
Just between you and me, when I came out and saw the dogs training, all I could think about was walking up and giving the hounds a good scratchin' cause I really miss having being around animals. Well, direct physical contact with a military working dog would probably have been a poor decision so I went for the next best thing. It turns out that the line for volunteers was pretty short…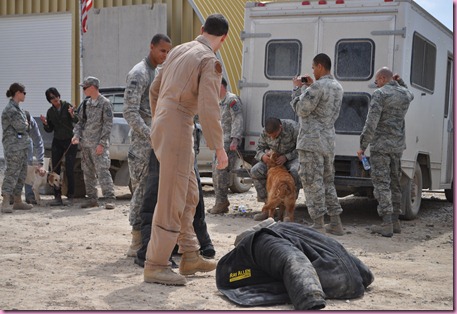 So, I dawned my protective gear and looked into the eyes of a dog that recognized my outfit. The intensity and energy looking back at me was quite a reality check. He sat in eager anticipation next to the handler; at all times displaying the discipline inherent in the training and generations of working side-by-side with man. The handler gave the signal and I did my best walk like a terrorist strut away from them.
So, any interest in seeing the dog go after me? Then check in with the Fitnessista later on today when Gina posts the youtube video! Side note: even while the dog has his teeth in the suit trying to tear away at it, I looked down and saw that pup there and it made me smile.
Can't wait to come home…
Cheers,
The Pilot