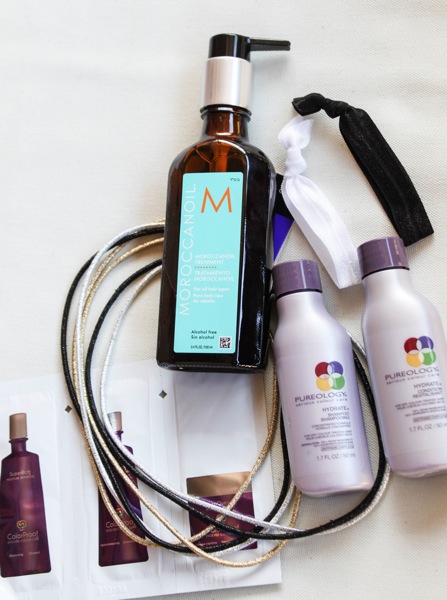 Every year, I can count on Santa Madre to hook me up with some seriously fab hair goodies. She always knows about the newest trends and techniques, and stuffs my stocking with little goodies that are destined to become favorites. Here are some from this year:
Moroccan oil.
This stuff is everything it's hyped up to be. It smells like heaven and makes my hair extremely soft and shiny, while improving frizz factor. I just rub a dime-sized amount onto the second half of my hair (never put oil by the roots as it will make you a bit of a grease ball) while it's still damp and blow dry/air dry and style as normal. It's kinda pricey, but a little goes a long way.
-Twist bands. I have no idea why it took me so long to cross over to these things. My hair is always getting snagged and snapped by hair ties and these help prevent that. I also love that they don't crease my hair (I like to save the gym hair if I can avoid washing it) and are even pretty worn on your wrist, without being too junior.
-Samples and mini bottles. These are awesome to keep stashed in my gym bag, especially since most of my showers are taken at work these days. I especially love Pureology- it's a natural and cruelty-free brand.
-Sparkly headbands. You can never half enough, and they help keep my hair out of my face while teaching or working out.
Some old faves that I still use regularly:
–my styling wand. I especially love that fact that it heats up so quickly- super easy for a quick get-ready routine (10 minutes with hair, makeup and getting dressed).
-Hair dryer. 
-Paddle brush. A giant flap one from Target- pretty sure it's Conair brand.
My hair routine has changed so much and is a lot simpler these days. I'll never forget fighting with my hair in the Valdosta humidity, especially since I liked to wear it straight at the time. On the days I wash it, I'll let it air dry at home, or if it's during my lunch break, I'll take my hair dryer with me to work and blow-dry in between classes. This way, I can curl it at any time to freshen it up, and also recycle my curled hair (it will last a couple of days). I've found that by wearing it wavy, it's a lot more low-maintenance – after it dries naturally, I fix the rogue pieces with a styling wand.
Are there any hair faves you've recently found? Have you tried Moroccan oil or any other types on your hair?
xoxo
G
Oldie but goodie: save the gym hair!