Some of Livi's favorite things 🙂
It was an amazing day to celebrate an amazing little girl. Lots of "Happy Birthday" singing in the morning, breakfast together and then after her first nap, we headed to the zoo. The weather was gorgeous and nana joined us for our adventure.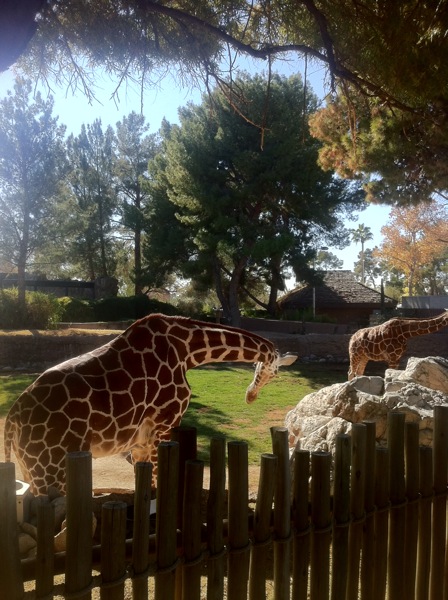 We had a blast walking around- Liv blew kisses to all of the animals and practiced her animal sounds.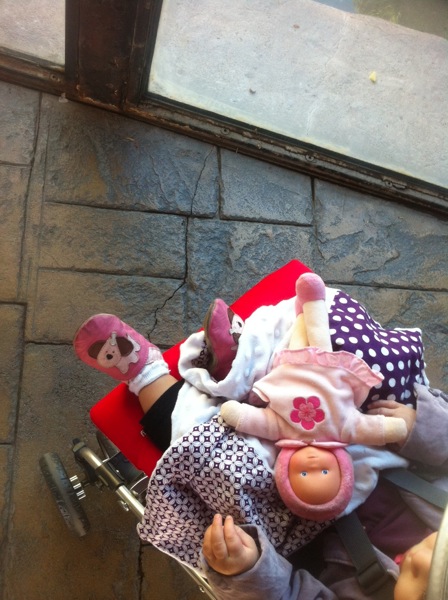 Lunch, back home, and during her afternoon nap, I started to get things ready for a little family get-together at our house.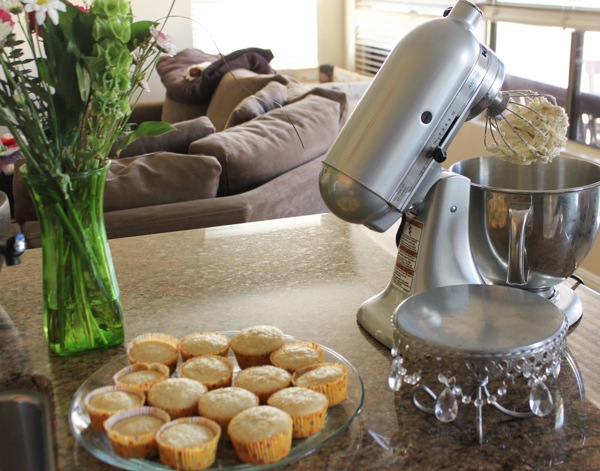 Her party is at the end of the month, but I wanted to invite her grandparents and my bros (+ Meg and Mich!) to come enjoy cake and dinner with us on her actual birth date.
The decor was simple- some pink streamers and a birthday banner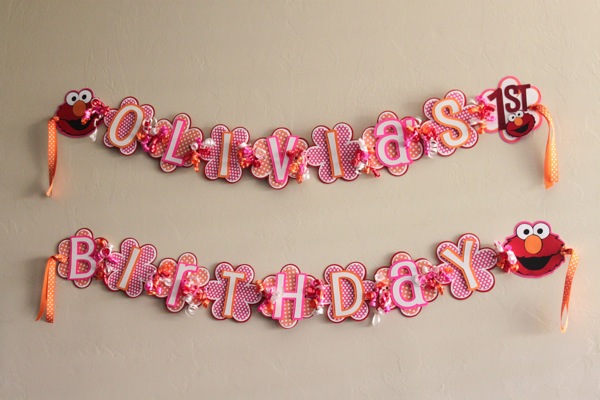 (purchased on Etsy from this lovely vendor– she did a beautiful job!)
and so was the food: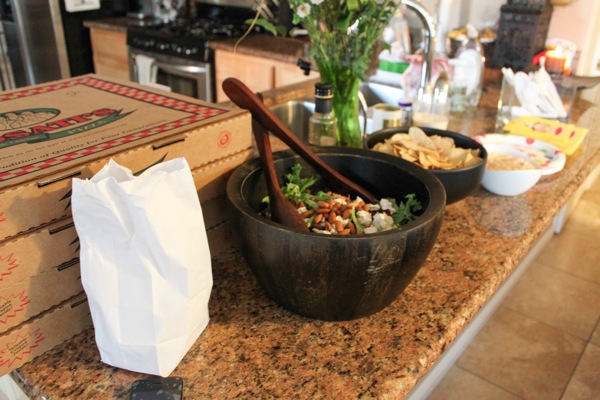 Pizza! Since Liv first tried and loved pizza last week, it was an easy choice for dinner for a crowd. I made a salad with greens, goat cheese, almonds, dried cranberries and homemade balsamic dressing, set out chips + dip, and ordered 4 jumbo thin crust pizzas from Rosati's. Mom brought a party pack of eegee's (thank you again, madre!) and we had beer, sparkling water…
and cake 🙂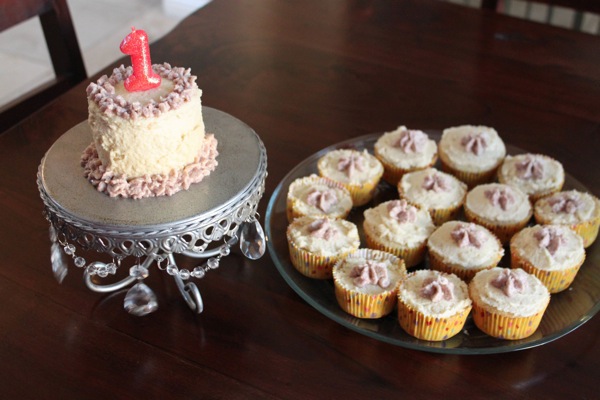 Vanilla cake
 with buttercream frosting 🙂
For the purple, I used the same purple carrot extract I had picked up for our lava bottles. It wasn't quite as vibrant as I'd hoped, but since I had it on hand and it enabled me to avoid artificial coloring, I rolled with it.
The best: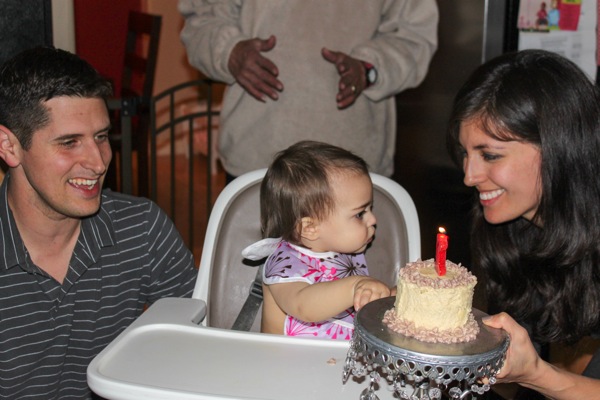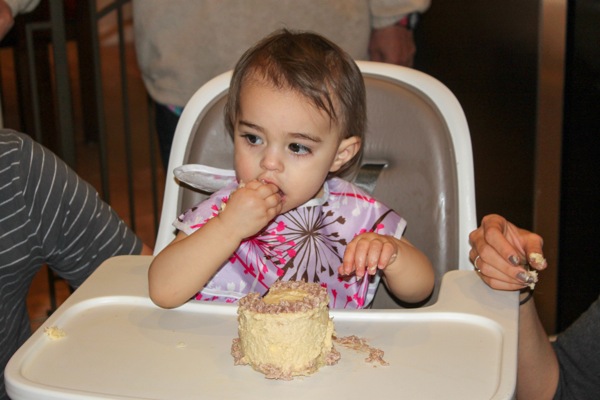 After cake, we all spent the evening chatting,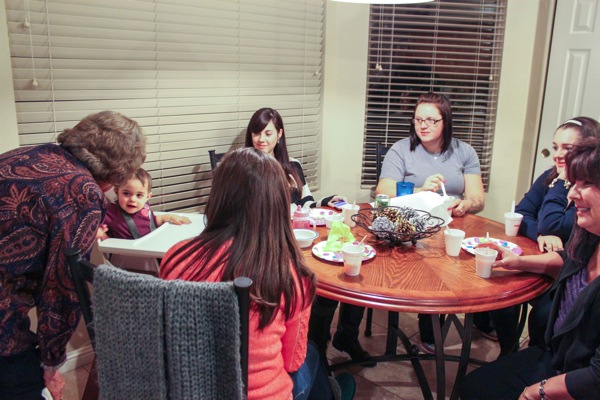 (the girls' table)
playing Family Feud and watched Liv open gifts.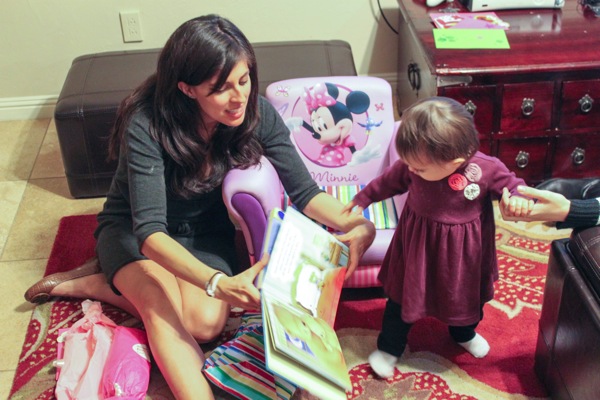 My friend Cristin is expecting a little girl in the spring, so I was so excited to lend her my Snoogle for the rest of her pregnancy.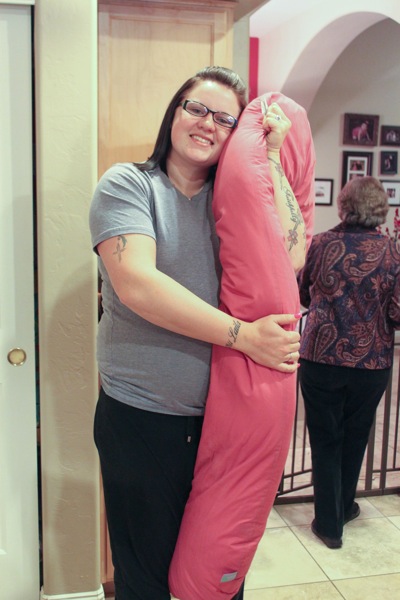 I also loved rubbing her belly and talking to my little cousin in there. I've officially turned into a creepy belly-rubber (with permission of course, haha).
It really was the perfect way to celebrate. I'm so excited to share all of the photos with Liv when she's older -my family passed the camera around throughout the night, snapping photos as the evening went on- and to be able to show her that since she's been born, she's been surrounded by so many people who love her.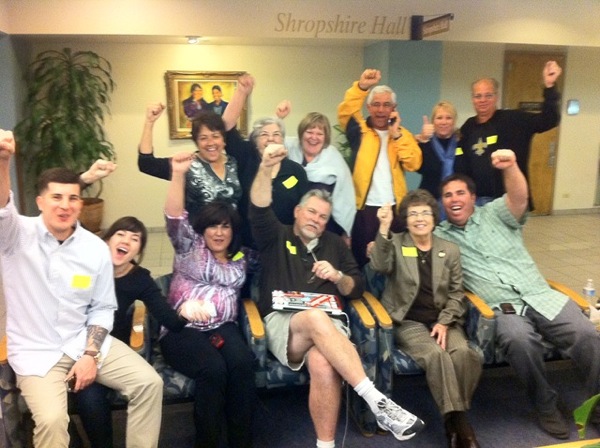 (the labor and delivery cheering squad)
Thank you so much to all of you for her birthday wishes, too <3 We appreciate your kind words, beautiful comments and tweets more than you know.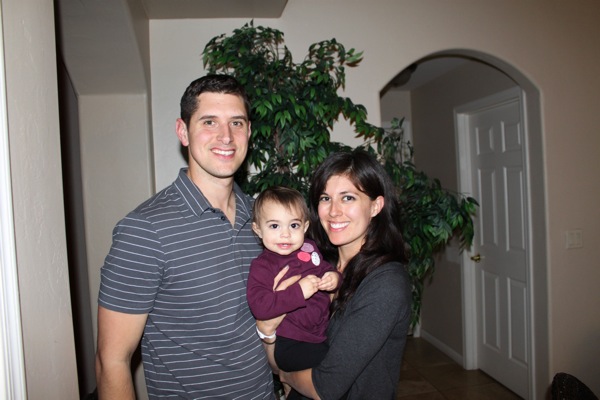 Have a wonderful day and I'll see you later on the Fashion page!
xoxo,
Gina
What's the first birthday party you actually remember? The first one I vividly remember was my kindergarten joint birthday party, with my best friend Hayley. We had a 50s theme and spent the entire party dancing around to 50s music.
New toddler-friendly recipe on the Family page!