Girls' nights have a new meaning over here.
It's me, Livi and Bella 😉
Livi is the party animal- she drinks all night, wets herself and cries, I'm the one taking care of her while Bella gives us the stink eye. We're a fun group, for sure.
Yesterday was my first day at home with the baby while Tom went to work, and also my first entire night taking care of her on my own. Tom had to fly early today, and since his life is in his hands while he's flying, he has to get real, quality sleep. So that means that Baby, Bella and I had the master bedroom,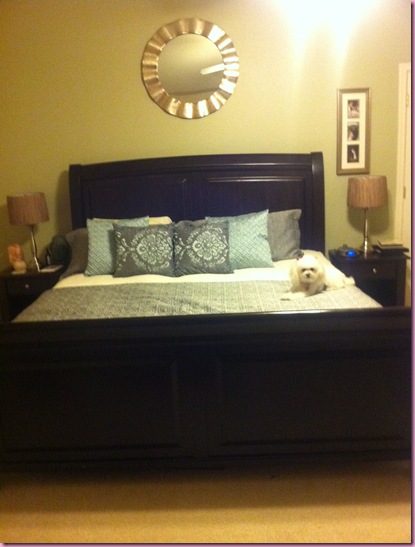 and Tom was in one of the guest rooms. I missed him, but it was nice to know that he was just a couple of doors down if things went awry.
Even though I was anxious about it, we actually did pretty well considering that Livi is hungry every hour or hour and a half. Even though I feel like all I do is breastfeed and pump, I really want her to get what she's needing, even though my boobs might fall off. I'm hoping that we find our feeding groove in the next couple of weeks. The good news is that I can usually get her out of the basinet before it turns into full-on scream mode, and we keep the salt lamp on by the bed so there's a little bit of light, but it's not too bright. The day is a lot easier than night, because even with very little sleep, I feel better during the day. Night makes me feel like a zombie.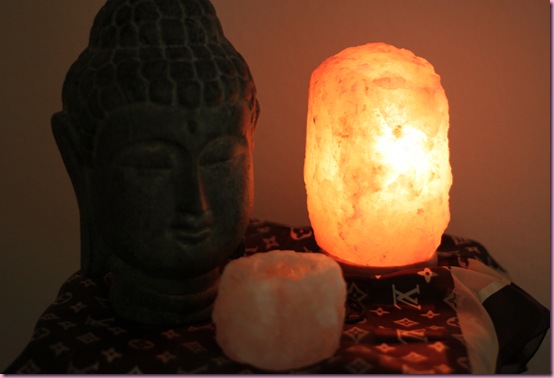 Righty is still not producing as much as my left, Livi hates it and gets impatient, so for now it's still feed on the left, pump on the right. Last week, we took her to the chiropractor for a little post-birth adjustment, to make sure that she wasn't uncomfortable laying on her left side to feed on the right. She LOVED being adjusted –it's more like a baby massage than anything- and we'll probably take her back this week.
So we made it through our first day and night together, with only one major meltdown on both of our parts. It breaks my heart when she's crying and I can't figure out what's wrong. She had just eaten, burped, and had a fresh diaper, so we walked around and rocked, I sang to her and she calmed down for a second… and right when we sat down again, waterworks and shrieking commenced. She was crying, I was crying, and my friend Michele called, whose baby is a week older than Livi, and we had a good chat about life.
As far as a schedule goes, we definitely haven't settled into one at all, but here's a snapshot of what today looked like:
12:40 am- wake up, feed, change diaper, back to sleep by 1:30
Repeat at 2:20, 3:30, 5:04, 6:10, and 9:00, when we woke up
9:30- 10 Get dressed while Livi is in the bouncy seat, make breakfast, drink tea, and pump at the same time (quite a sight, haha)
10:00am One more feeding before driving to the park to meet Kelly, Meara and their babies for a walk at 11
12:15 back home to eat, change diaper, burp her and she falls asleep while we watch Little Fockers
2:45 and She's napping on her nana's shoulder while I blog –both nanas came to visit today!- and I'm waiting for her to wake up for her next meal..
Check out the photo that Meg sent me last night while she was at my madre's: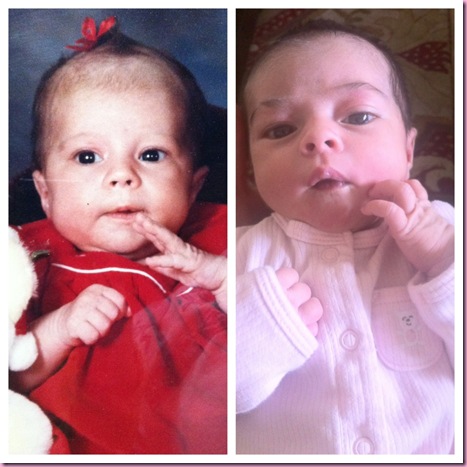 Baby Gina on the left, Livi on the right
There's definitely a similarity, but I think she looks a lot like Tom, too
We made it out of the house today, which was definitely a success- even though Kelly and Meara had to help me figure out how to use the stroller. I think one adventure a day might be a good idea, just for some fresh air and a change of scenery.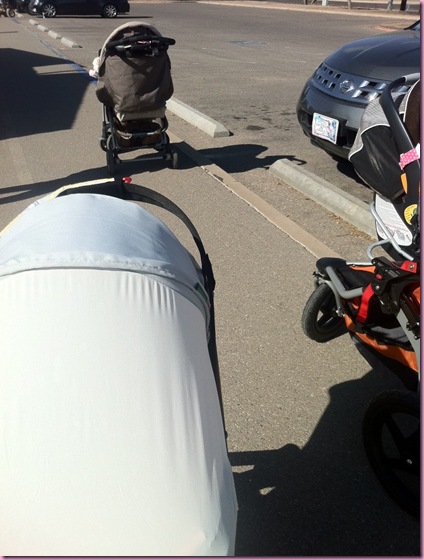 (Orbit has a paparazzi shield- hilarious)
Slowly but surely, we're getting the hang of things over here and I can already feel a closeness between us. I miss her while she's napping, and I can tell this is going to be a very fun, crazy, rewarding adventure.
Sunday's fortune: