Hey everyone! Hope your morning before Shrimpsgiving is going well 😀 Today is already SO much better than yesterday was… I woke up to a sleeping pilot (who had been gone for a couple of days), partially-sane puppies and a bowl of raw cacao cereal: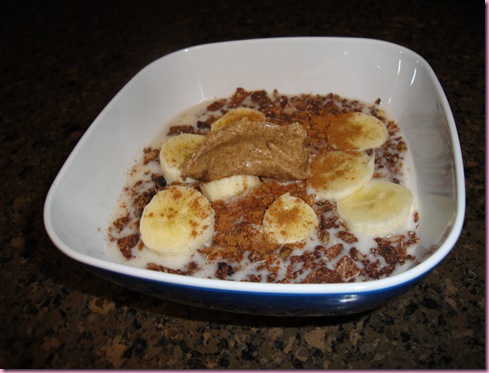 ***For more info on the cereal, click here
I had a half cup of raw cacao cereal with 1/2 sliced nanner, lots of cinnamon and a scoop of almond butter on top. While I eat the cereal, I break off a piece of almond butter to have in every bite 😀 It was SO GOOD—just like a raw version of cocoa krispies
And just like it's HFCS-laden counterpart, it turned the milk into chocolate milk (cacao milk?)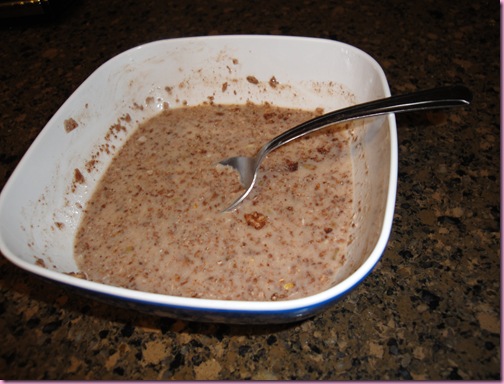 To rewind to last night, I had some appointments at the gym, so I did an hour of ellipticizing (split into 3 parts in between appointments) and then came back to the casa.
I don't usually like to turn to foods for comfort, but all I wanted after such a rough day was CARBS (and wine, obviously)
So carbs I had.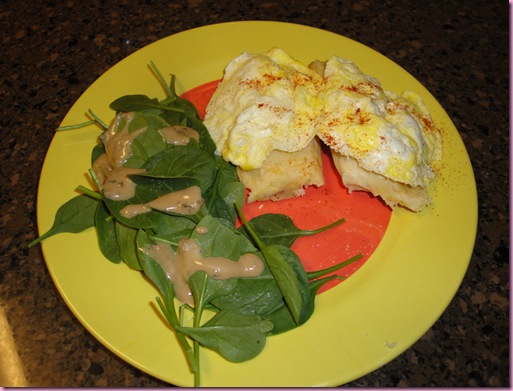 You know things are serious when I break into the Tucson tamale stash from the freezer 😀
I had two with an egg puff (1 egg + 1 egg white), cayenne and some spinach with Goddess dressing.
More carbs while watching Dancing with the Stars: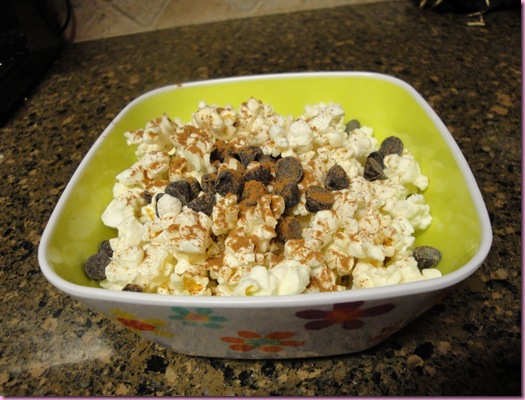 Plain organic popcorn with cinnamon and vegan chocolate chips.
Muuuuuuuuch better 😀 I did some work on the computer, and then pilot came home around midnight after his trip from you-know-where. It was nice to see his face- I like him 😉
The plan for the day is:
-gym with Jeni (legs day! Owwww)
-Making everything for Shrimpsgiving, minus the shrimp and stuffing (I like the stuffing to be moist on the inside, crunchy on top… kind tough to do if its made in advance)
-Going to fight the crowd at Honeybaked Ham for the pilot's turkey and ham (since it's just for one person, I figured it'd be much easier to buy the meat already good to go instead of dealing with it tomorrow)
-Training appointment
-Meeting Michelle and her pilot for drinks (we re-scheduled for tonight so our pilots could go, since mine just got home)
Have a wonderful day!
xoxo,
Gina
Today's tip: Just eat it. That is the same advice I've been giving to clients when they ask what they can eat on Thanksgiving. If you want to eat it, do it. If you choose to indulge in something scrumptious, try to make sure it's something you can only have once every blue moon. If your family dinner consists of a bucket of Kentucky Fried Chicken, I'd recommend going for something better, because you can have that at any time. The things worth splurging on are ones that didn't come out of a package (or drive through)- we're talking about your aunt's homemade mac n' cheese, mom's sweet potato casserole, GOOD stuff that's a special treat! I don't recommend looking at the holidays through a "diet" or "food" point of view. Think of it as a wonderful opportunity to spend with –or be driven crazy by- your familia. The delicious eats are just the icing on the proverbial cake 😉
Something to do: Make sure to head over to my good friend Katie's blog. She is donating her FoodBuzz revenues this month to charity –so sweet, right?!- so make sure to stop by and click around while you're there 🙂