Hey everyone! What. A . Day.
First of all, thank you so much for those of you who tweeted and emailed that the blog was down this morning. We had some server/database issues, but everything is back to bueno now. Thank goodness- I had a minor panic attack that all of my work was lost forever. Thank you to Aaron, always the blog hero, for fixing it for me!
I tossed and turned all night last night, and had a feeling something was wrong.
Since I was so tired from staying up, I totally slept through my alarm, woke up to a broken blog and a phone call from the pilot saying his plane broke and he had to make an emergency landing. Double doozy, right? (Note: the pilot is totally fine and is on his way back to V-town right now)
Good thing I made myself a killer breakfast!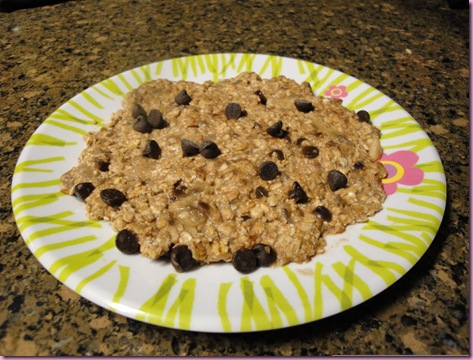 CHOCOLATE CHIP BREAKFAST COOKIE!!!
I made the bfast cookie last night using vegan chocolate chips, to put myself in a good mood for the 11 miler I had planned. I needed it for sanity this morning instead, because the long run didn't happen 🙁 I was just an antsy stress ball, and it looked like it was going to rain any second, so I didn't go. To be honest, I'm contemplating dropping out of the Jacksonville 1/2 (on December 20th). For some reason, my heart just isn't in it and I haven't trained at all like I should have… so I'm going to debate a little and decide if I'm still going to do it. (If not, I'll still be there to cheer on my friends who are running)
So, back to the bfast cookie, here's what today's had:
1/3 cup oats
1/2 banana
1/2 T almond butter
splash of almond milk
cinnamon
sea salt
vegan chocolate chips
foodgasms
I went to the commiscary to get some Shrimpsgiving ingredients, Publizzle and the health food store, then came back to the casa, heated up the yoga room to 90* and did a 60-minute Power Yoga #2 Podcast from YogaDownload.com. It was just what the doctor ordered. This podcast had most of my favorite poses (standing splits, half moon and crow) and I emerged from the yoga room, sweaty, bendy and CALM.
It was fun staring at this while doing a toe hold. He was smiling at my pain 😉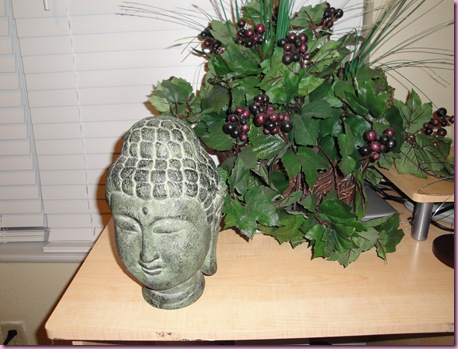 Lonchi was glorious.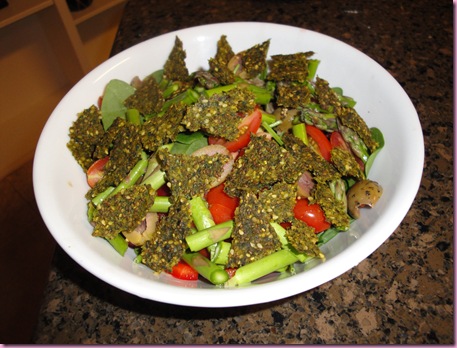 Salad beast with spinach, bell pepper, Goddess dressing, green herbed olives (from the Publizzle deli), grape tomatoes, asparagus and Pure2Raw bok choy chia flatbread. Deeeelicious.
Oh, and a cocktail: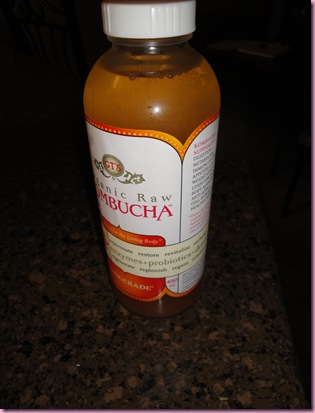 I'm off to train two clients and then hop on the treadmill for some intervals with the new issue of SELF. Later on, a glass of vino with Michelle… I need it!
See ya soon,
Gina