Giving back this holiday season
This post is sponsored through my partnership with Bitsy's Brainfood.
This is such a fun, magical and lovely season. I've always been obsessed with the holidays, and find that it's even more enjoyable now that we can share it with little ones. Now that Liv really *gets* it, each passing year seems to be much more fun. I love the opportunity to create memories and traditions with our little family, and also teach them that during a time that consists of giving and receiving, it's important to remain thankful for our blessings throughout the year.
There are a lot of things I want to teach our kiddos. Most of all, I want to teach them to be kind, polite, and responsible, and the value of giving to others who need it. With Liv, we started to teach her about giving to others when she was really young, even when she didn't really know what's going on. Now, she knows that on her half birthday, we pack up toys she no longer plays with to donate to other kids who don't have as many toys. She's with us when we drive packed-up leftovers to drop off to someone at the beach. And during this holiday season, I feel like she understands the ability to pack up nonperishable food and take it over to the food bank.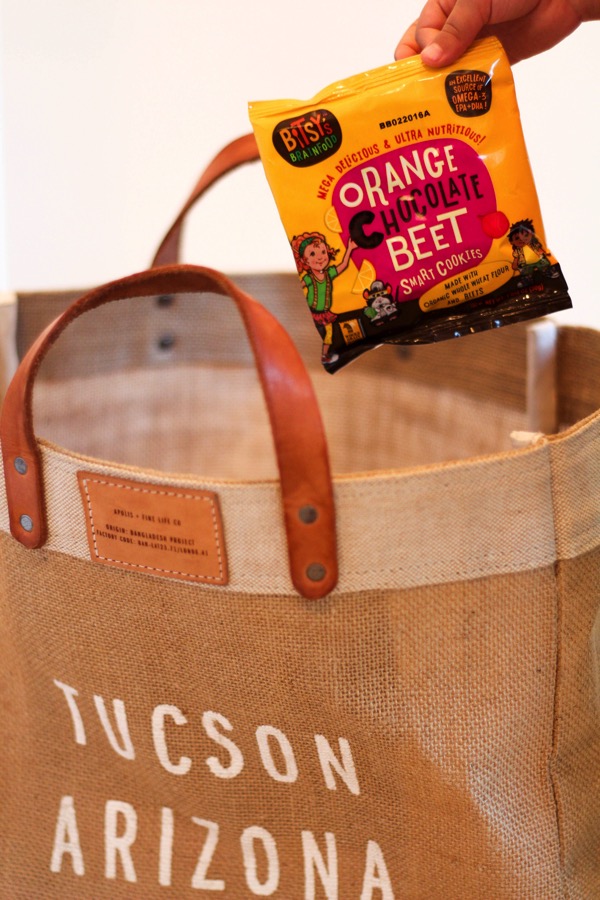 When Bitsy's Brainfood sent us a case of snacks to share with our favorite organization, I knew I wanted to take it over to Feeding America, along with some bags of nonperishable foods. Liv and I packed up cans of tuna, jars of peanut butter, and soup, along with the case of Bitsy's Brainfood to donate. While we packed it up, we talked about how we're fortunate to have access to healthy foods when we're hungry, and the importance of sharing food with others who need it.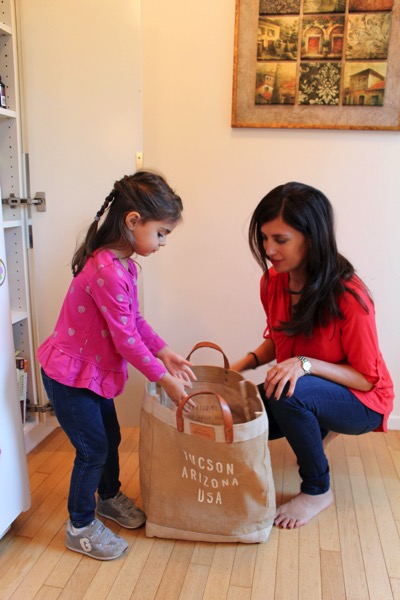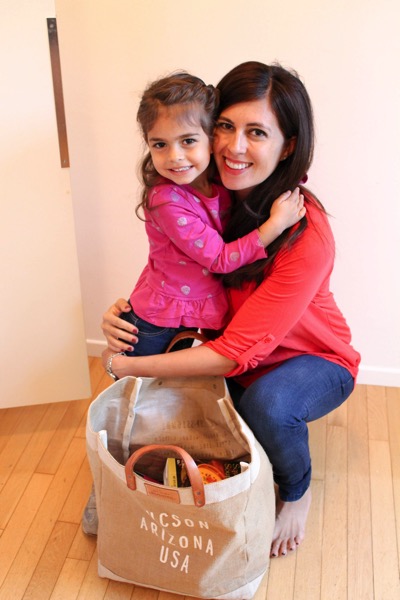 I'm always looking for small ways to give back, especially since I don't have a lot of time right now to volunteer. During the holidays, Liv and I head down to the Humane Society and pay the adoption fee for a few animals (usually choosing the oldest ones or those who have been there the longest). We also like picking a star from the Angel Tree to pick gifts for someone else.
This year, I knew I wanted to do something I had seen floating around Facebook: fill a purse to share with someone who needs it.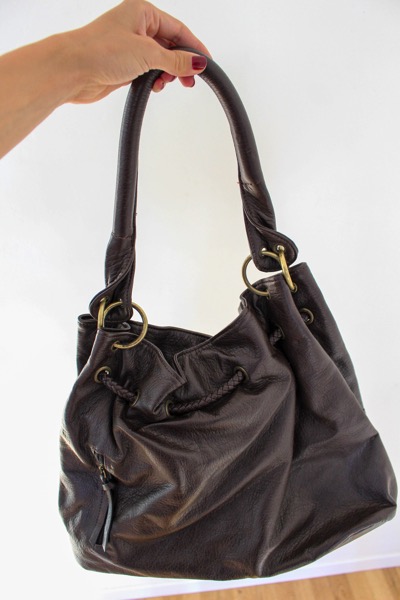 Here's the idea:
Take a purse you no longer use, and fill it with feminine hygiene products, snacks, some cash, and anything else you can think of, and share it with someone who needs it. I filled this purse with feminine items, snacks, socks, toiletries, a pair of super warm gloves, chapstick, and some cash. After I took the pic, I added a toothbrush, a small tube of sunscreen and a razor.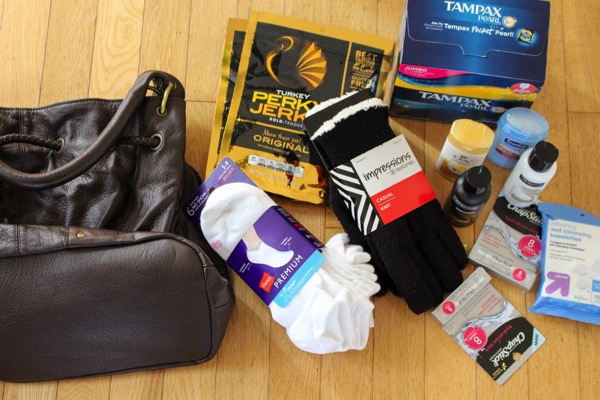 I'm going to take it with us while we run errands this afternoon. On our drive to Trader Joe's, I often see a woman holding a sign and would like to give it to her if she's out there today.
This is a simple way to share some necessities and holiday spirit with those experiencing hard times. You could certainly do something similar for men by filling a gym bag with essentials and snacks.
One of the many reasons I love Bitsy's Brainfood is their philanthropical mission: Giving a Bitsy Back. The founders of Bitsy's Brainfood actually met while working at a nonprofit focused on educating children about the importance of volunteering and giving. By Giving a Bitsy Back, they share cases of their products with organizations and schools (preschools and elementary) that need it. For them, it's not just about sharing the product, but about sharing their mission with as many as possible to make educated and healthy food choices. I love that Bitsy's Brainfood teaches kids that healthy food can be fun, and also injects learning into their snacks through their letter shapes. Liv and I love to spell and make letter sounds during snack time. If you'd like to learn more about this mission, or apply on behalf of a school or organization, check out the info here.
What's something you do to give back during the holiday season, or any time during the year? How do you teach your kiddos to give to others, or something your parents did with you?
I hope everyone has a wonderful afternoon! See ya tomorrow with the first of our Favorite Things giveaways.
xoxo
Gina
This post was sponsored by my friends at Bitsy's Brainfood. Thank you for supporting this blog and the companies who help to support our family.