Hi guys <3
How's your day going?? I'm stoked to bring you a guest post from my lovely twinnie friends, Lori and Michelle.

Can't wait to try this recipe myself!
Back to the drive and I'll see ya in the morning!
xoxo,
Gina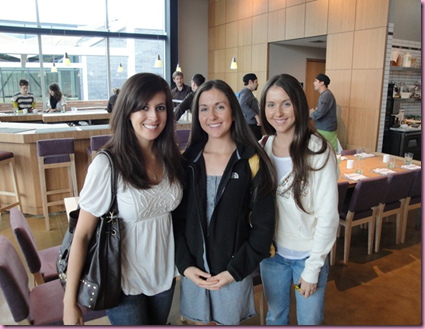 ---
Hey Fitnessista readers!
We are the twins, Lori and Michelle, from pure2raw. When Gina asked me to do a guest post, I was thrilled and honored. Lori and I have a fun holiday recipe and we hope you like it!!! I know Gina is a big fan of easy and delicious desserts! We had our fair share of desserts while at school together 😉 Lori and I love anything with chocolate, so we got to thinking…pecans are in season and coconut just pairs wonderfully with both…this no-bake chocolate pecan brownie biscotti (now that is a mouthful) was created! We shaped them like a biscotti for fun and because we just love anything resembling a biscotti. It is not dry like a traditional biscotti, but more rich like a brownie without being overly sweet.
Pure2raw recipe: No-bake chocolate pecan biscotti cookies
2 cups pecans (whole pieces)
1/2 cup coconut flakes
1 cup cocoa
1/2 tsp salt
1 tsp cinnamon
1 tsp vanilla
2 tbsp coconut oil
3 tbsp maple syrup
Directions: Place pecans, coconut flakes, cocoa, salt, and cinnamon into food processor, and pulse together to get small crumbs. Then add vanilla, coconut oil, and maple syrup. Pulse till combined. Spread batter onto cookie tray (parchment or wax paper will help prevent sticking) and shape into a biscotti log. Now here you can get creative and shape the dough anyway you like!
Cut into strips.
Place in fridge to set for a few hours. © 2010 Pure2raw
Enjoy as is…or dip them into chocolate and roll in coconut flakes.
No-bake chocolate pecan brownie biscotti make for a wonderful holiday gift 🙂
What is your favorite holiday cookie to make for others? What is your favorite holiday treat? Do you enjoy making new recipes every year or stick to tried and true recipes? Thank you again Gina for allowing us to share this recipe with you and your readers!!! We hope everyone enjoys our recipe 🙂 Happy holidays from our kitchen to yours. Stop by and say hello sometime!
Lori and Michelle