Heyyyyy 😀 Happy Saturday to ya! What are you up to?
I'm still having a blasting in Orlando and even set a WORLD RECORD for lowest Gina purchase at the Hot Bar.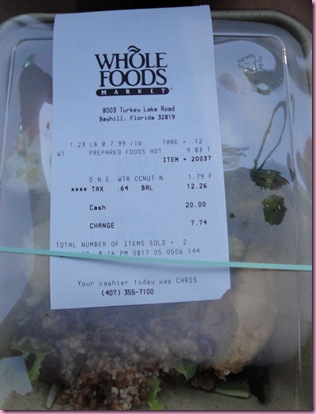 I got hot bar for dinner after oven yoga last night and even though I was starvin' and got plenty of food, I only spent $9.83!!! The average is usually around $15. They don't call it Whole Paycheck for nothin' 😉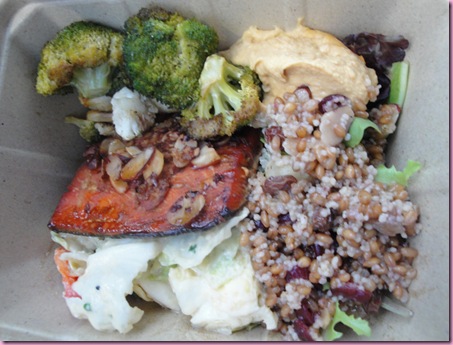 I had vegan miso slaw (my FAVORITE hot bar item. If your local Whole Paycheck it, hit it up), Babylonian Treasure Salad (another fave), sweet potato hummus, greens, yucca, brocc, roasted garlic, and an over-cooked chewy piece of salmon, which I ate anyway.
Continuing the spirit of weighing your food before purchasing, we all had a late-night stop at Menchie's 😀
I <3 MENCHIES!!!!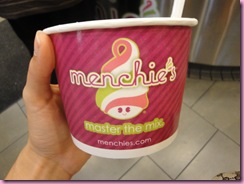 I rolled with the dairy-free Dole Pineapple froyo and blueberries. 'Twas ridiculous.
This morning, I got up bright and early for Bikram. Even though the postures are the same for every class, it's amazing how every session can be so different, depending on how you feel and your flexibility that day. Today's class was much more difficult for me- I struggled in some of my strongest poses, but tried to be patient and get back into it when I could.
I washed down class with a beet, apple, carrot, ginger juice: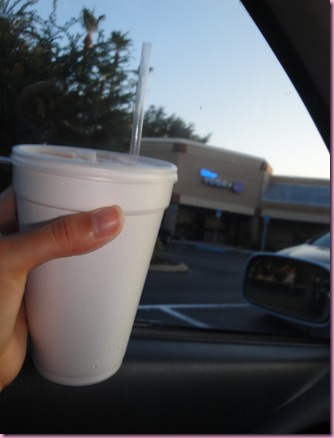 (and find it ironic that the yoga studio uses Styrofoam cups… I'll bring my own tomorrow)
and a Zumba class. I have to take advantage of the awesome classes that are available here- before I know it, I'll be back in the barren fitness desert known as Valdosta.
Brunch: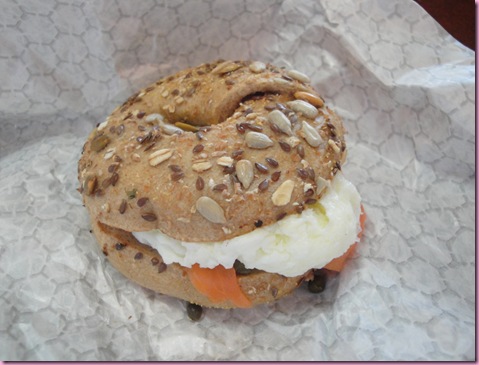 Good grains bagel with capers, egg white, smoked salmon and a bananner on the side.
I'm off to shop 😀
Have a wonderful day!
xoxo,
Gina
Today's workout jam: "Neutron Star Collision" by Muse
Today's tip: Try adding some pulses into your usual weight training moves- my favorite to pulse out are plie squats, crunches, bicep curls and lat raises. Hold the exertion part of the movement and pulse up and down, keeping your abs tight and proper form. It will burn out the muscles a little bit more and is a great way to switch things up.