and I liked it 😀
Hey everyone! How's your Monday going?? Mine has been helter skelter, but you gotta do what you gotta do 😉
Last night before going up to bed, my sweet tooth came a-knockin'.
I squashed him with 1/2 nanner, almond butter and vegan chocolate chips: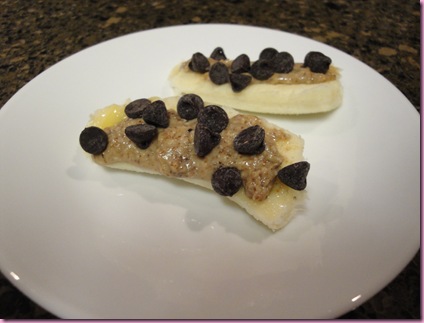 And a Comfy Carob drink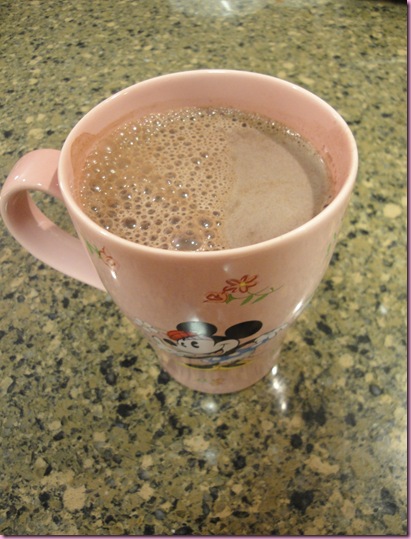 We went up to bed but no sleeping was to be had. I was worried sick about Bella and set my alarm for every two hours to make sure she was ok. She got sick once throughout the night, so first thing this morning I called the vet and made an appt.
Before leaving for the vet, I was craving something warm and autumn-y in my belly.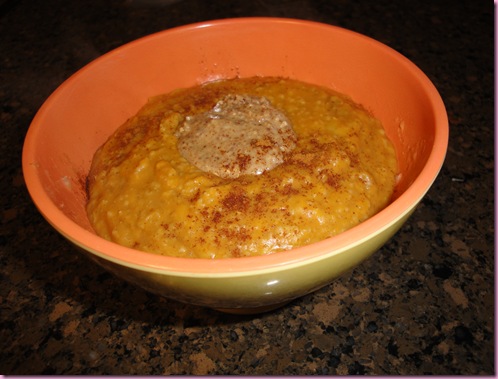 Pumpkin oat bran! I can't believe I haven't had oat bran in so long. I missed it so!
This combo had:
-1 cup almond milk
-1/2 cup organic pure pumpkin
-1/2 smashed nanner
-pumpkin pie spice
-Stevia
-pinch sea salt
-vanilla extrat
-1 TB almond butter
-foodgasms
It was sooooo good and comforting, especially after a doozy of a night.
Next, I poached some organic chicken to see if Belly boo would want to eat some. She still had no appetite whatsoever. Viesa, on the other hand, happily ate some chicken.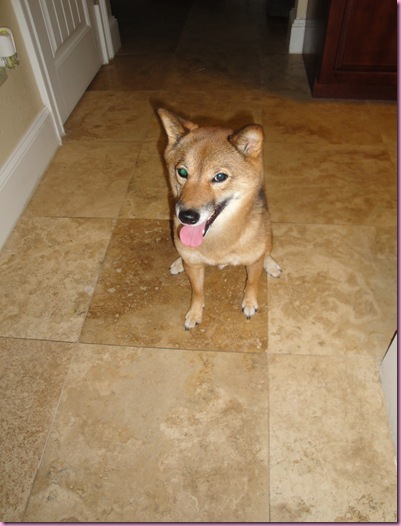 Vet supplies (green tea and that one book I still haven't finished):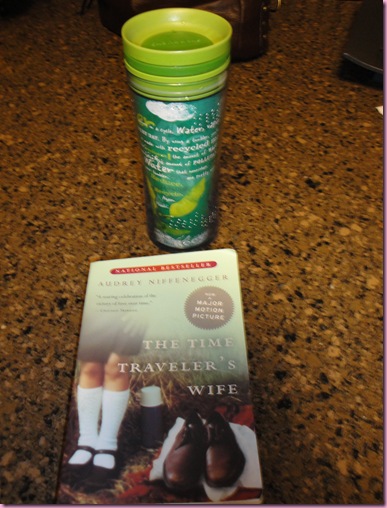 And we were off.
The verdict: She has a "bug" or it was caused by stress. (Maybe staying at the kennel last week on top of the pilot leaving stressed her out??) Because the vet said her stomach felt fine –she didn't flinch or cry when he rubbed her belly- and her tests all came back negative. He gave her another anti-nausea shot (the emergency vet who did it yesterday had to poke her twice because she flinched and the real vet figured she didn't get all the vaccine, which is why she kept getting sick last night), a probiotic/anti-inflammatory combo and antibiotics to take, along with some dog food that's supposed to taste good to sick puppers.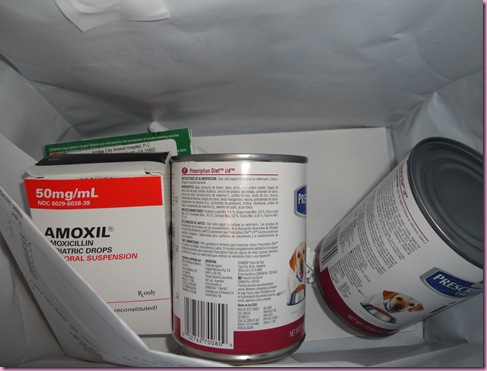 She's a little worn out and the anti-nausea shot made her more tired, so she's been chilling in her kennel with her snowman.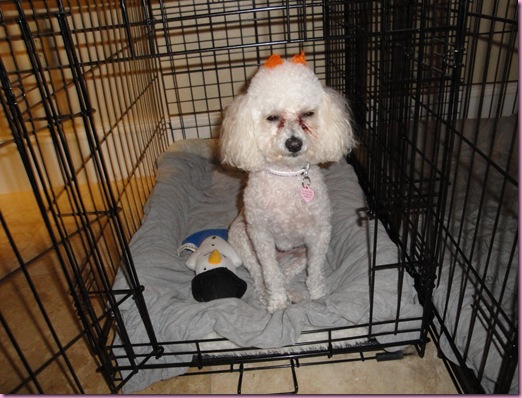 Snack was a persimmon: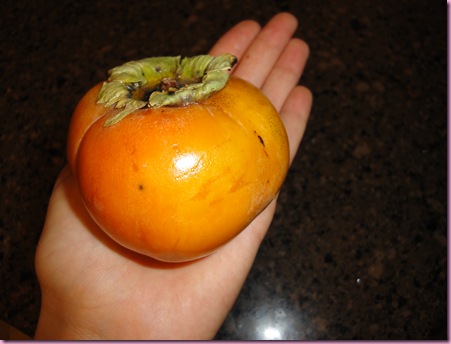 These little guys are awesome! They taste like a peach-apple to me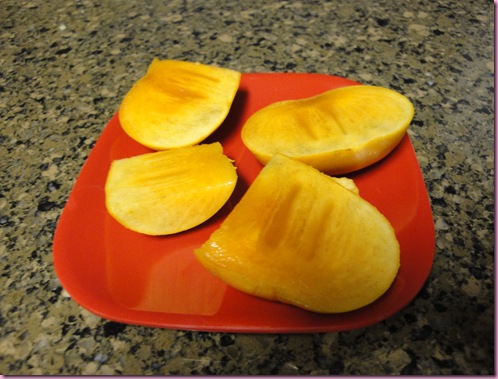 And lunch was a little salad beast: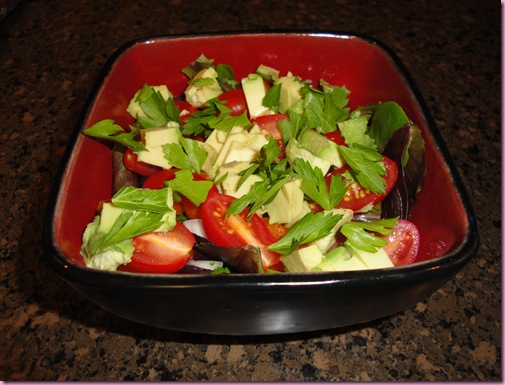 And eggplant lasagna….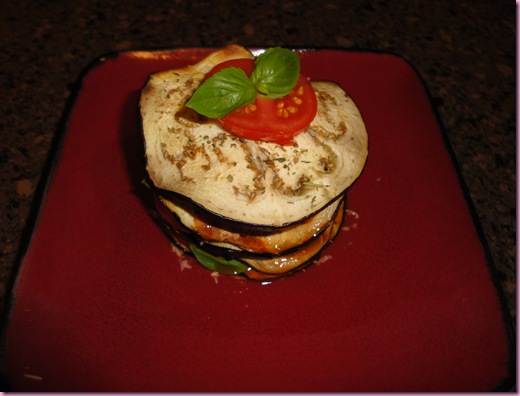 (I'll post the recipe later this afternoon)
So delish 😀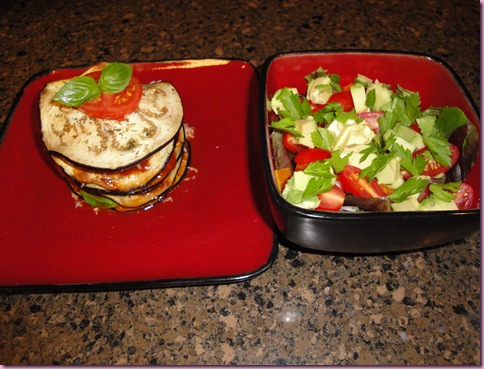 Well I'm off to Targizzle for hangers and other supplies for my massive re-organization project, then making a Zumba CD, pilates then Zumba 😀
Have a wonderful day!
xoxo,
G
Today's tip: In order to save some dollas, prevent wasting food and get more creative with your meals, buy ingredients that you'll use more than once during the week if 1 serving is too much. For example, 1 bell pepper will usually last me two salads, 1 cucumber lasts for 2 salads, and if I have to buy a new ingredient for a meal (like salmon), I'll freeze half and find a recipe using that ingredient to make later on. For example, I cut the lunch eggplant is half and am using the rest for another meal later this week. It's a great trick (especially if you live on your own) to keep things fun and lower cost.