Helloooooo 😀 Hope you had a bueno Sunday!
So almost immediately after my last post, Bella got sick (again) and we rushed off to the animal hospital. They checked her and said she was fine, then gave her a anti-nausea shot (which she cried for and I had to hug her and hold her head so the vet could do it) and an antibiotic shot. The crazy thing is I never would have been able to do that before. I am the biggest needle-phobe in the world and usually have to leave the room while they do tests, or give shots because I get so dizzy and pass out if I see blood. Today, I had to do it. It was just the vet and myself, and someone had to hold her while she got poked and prodded, and that someone had to be me. I'm pretty proud to say I stepped up for the occasion and was fine, but also bummed to say that since I've brought her home, she's gotten sick two more times. I already talked to the vet (who thinks she'll be fine until the morning) and we're going back in when they open tomorrow. My life.
The invalid: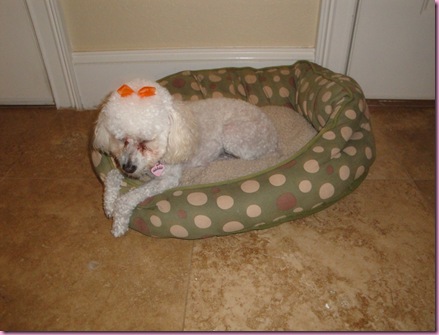 So in the midst of puppy wrangling and calling the pilot and vet frantically, I had a super quick lunch.
Ezekiel with balsamic drizzled on top: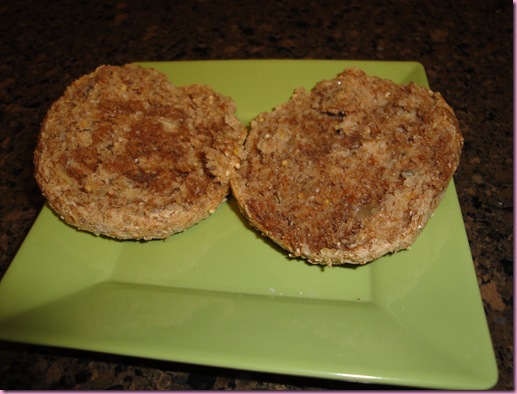 Amy's butternut soup: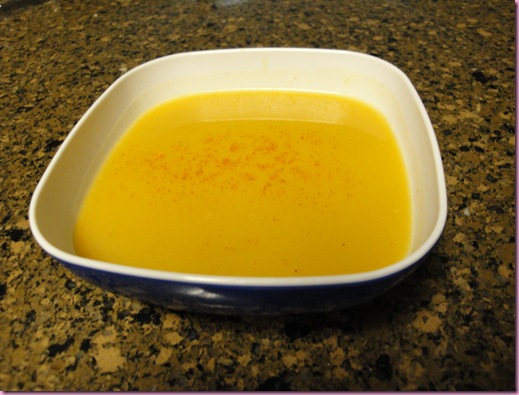 (Topped with cayenne)
After the vet visit, I stayed around to see how Bella was doing for a couple of hours, and since she was acting ok, I met Ashley at the gym for weights and then hit up the commiscary for groceries.
| | | |
| --- | --- | --- |
| Supine chest fly and push combo | 5 ea | 3 sets of 12 |
| Supine dumbbell skull crushers | 5 ea | 3 sets of 12 |
| Side laying lat raise | 5 lbs | 3 sets of 10 on each side |
| Stability ball push-ups | Body weight | 3 sets of 10 |
| Overhead press | 8 each | 3 sets of 10 |
| Dips | Body weight | 3 sets of 10 |
| Total time: 50 minutes |   |   |
To  be honest, I'm too worried about Bella to want to eat anything, but knew I needed to have dinner so here's what I whipped up: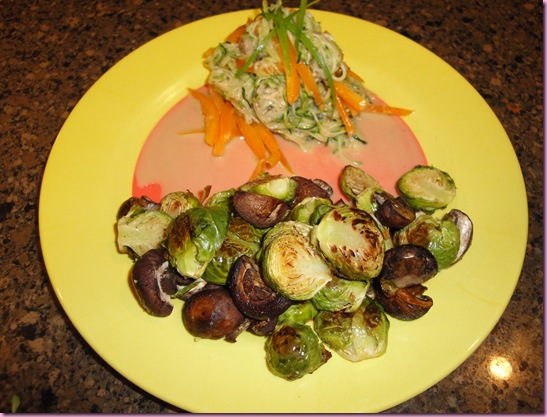 Zucchini noodles with almond butter, orange bell pepper, rice wine vinegar, nama shoyu and scallions.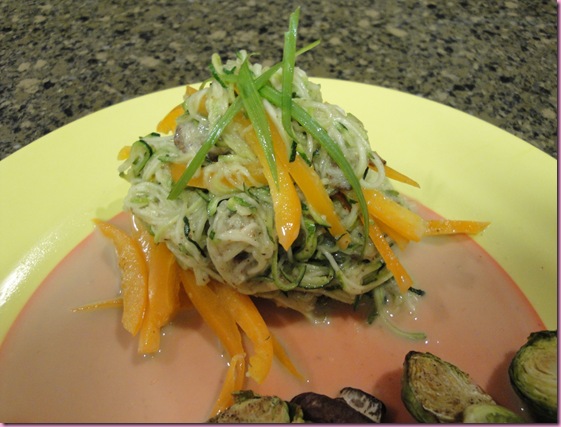 Roasted brussels and baby bella mushrooms with garlic, extra virgin olive oil, sea salt and pepper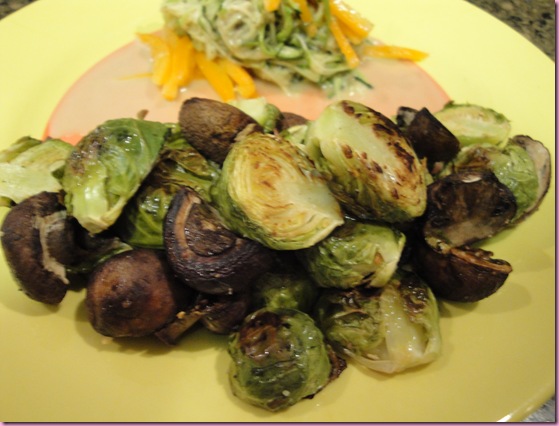 It was pretty much amazing.
Well I'm off to cuddle this sick puppy and lay low for the night. Here's hoping it's an uneventful evening.
xoxo,
G