Heyyyyyy 😀 Happy Almost-Friday! This week has been weird because it was a shorter week. SO ready for the weekend 🙂
A little while before dinner last night, I munched an apple with mesquite and cinnamon: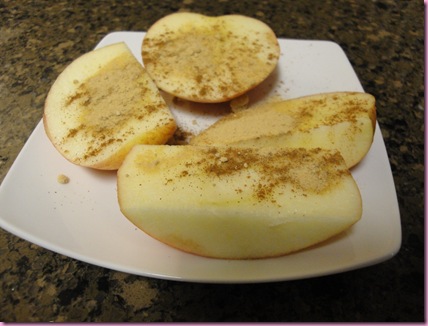 and when the pilot got home, we had wild caught mahi mahi (the fish so nice they named it twice), brown rice + wild rice, and steamed veggies.
I steamed the fish in our food steamer and the texture was LOVELY. Less mess and time-consuming than the usual pan-sear and bake.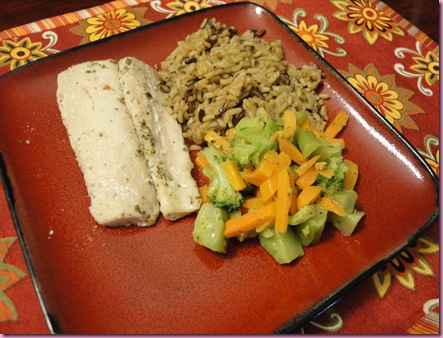 Perfection 🙂
We took the puppies for a long walk, talked about life –I'm trying to figure out if I should finish my MBA online– and then I went up to the yoga room for my first TurboFire workout.
Chalene Johnson, I bow down.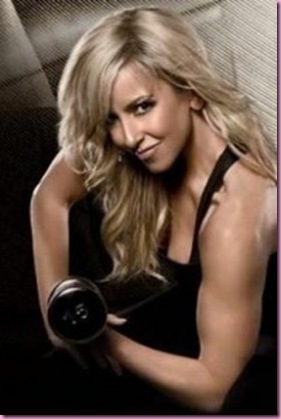 (Source)
The first workout was AWESOME.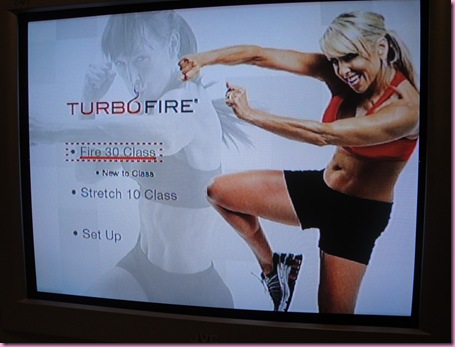 I did the Fire 30 Class and Stretch 10. Underneath the class title, you can click the words "New to Class" and she breaks down all of the moves you'll be doing. If you don't click "New to Class", she'll just teach and use her cues, assuming that you already know the combos and proper form. Since I'm a newbie, I did the "New to Class" and was SO glad I did– it was still fast and furious.
At first, I was a little worried because kickboxing is one thing I've never really gotten into. As ya'll know, I used to Tae Bo like it was nobody's biznazz back in, like 5th grade, but since then, kickboxing classes have not really been my thang.
This was totally, totally different than any kickboxing class I've taken.
We did 3 songs, building on different moves, adding to the choreography and they were fun, dance-y, and I got an awesome sweat in. In the workout, we did 3 "fire drills" which is where the HIIT comes in– 1 minute of balls to the wall insanity each time. After each drill, you get 1 minute to recover and then get back into the routine.
It wasn't *quite* as intense as Insanity, but this was one of the easier routines (she starts the first week a little easier/slower and then the following weeks are more challenging because you're more comfortable with form and style). At the end, I felt amazing, not totally fatigued or exhausted, just like a got in a great and fun workout. Bonus: I got to shake my booty a little 😉 The endorphins before bed were hilarious, too- I may or may not have been dancing around singing "Play that Funky Music"… poor pilot, haha.
Lurve, lurve, lurve.
The pilot said he'll film me doing some of the moves tonight, so ya'll can see what the style and combos are like 🙂
What are your requirements for an at-home workout DVD? Which styles do you love? A lot of ya'll have been asking why I've been working out at home lately and honestly, it's nice to get away from *work* to do some of my workouts, since I work at two gyms. I'll still do weights or hop on the elliptical or spin bike at work, but it's nice to do something away from work too 😀
_____________________________________________________________________________________________
This morning's bfast: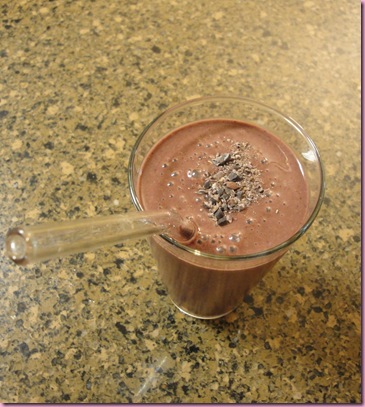 Cherry Bomb Diggity
I have NO training appointments today, only bootcamp later, so the plan is:
-yoga
-errands (post office, groceries, blah)
-Indian with Jeni?
-Starbucks (to blog and answer emails! Sorry I've been an email slacker lately- things have been crazy with the pilot coming home and our Orlando weekend)
-TurboFire
-Teach bootcamp
-Make dinner
I'm off!
xoxo,
Gina
Upcoming: TurboFire video and FASHION FRIDAY tomorrow morning!