Hey guys 😀 How are ya? Hope you've had a lovely day.
Mine has been pretty low-key, which is rare, so I'll embrace it 😉
Mid-morning snack: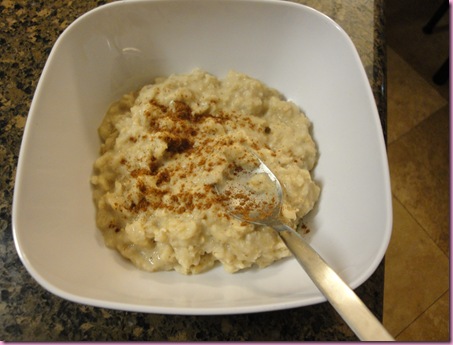 -1/3 C oats with a lil protein and cinnamon
A little while later: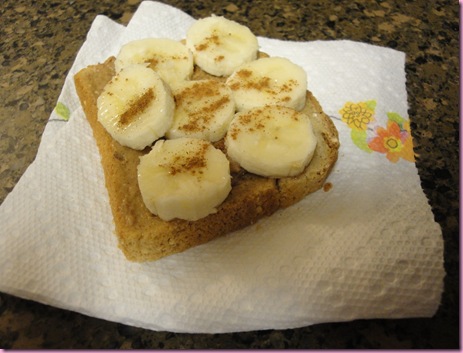 Beloved millet with almond butter and the other half of this morning's bananner. Holler to all of the millet bread converts out there- I've been seeing so much of it in the blogworld 🙂
Yoga:
-Power Yoga #3 30-minute podcast (YogaDownload.com)
Lonchi: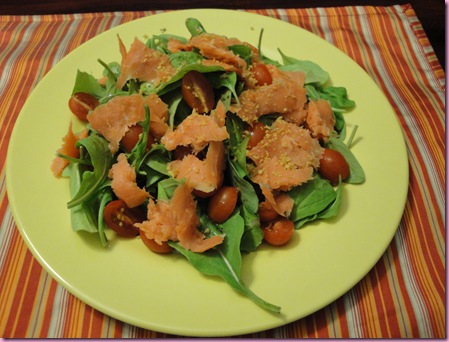 -Wild Caught Smoked salmon
-Organic arugula and grape tomatoes
-Garlic Gold vinaigrette and CRUNCHIES 😀
Dessert: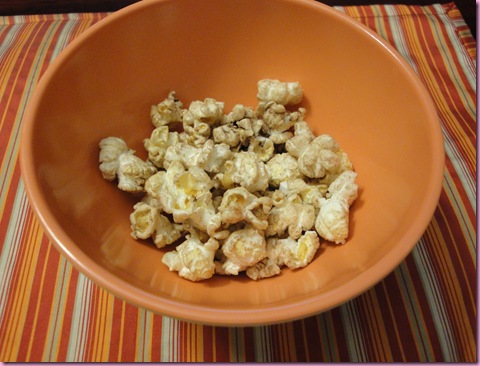 -3/4 C Cocoa Kettle Kettlecorn from Whole Paycheck (total foodgasms)
I have been quite the snack monkey today 😀 I've found that with the hotter weather, I've been doing well eating smaller, more frequent meals than usual. Pre- insanely hot summer, I was eating about 4-5x a day and now it's up to about 6x a day for the most part. This way, I'm not hungry and don't have to walk around in the sweltering heat with a food baby 😉
_______________________________________________________________________________________
I'm so glad ya'll liked the initial review for TurboFire. I'll update ya'll with what I think about the different DVDs—maybe I'll make a page/tab to make it easier??
Remember how I told ya'll that I'm going to that Fitness Convention in Atlanta at the end of the month?? (Hotlanta bloggies, be sure to hit me up!)
Well, I got my workshop schedule today and ALL of the classes I requested 😀 Baller.
Here's what I'll be taking:
-Yoga for Chakra Balancing

-Rising Hot Yoga

-Step Til You Drop

-Analyzing the World of Popular Diets – What Works Best

-Zumba Toning

-Bikini Bootcamp

-BODYJAM

-Restore the Core Power

-Steptonic

-Zumba Cardio Party

-Flirty Girl Fitness: Fun, Fit and Fabulous

-Steplicious

-Glutes, Guns and Guts

3 days of gloriousness 😀
Have any of ya'll taken or have certs in any of those classes?? I'm pretty excited about it- I'm going to learn a lot and will be sure to re-cap the exciting stuff here on the bloggy 😉
Well I'm off to teach bootcamp <3
Hope you have a great night and I'll see ya on Fashion Friday!
xoxo,
Gina
Something to talk about: Do you prefer smaller, more frequent meals, or 3 square meals?
Something to read:
–The most WTH Cookbooks of All Time (most of these are pretty funny)
–Should I always lift to muscle failure while weight training?