Sometimes, I even add it to the food 😀
Hey guys! How are ya?? I'm so excited to finally be able to post right now- I've spent the last hour looking for my camera to finally find it in with the dog leashes. A little scatterbrained over here!
I have a TON of pics to share, so here we go…
Yesterday's snaky: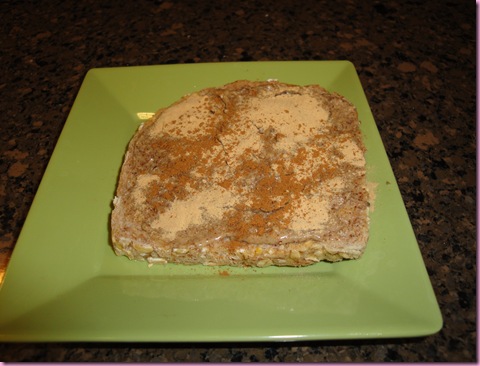 (Ezekiel with almond butter, mequite and cinnamon… my new flavor trilogy)
Lonchi was a kale salad beast (with grape tomatoes, sweet onion, nama shoyu, lime juice, agave, cayenne and half a mashed avocado)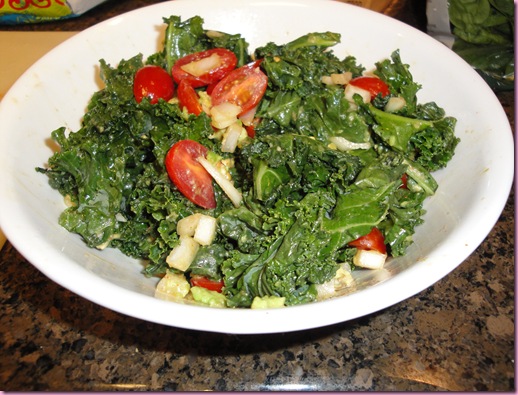 I cleaned around the casa, did a 20 minute yoga podcast (I miss taking REAL classes.. it's much easier to slack off in the comfort of my own home), and then the pilot and I started on dinner.
We grilled up some veggie packs: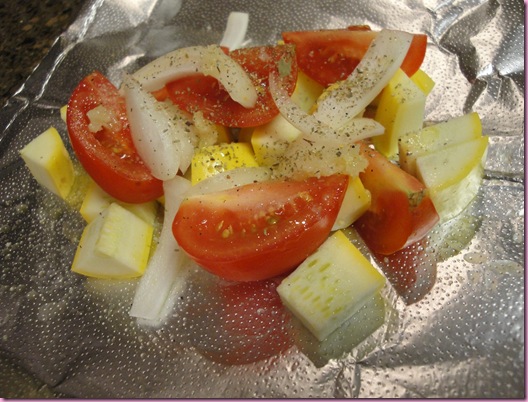 (Summer squash, campari tomatoes, sweet onion, garlic, sea salt, pepper, evoo, rosemary and oregano)
I busted out the organic cab 😉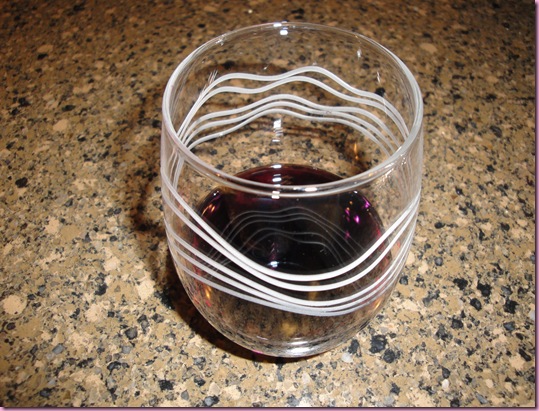 I just love cooking with a glass of wine. I feel like the meals I make come out better (and know that's purely psychological), and it just makes the whole shebang so leisurely and relaxing. For our final meal prep in school, Megan and I were practically begging our teach to let us have some vino while we (un)cooked. We had to wait until after it was all over 😉
We also had grilled sweet potatoes, corn and organic filet mignon for the pilot. (I'm not a corn fan. At all)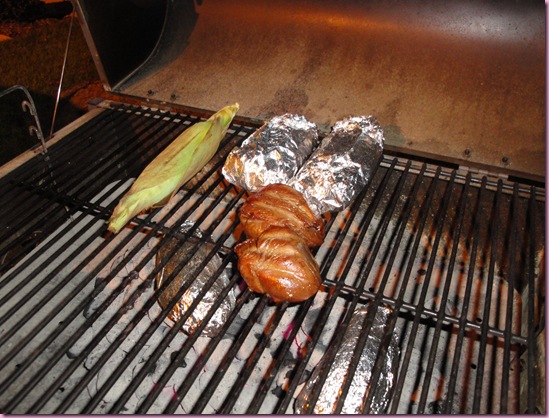 Watching the grill master: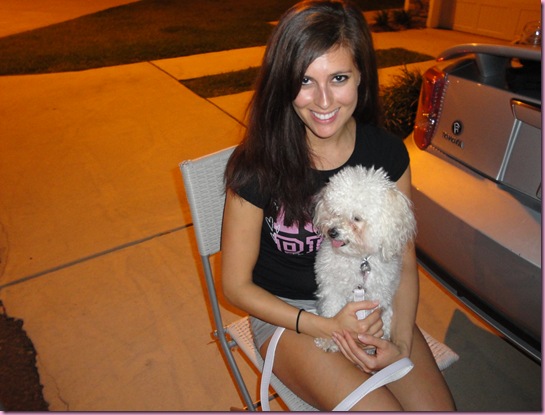 The pilot and his little fox: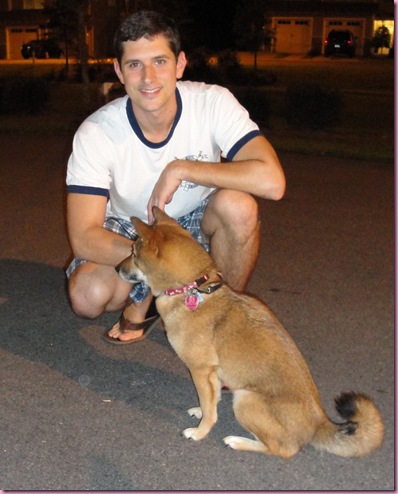 (ow ow!!!)
I also roasted some asparagus with lemon, garlic, evoo, sea salt and pepper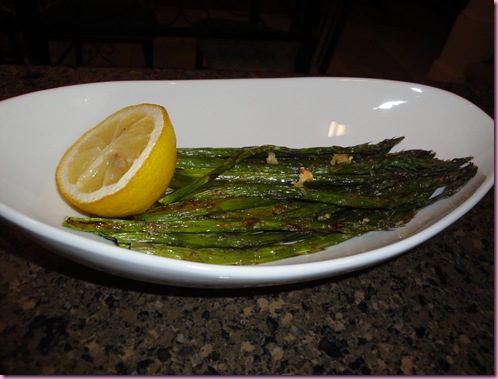 And covered my sweet potato with goat jack cheese, cayenne and scallions.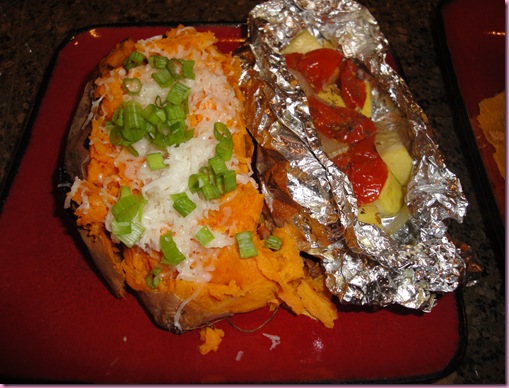 This, my friends, is why I am not a vegan. I <3 goat cheese.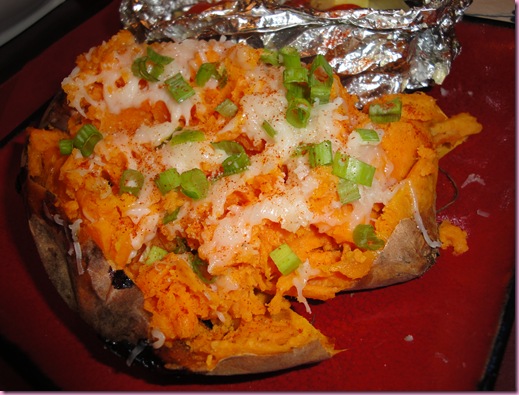 Foodgasm, anyone??? 😀
The pilot's plate (he had butter, cinnamon, nutmeg and brown sugar on his sweet tater)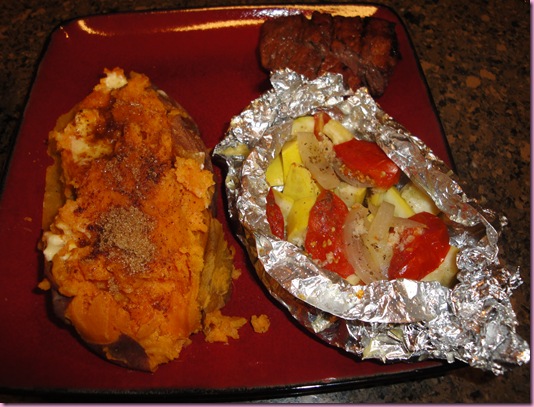 Such a lovely meal!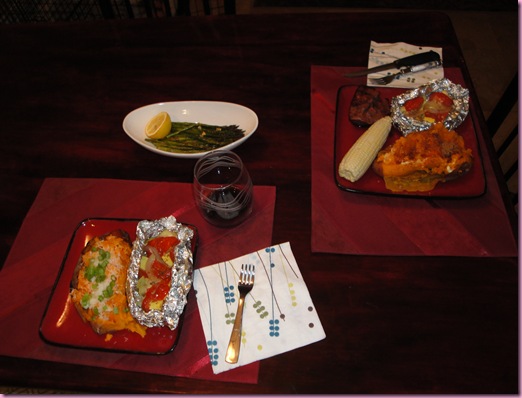 (yes, I eat with a baby fork)
I've been meaning to tell you all that I'm going to Cali next week for a POM event. I'm a little beyond stoked to go back to the west coast, learn from the POM peeps and hang out with some amazing bloggies :D  I found out I was going quite awhile ago (while I was in Tucson) and forgot to tell ya'll! Slacker 😀
Well I'm off to chill with the pilot (he's off today! yeahhhhhh!), do some work on a new website, and going to the gym with Jeni.
Have a happy Monday and to my Canadian friends, Happy Thanksgiving!
xoxo,
Gina