Over the past almost-9 months (!!) I've learned quite a bit about pregnancy and childbirth. A lot of it has happened through experience, and even with the boatload of books I've read, there are still a lot of things I don't know, and a few that have totally taken me by surprise.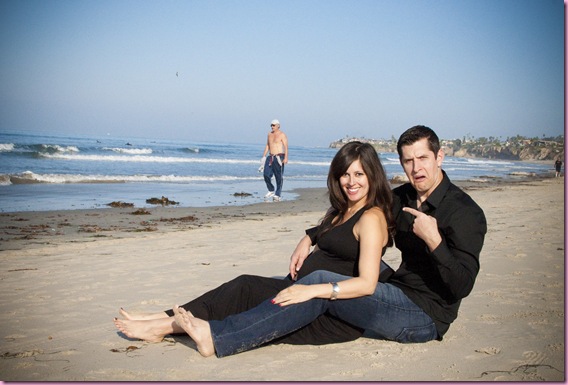 (The Pilot pointing at Photobomb guy)
Here are a few nuggets of info that I've recently learned:
1) Apparently bumpers are the devil. I think they make the crib look so cute, but are a serious suffocation hazard. The baby is supposed to sleep on its back, with a fitted sheet on their mattress –a firm mattress- and no blankets or toys in the crib, unless it's a flat blanket tucked in. You can also swaddle the baby in lieu of the blanket, which is another thing that still boggles my mind. It seems so counterintuitive- like a straightjacket. But I guess babies love it?
I was going to put the bumpers on for fun, since she won't be sleeping in her crib for a while, but once I started to try and tie them on the rails with my giant belly, it wasn't going to happen. The crib is bumper-less and will remain so.
2) The phrase "get a mouth full" brings on a whole new meaning with breastfeeding. I always thought that the baby just took the nipple portion of the breast into their mouth, but that's actually supposed to go as far back into their mouth as possible. Taking a breastfeeding class and reading a book about it were extremely helpful, but we'll see how it all goes down in a real life scenario.
3) I'm trying to figure out what to do about Step B. Strep B is a bacteria that many women carry (as much as 30%) can be passed to the baby during the childbirth process. The bacteria in itself is harmless to the mother, but can set the baby up for a host of a medical problems following birth, including pneumonia and death, unless the mom is treated with antibiotics through an IV before delivery. Moms are tested for the bacteria around 35-37 weeks –I'll be getting my test this week- but from what I've read, the bacteria amounts can vary, so a woman can test negative even if she is carrying it. Many women will forego the test and get the IV of antibiotics as a precautionary measure, and I'm trying to decide if I should do that, too. Of course, antibiotics have their own side effects and are passed to the baby, but I'd obviously rather have a live baby than one who could end up becoming seriously ill. I've also heard that a diet low in sugar (bacteria thrives on sugar) and high in probiotics should help.
4) When babies are itty bitty, they're eating ALL the time. Since they have tiny little stomachs, they can only take in a small amount of food, so they'll eat on a frequent basis. Time to start loading up the Kindle and the DVR.
5) Just when you think your belly can't possibly get any bigger, it does. And just when you thought you couldn't be any more happy and excited, it happens <3