"If it sounds too good to be true…
It probably is."
It took me a while to figure out how I was going to write this post, but after much debating on how I'm gonna put it all out there, I decided that simplicity would be best.
G.R.O.O.V.E is a no-go.
Some things went down on Friday and the owners and I decided to stop the project.
Yes, construction had already began: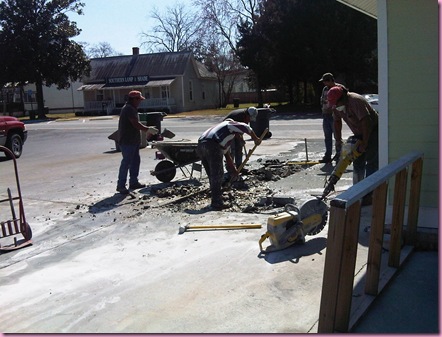 and I had the menu ready to go, as well as everything for the interior.
Kilee even designed a beautiful logo for us (she also made an amazing logo for the bakery, which I still plan on using):

(Her work is beyond amazing and if any of you bloggies are looking for a fancy new blog header or design work, hit her up: kilee at kileejohnson dot com)
What basically happened with the cafe was that the owners ran into some problems getting certified to build. Apparently food establishments need to go through 3 departments, and one of these departments has a reputation for waiting at least 2 months before putting anything on the agenda, let alone making a decision. This means that the cafe wouldn't have opened according to schedule and since I'm most likely moving next spring/summer, they didn't want to risk it. We also had some other unsolved negotiations (which I'm not going to go into on the bloggy) but it an almond-shell, we agreed to halt the project.
I was crushed.
Like totally, utterly bummed out.
Friday was a rough day for me, and I was happy that we spent the evening with friends. It gave me a reality check as to how temporary I am. We're never in the same spot for more than 3-5 years and this aspect of military life makes it really difficult. I'm proud to say I've done a pretty good job of making the best of a tough living situation, but things like this are like a sucker punch in the stomach. The funny thing is, two months ago, before all of this, I was totally and perfectly content. When this happened, it was kind of like telling a kid they can have a puppy, letting them pick out and name the puppy, and then tell them they can't have it anymore. Just sad, right?
I was also dreading writing this post because ya'll were so supportive and wonderful (as you always are), but now that it isn't happening, I feel like a giant goober.
"Ish happens, and you just gotta roll with it."
I'm 100% confident that this happened for a reason, and something bigger, better and more exciting is on its way. They let me keep my job at the gym, so I'm just going to keep doing my thang by teaching Zumba, being lead aerobics instructor (I do the schedule and invoice/billing for the base gym), training my amazing clients and writing the bloggy. I have a few other projects that I'm working on and am on a mission to find a commercial kitchen I can use so I can FINALLY get this online bakery going. Until that happens, expect random macaroon giveaways because I really do enjoy making them 🙂
Thank you so much for being so supportive of my now non-existent cafe 🙂 I really love and appreciate all of you. Back tonight with a fun, normal post 🙂
xoxo,
Gina