This post is sponsored by 24 Hour Fitness. Don't forget to pick up your free 3-day guest pass at the end of this post!
Even before I worked in the fitness industry, I had a sincere appreciation and enthusiasm for nice gyms. I had a membership at an "ok" gym that I could afford throughout college, but I had to get there an hour before spin class to reserve a bike, or jump in between sets on a machine if I wasn't waiting. I also felt pretty intimidated when I was first getting started. There were super buff bodybuilder-type dudes walking around, and here was Gina, trying to figure out how to use the biceps curl machine. The class schedule was hit or miss, and the gym wasn't the cleanest, but it did the job. Needless to say, whenever I got to visit a gym that was super clean, not crowded, and had a full class schedule, I was in heaven.
I've tried a lot of gyms since my initial jump into the fitness world, and have been pleasantly (or not-so-pleasantly haha) surprised each time.
Something I had yet to try: 24 Hour Fitness, which is crazy because they're literally everywhere. They have over 400 clubs nationwide, offering a variety of equipment, amenities, and fitness classes.
I was so excited when 24 Hour Fitness reached out to me about checking out one of their San Diego locations, especially since I've driven past a few and had wanted to check it out.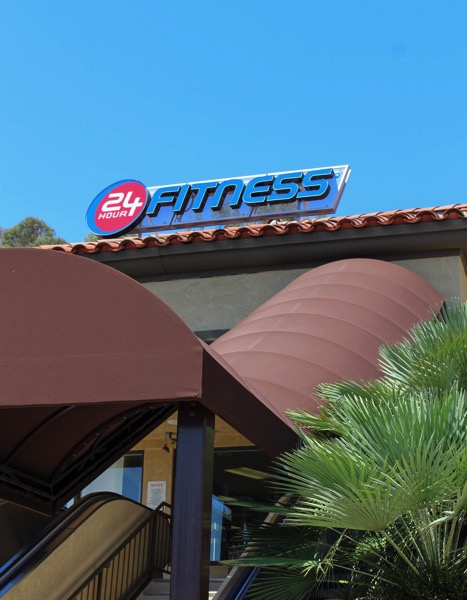 When I walked in the doors, I was blown away.
IT WAS LIKE FITNESS PARADISE.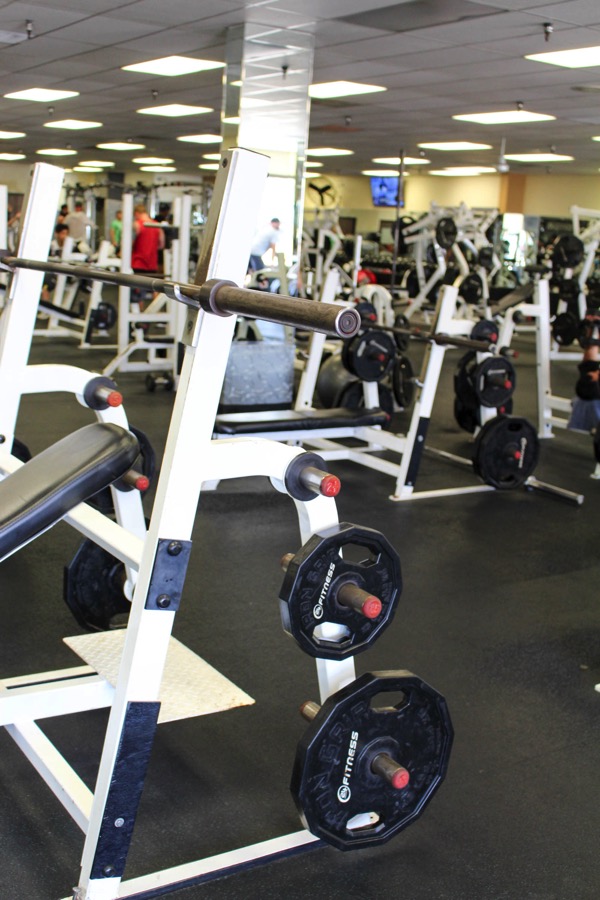 Something that stood out to me immediately was the rows and rows of sparkly clean equipment and new machines. Each area of the gym felt open and light, and I was shocked at how much there was to choose from.
With this environment, I felt like I had the freedom work out without feeling like I was cramping someone's space or that they were waiting for me to finish so they can use that equipment. With how many people were there, and how much was going on at once, it didn't feel the least bit stressful or crowded.
I used my trial pass to complete some strength workouts and take a class.
Here's what I noticed:
-They truly have something for everyone, whether you want to get in a great cardio, lift weights, take a spin class,
Zumba, Silver Sneakers, or do your own thing in the functional area.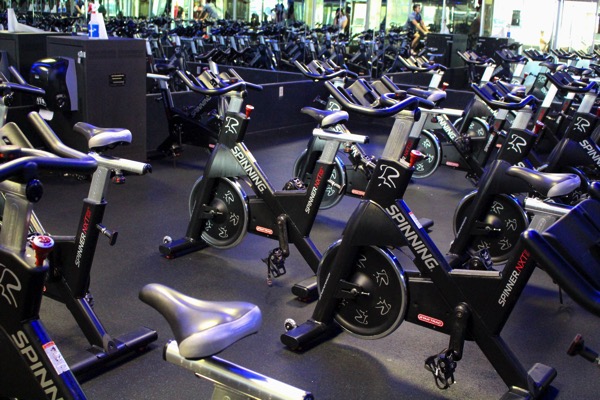 I feel like it was very balanced, and catered towards the many fitness types, ages and levels, from bodybuilders, to class fanatic, and just getting started. The class schedule was incredible -they have SHOCKWAVE classes, which I LOVE- and you can try a ton of different formats without paying the studio prices.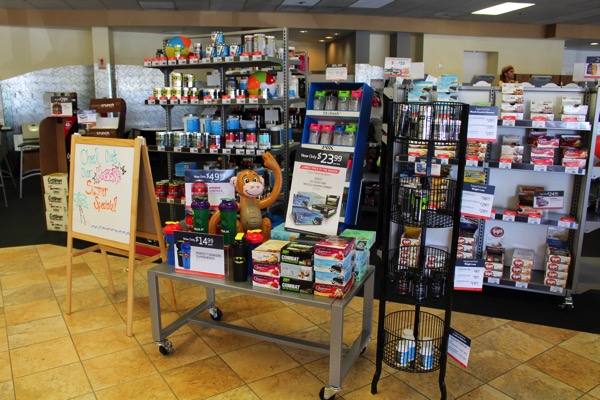 -It didn't feel meathead-y or too intense. I'm not going to lie: super crowded weight rooms with guys grunting and throwing weights around makes me a little uncomfortable. Everyone was in their zone, and you could tell that the club supports a variety of fitness goals. They want you to be the best and healthiest version of yourself, and it was apparent with the staff I talked to and fellow gymgoers. (In the fitness class I took, we all cheered each other on.)
-As you can tell by their name, whenever you want to get in a workout, they're open. It makes it so convenient, especially for those who work unique schedules or can only get in a workout late at night.
-THEY HAVE KIDS' CLUB. Fellow mama friends know that this is a game changer. Not only do they have childcare available, but the 24 hour fitness that I visited had a beautiful clean facility and the girls working were super sweet. It takes a lot for me to feel comfortable leaving the girls in kids' club while I work out, and I knew right away that they would be fine there. They had lots of age-appropriate toys, color tables, and movies.
-While 24 Hour Fitness has everything you would wish for in a nice gym, they also have classes that are unique to their club. A couple of examples:
POP Pilates (I was so bummed that I teach spin while this class is going on! I want to come back and try it)
and TC 24, which I was able to try.

Here's a little bit aout TC 24:
There are a few variations of this format: Ignite, Torch and Snow.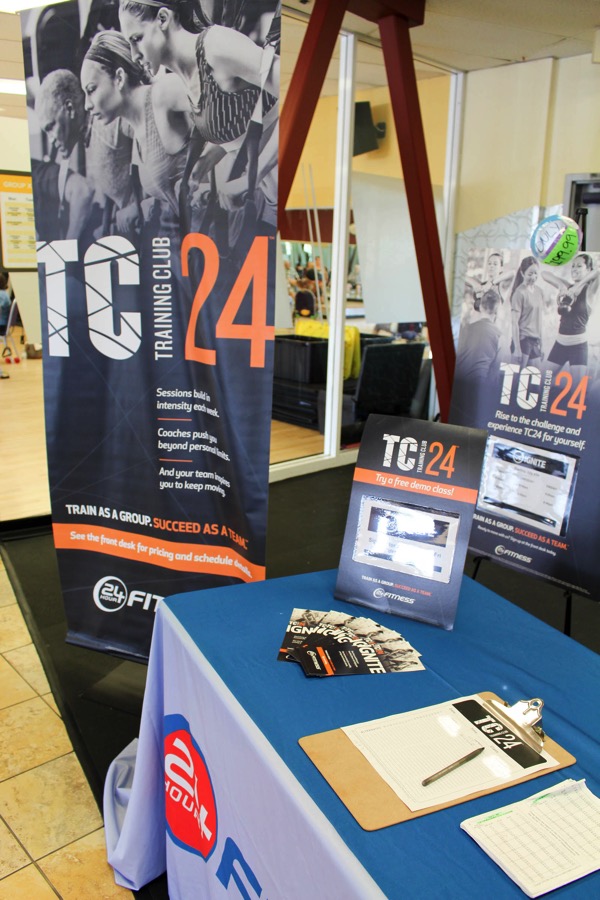 TC (Training Club) meets a few times each week at predetermined times, and it's like group personal training. A coach will lead the group (about 6-20 participants) through a workout which emphasizes functional movement and everything changes and progresses over time. They use a mix of strength and cardio tools to keep your body guessing the entire time. The workouts are the same nationwide, with trainer flexibility to scale the workout to accommodate the participants' levels.
I took the Ignite class, which is suitable for all fitness levels, and we went through a strength workout with a soul-crushing row cardio blast to finish it off.
Here's what we did: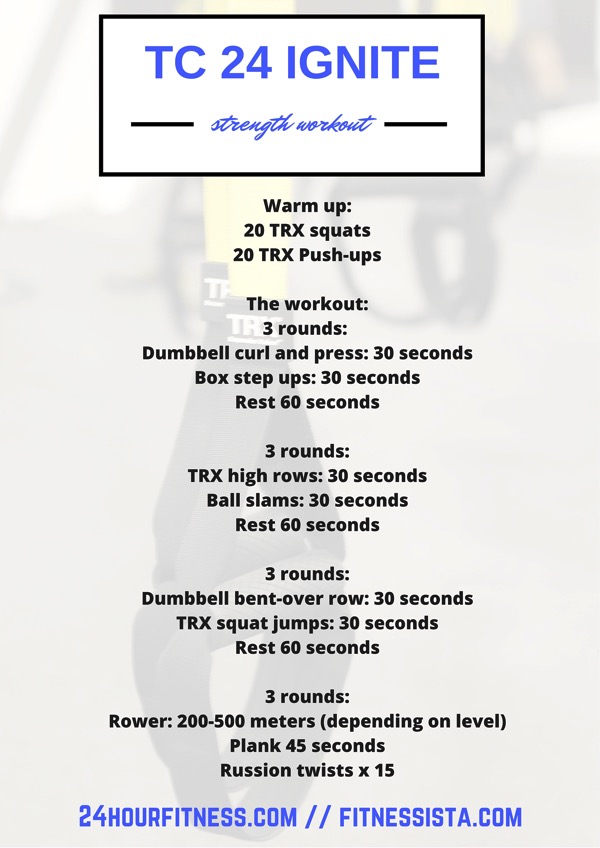 With KG, who led us through the workout.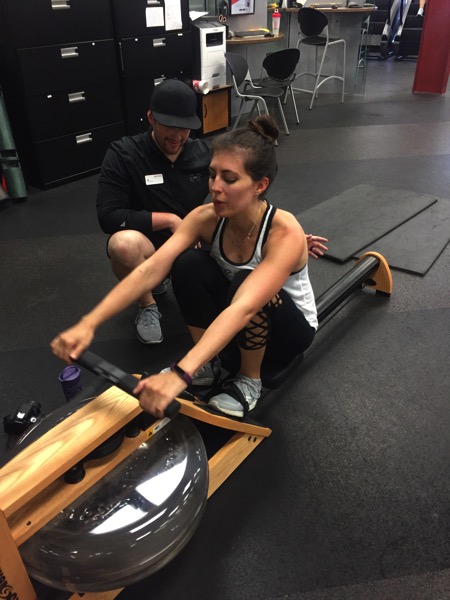 I was toast afterwards.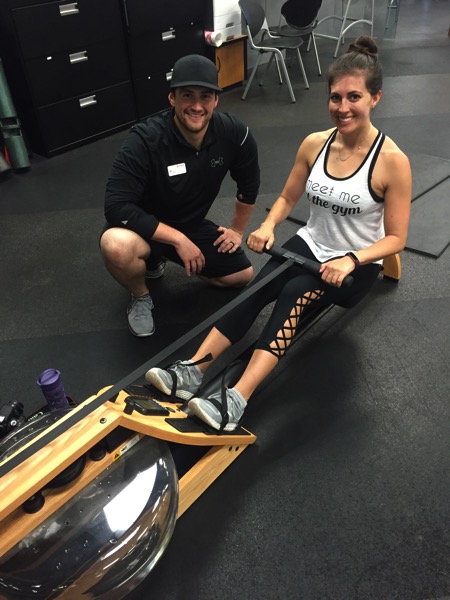 And now the best part of this post: you can click here to download your own free 3-day pass to check out a 24 Hour Fitness near you. They also offer a complimentary fitness consultation and 24 Day Smart Start™ program to get you moving in the right direction. I hope you love it as much as I do. Take a class and let me know what you think!!
If you love it and decide to join, there are a couple of awesome promos: choose between a $0 initial fee or monthly dues starting at $29.99/month (based on membership type, club type, and location.) Learn more here.
xoxo
Gina
This post is sponsored by 24 Hour Fitness. Thank you so much for supporting this blog. <3