A Change I Made for My Health
I've aligned with a skincare and cosmetics company that I'm genuinely passionate about, and I'm excited to share all of the details with you.
As you guys know, I'm not really an "absolutes" type of person. I used to try to follow stringent eating and exercise rules, until I realized that life is much happier lived dancing in the grey area, not in solid black or white. This is also when I finally achieved the fitness goals I'd set for myself. Turns out I just needed to relax a little bit. 🙂 It doesn't have to be all or nothing, and it shouldn't be if you want to feel balanced.
Even so, I'm always about learning as much as I can about health and fitness, and making smarter choices when I can for myself and my family. It's not about being "perfect," but about creating steps for a better, happier, healthier life.
Paying Attention to What Goes in My Body
When I first became pregnant with Liv, I became acutely aware of everything I was putting in and onto my body. I wanted to give her healthy food to thrive (with the necessary cheesecake and pizza in there), and also avoid toxic chemicals whenever possible.
I already read food labels fairly thoroughly, so I started doing this with my skincare and cosmetics while I was pregnant. Some of the things I thought were clean still contained pretty icky ingredients, and I became more interested in seeking out alternate brands and homemade skincare options.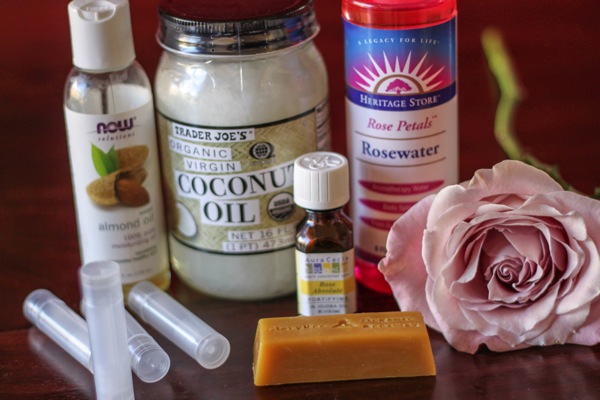 Some of my favorite homemade goodies are this rose facial spray, homemade lip balm, bath bombs, and body scrub.
Something I never quite mastered: making my own night cream or facial cleanser. While homemade variations of my favorite products worked fairly well, they never felt luxurious or spa-like. Also, as much as I love DIY beauty, I find that I don't have as much time to experiment as I used to. A lot of the *natural* or organic brand products I've tried in the past don't work. When you read the bottle you're like, "YES!" but when you try it at home, you're like, "Oh noooooo."
Beauty and Skincare Without Harmful Toxins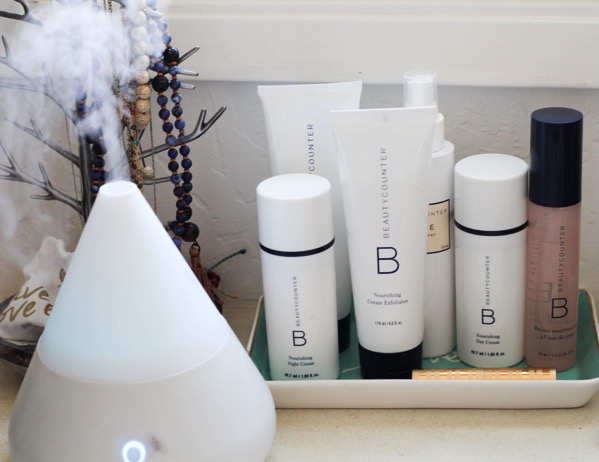 Well, my friend Jodi introduced me to Beautycounter a few months ago, and the products and company are pretty amazing. They don't use any harmful toxins, don't test on animals, and are lobbying to change the cosmetics industry as a whole. Similar to food, the US uses cosmetics ingredients that are banned in Europe. There are 1,400 chemical ingredients commonly used in US skincare products that are banned in the European Union. We haven't had a cosmetics reform in 70 years. WHAT. What did they even use for skincare and makeup in the 1930s?!
How's this for light reading?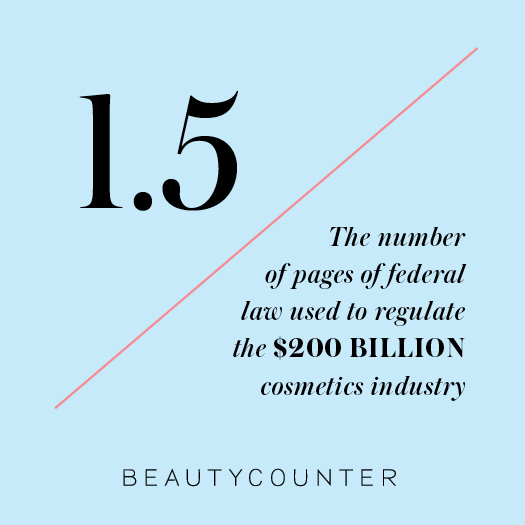 The best part: Beautycounter products are amaaaaaaazing. Their ingredients are stellar and the products actually work.
I use the cream cleanser, exfoliator, nourishing rose spray, and the night cream mixed with a couple of drops of the face oil. I'm a huge fan of plain oils for my face (like Argan, coconut, or rose hip), but the BC face oil is so thick, moisturizing, and smells fantastic. It's a mix of plant oils and essential oils.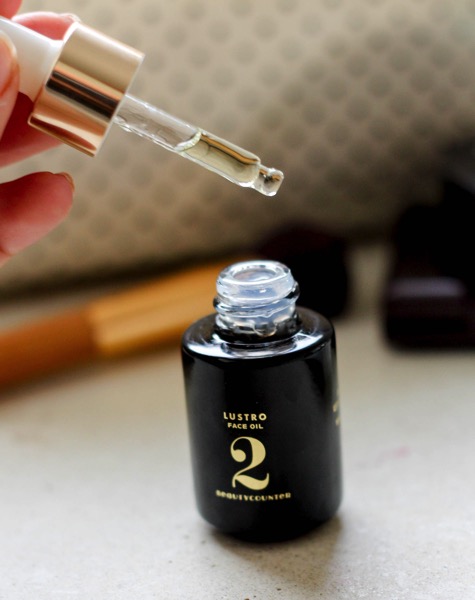 (They've rebranded, so the new bottle looks like this! I've been using the Hydrating face oil.)
Since using these products, I've noticed a huge difference in my sleep-deprived skin, and am excited to support a company that is working to make clean cosmetics and skincare mainstream. Toxic chemicals can disrupt hormones and have been linked to various types of cancers, so if we can get them removed from conventional products, I would be pretty stoked about that. I haven't been this excited about skincare in a long time.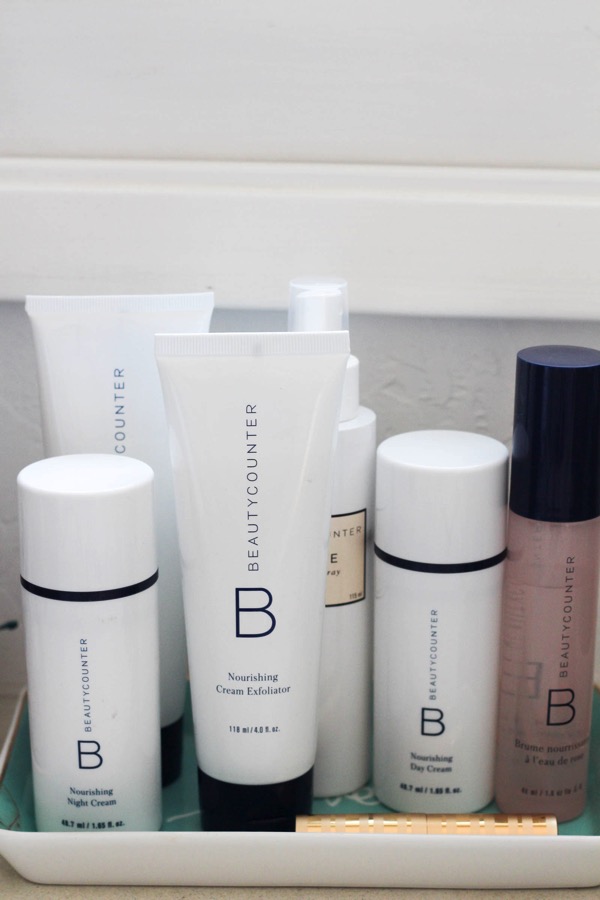 Researching Personal Care Products
Over the past few months, I've been doing more research into the products I have and use at home. I downloaded the EWG Healthy Living app, which includes safety ratings for food, as well as cosmetics/personal care items. I get a kick out of surprising myself while scanning items.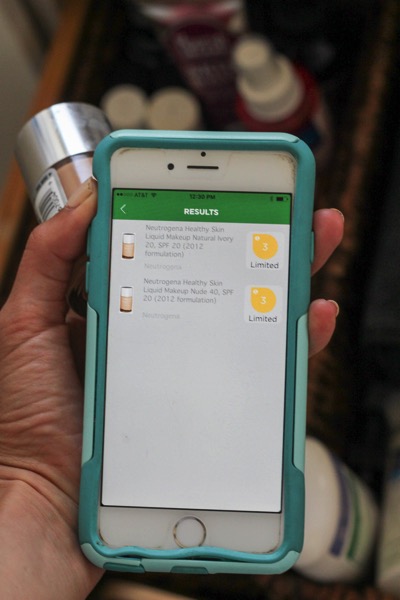 Some of the things I had on hand with great ingredients: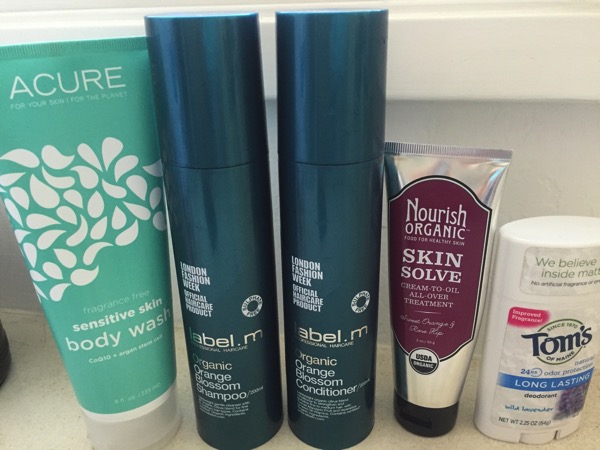 (Also there are some not-so-clean products that I won't give up and still use occasionally, like nail polish! Like I mentioned before, it doesn't have to be all or nothing.)
Because I love the Beautycounter products so much, I signed up as a consultant to get a discount (25%) and share it with others.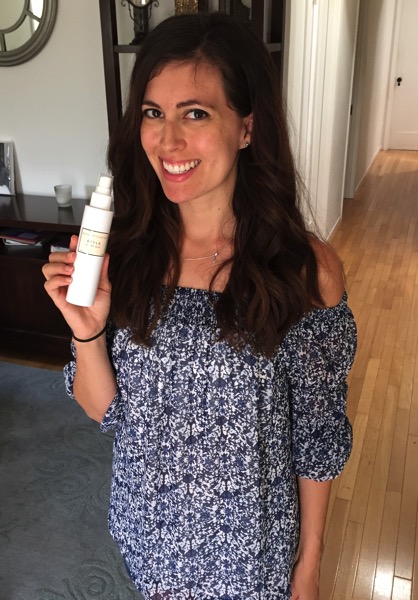 I'm not going to spam you guys or anything like that (I wanted to let you know I'm a consultant for full transparency, but things will always be low-key around here), but just wanted to give you a heads up about these amazing products and the company's mission. As you guys know, I'm very particular about the brands I choose to promote on the blog, and will only feature products I know, use, and love. If you'd like to check out the shop, the link is here. Also, if you think you may be interested in consulting or would like to host an online social, let me know. I'd be happy to help you out or point you in the right direction.
What's your favorite DIY skincare or beauty product? Any favorite brands you'd love to share?
xoxo
Gina
*For all orders over $55 placed from now until Friday night, I'll send you a makeup brush bag or sunscreen stick. 🙂 Just email me (fitnessista at gmail dot com) with your order #, shipping address, and whether you would prefer a sunscreen stick or makeup brush bag.
Other changes I made for my health: