I think by now we've established the fact that I'm obsessed with Italy. I was always convinced I wanted to live there, even though I've never been, and now that I've actually visited, it just confirmed everything I thought to be true. Walking around, I felt like I did live there, except for the major factors that my dogs and baby were still in Tucson and I had "tourist" blinking over my head like a neon sign. A girl can daydream though, right?
The food, the people, the culture, the buildings, the shopping…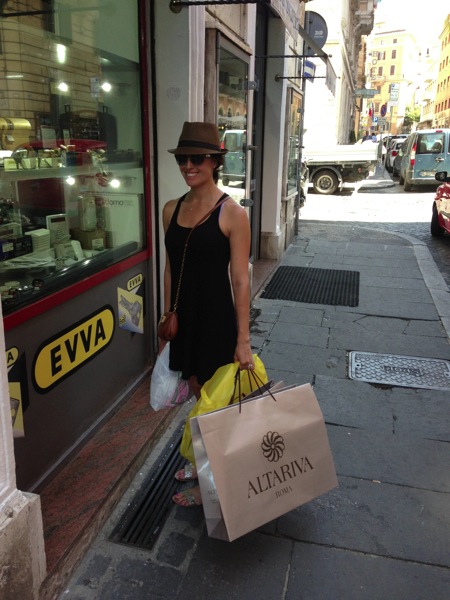 Oh man, the shopping.
Initially, I was so proud of the fact that we each managed to bring a backpack and carryon-sized suitcase for a 9-day trip. Rookie, rookie mistake. Sure, all of our stuff fit traveling there, but as you can imagine,  after a week of "oh, let's get this!" we were walking around Naples desperately trying to find a luggage store. (Word to the word, everything is closed in Napoli on Sunday. The fact that makes up for it: they have the BEST pizza in the world. For real, your soul will break out into an aria of joy.) Since we couldn't find an extra suitcase and figured we'd just make it work, we managed to pack our original belongings + all of our purchases into our suitcases and backpacks. The Pilot is a suitcase Tetris ninja.
Some of the fun things we brought back:
Some prints, and souvenirs for the little lady: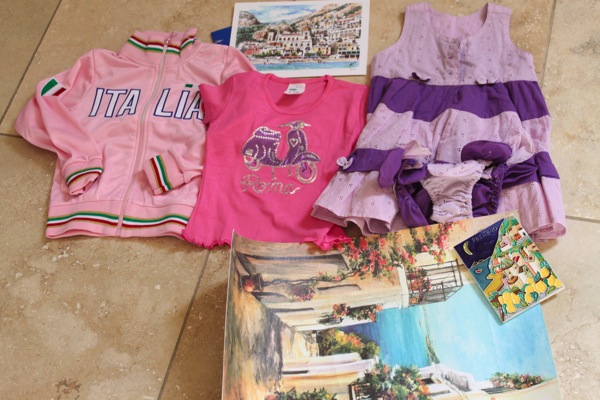 Italia hoodie, scooter shirt, "Sono una principesa" book, the linen outfit was handmade in Positano (and the flower bloomers kill me)
Souvenirs for the fam (had been given to them by the time I took these photos)
my bad hair day saver (the fedora) and latest obsession: harem pants.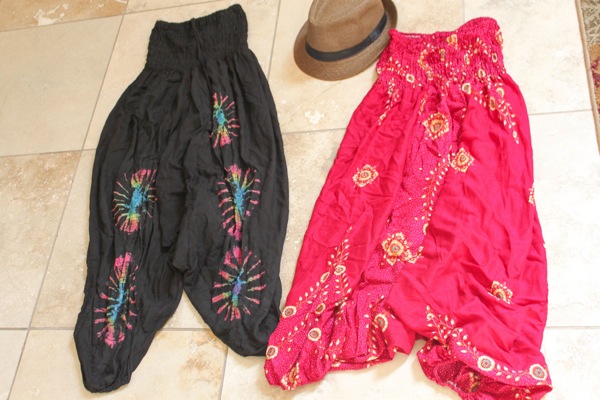 I live for maxi skirts and dresses, and harem pants just take it to the next level. They really are like fancy sweatpants! Both pairs were made in Positano by a kind and beautiful shop owner. She even offered to alter them on the spot for me if they didn't fit! They're soft cotton linen, and feel like I'm being hugged by an angel. They can also be worn like dresses, which would be an awesome swimsuit coverup. For now, I've been wearing them with solid tank tops, my glitter sandals and my hair in a messy bun. Then again, lately my hair is always in a messy bun. I finally chopped it, and it rebelled by quickly growing back a few inches. Apparently it doesn't like being short and is now an awkward length.
Also in the Italy purchases: some gorgeous new boots! I'd been coveting a pair of riding boots for too long, and now have a beautiful pair to wear this fall and winter. I haven't taken a pic of them yet, but expect to see them often as soon as the weather cools down.
Where is your favorite destination shopping spot? I love New York, but Las Vegas holds my heart.
xoxo
Gina