Plank and burn bodyweight circuit
Oh friends. I've definitely had my share of awkward fitness instructor moments, but this past weekend was pretty high on the recent list. I was SO excited to film a new video for you guys, so I decided to venture out to Sabino Canyon for some nice background scenery.
I rolled up my yoga mat and carried it out to the canyon with me, and by the reactions I got, yoga in the wild desert isn't a common thing.
"Whoa, you're going to do yoga out here?"
"Yeah!" (easier than "No, I'm using it to film a video for my blog!")
"Whoaaaa, coooooool."
Kid walking past me to his friend,"That girl brought a yoga mat. That's weird."
So I got some strange looks on my journey, NBD, and I found a nice spot away from the main trail. I set up the mat and backpack-grill-tripod, and was really stoked about the beautiful scenery: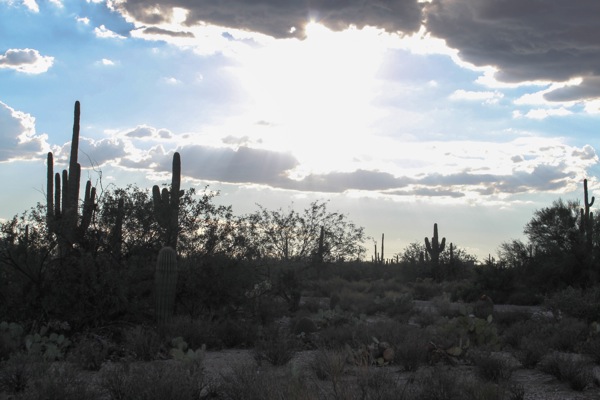 I figured it would be a good spot to film this circuit blast… until I pressed "record."
Some things I quickly realized:
#1: It's REALLY quiet. Like, every word you say with intention echoes into the wilderness. "Hi everyone! (everyone! everyone!) Today we're going to do a full-body circuit (circuit! circuit!)"
#2: No matter where you are in Sabino Canyon, other people will run past you. This is obviously my fault, not theirs, but something I didn't really think about. During one try, 3 different sets of sneakers ran past and you could hear the crinkle of their shoes in the gravel. During the last effort, a couple stopped to watch and see what I was doing (which looked like I was working out and talking to myself… totally normal).
Fail whale city, haha.
I decided to do a printable instead of the sad video: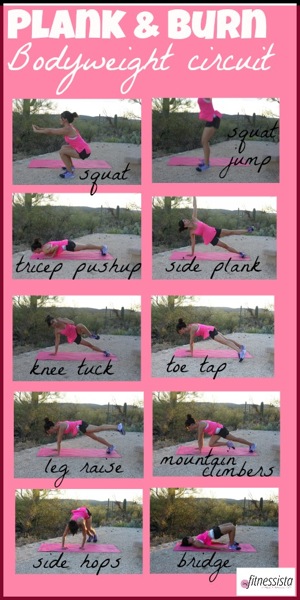 and will be finding another filming location for now on, haha. It looks great for pics, though!
Onto the workout:
You complete the moves in a circuit moving quickly from one exercise to the next. You only really have to remember two numbers: 10 and 45. If it's a strength movement, do 10 (on each side, if applicable) and for cardio blasts, it's 45 seconds. Since it involves keeping your weight on your hands, with many in the plank position, feel free to modify by coming down to your knees: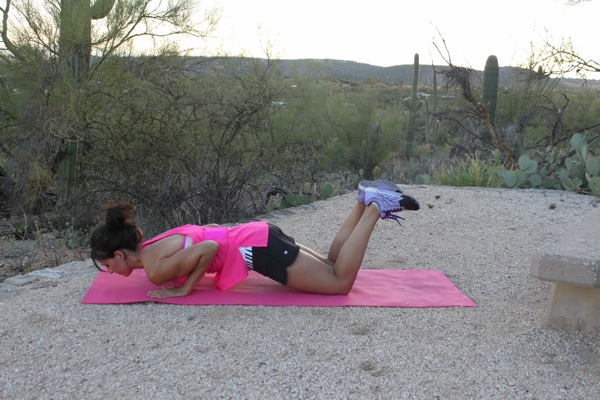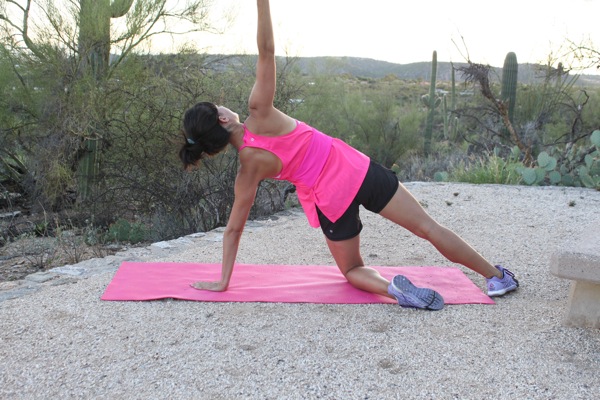 or dropping onto your forearms.
Here's a text version and form cues, too:
-Squat (10); Basic bodyweight squat, keeping your chest up, core engaged and weight back in your heels. Go down as far as you feel comfortable.
-Squat jumps (45 seconds): Spring up as high as you can, and reach for the ceiling. Low impact option: touch the floor, and then raise your arms as you come up onto your toes instead of jumping.
-Tricep pushup to side plank (10 on each side): For the pushup, keep your arms close to your body and your hips in line (as I like to say, "It's a pushup, not a TUSHup). Rotate into your side plank and as a challenge, lift the top leg and keep it lifted as you pushup.
-Knee tuck (10 each side): Using your core, exhale as you bring your knee into your chest and your elbow towards your knee. Rotate and complete 10 on the other side.
-Toe tap and leg lift (10 each side): While in plank, lift one leg to tap your toe out to the side, then, using your glutes, lift that same leg to hip level. Lower down to plank position and repeat on the other side. For this one, really think about engaging your glutes– use your booty instead of momentum to lift your leg.
-Mountain climbers (45 seconds): Make sure to use your core to draw one knee into your chest. Hop to switch and move as quickly as possible!
-Side hops (45 seconds): Keeping your legs glued together, hop to move both legs up and to the side. For low impact "walk" your legs side to side instead of hopping.
-Bridge (45 seconds): Squeeze your glutes and lift your hips as high as possible. If you want a challenge, lift up one leg for the first half and switch for the second half.
Complete this circuit up to 3 times total! It will work your core, blast your heart rate and strengthen your entire body 🙂
Make sure to warm up and cool down, and as always, check with a doc before making any fitness changes.
If you give it a try, please let me know how it goes!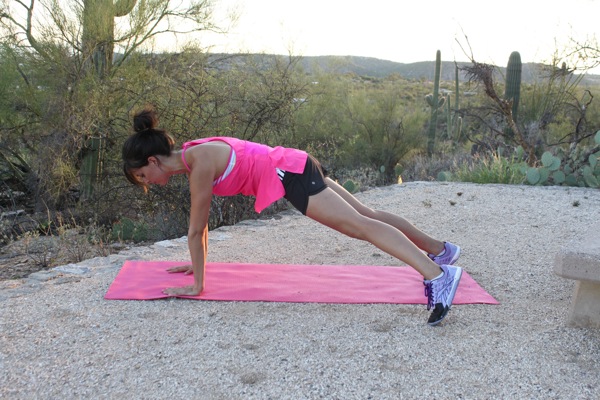 Off to work for this girl! It's a DJ and Zumba day.
Enjoy your Thursday! <3
xoxo
Gina
New on the Fashion page: some Italy finds
When was the last time you embarrassed yourself or felt suuuuper awkward? Don't worry, I won't tell 😉