Mystery #1:
Our lime/orange/grapefruit tree.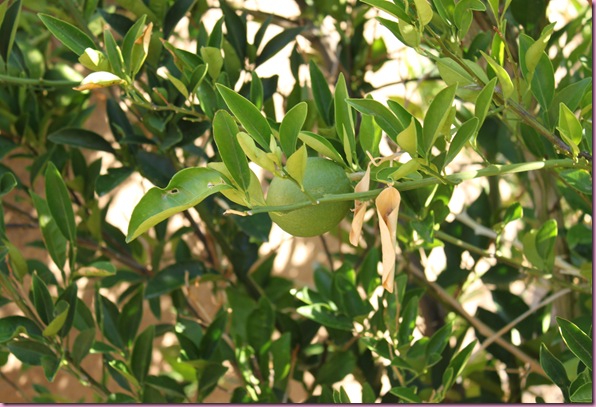 When we first moved in, I was convinced that they were limes.
Then they turned orange and are now splitting open.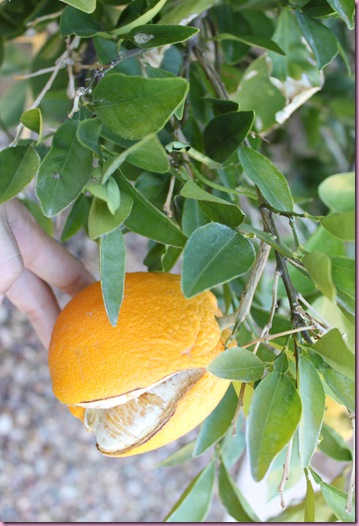 A fruit mystery, fo sho.
Mystery #2:
Our dehydrator is broken.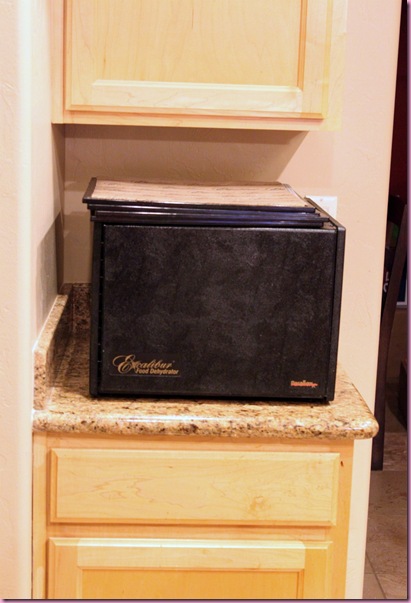 You see, things go in… but they never come out. They just disappear.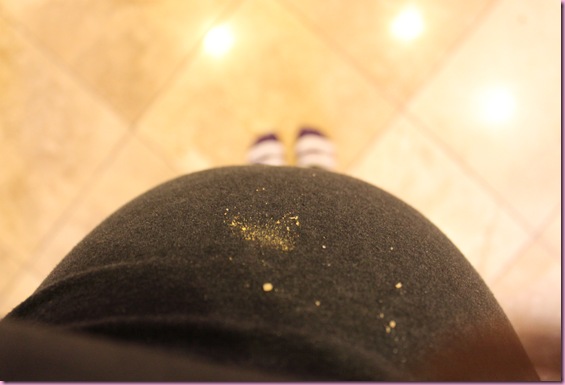 The most recent disappearing act: Cool Ranch Kale Chips!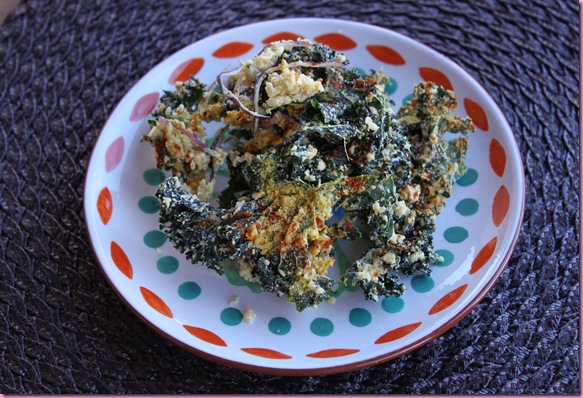 Check out the little sprinkles of flavored goodness: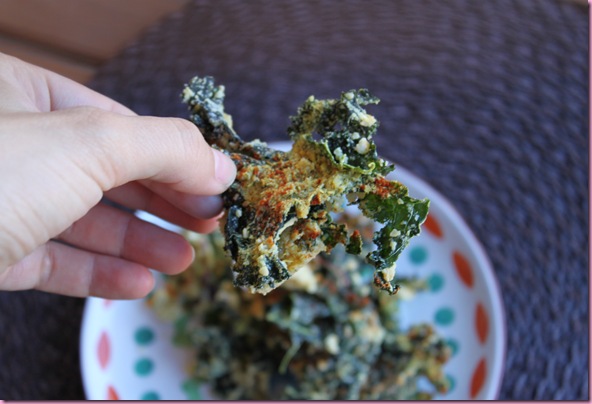 I'm really glad that they were super easy to make, because it looks like I may have to whip up another batch. Our house also smells like an onion, but it was 100% worth it.
Cool Ranch Kale Chips

Raw, vegan, gluten-free, ridiculous

Active prep time: 10 minutes

Total time: 7 hours (1 hour for the cashews to soak and 6 for dehydration)

Yield: ??

Ingredients:

-1 C raw cashews, soaked in water for 1 hour to soften

-1 bunch of kale

-1/8 C water

-1 T apple cider vinegar

-1 T nutritional yeast

-1 t dried chives

-1/2 t dried parsley

-1/4 t garlic powder

-1/4 t dried dill

-1/4 t sea salt

-1/4 red onion, thinly sliced

-paprika and extra sea salt for pre-dehydration sprinkling

-Gum and floss (for later)

1.) Blend the cashews, water and seasonings in a blender until smooth. Place mixture in the bottom of a large mixing bowl and add the sliced onions.

2.) Wash the kale and remove the stems. Tear off chip-sized pieces of the kale and add to the bowl. Using your hands, massage the mixture onto the kale bites so that each piece is well coated.

3.) Transfer the kale to 1-2 Tefflex sheets and sprinkle with paprika and additional sea salt.

4.) Dehydrate for 6-8 hours at 115*.. if they last that long 😉 You can also make these on a cookie sheet and bake in the oven, on the lowest setting with the door slightly ajar.

5.) Feast, floss, gum.
Let me know if any of you try these! I'd love to hear if you enjoy them as much as I do.
I'm back to work for bellydance, a level 1 dance cardio class, and stretch.
See ya later! <3
xoxo
Gina
Playlist: Here's a playlist I made for one of this morning's cardio/strength classes. It's a mix of some of my old and newer favorites, and bonus: it should match up perfectly with the Turkey Treadmill Workout. Enjoy 🙂