Nothing like a glass of the vinolicious after a long day of teaching.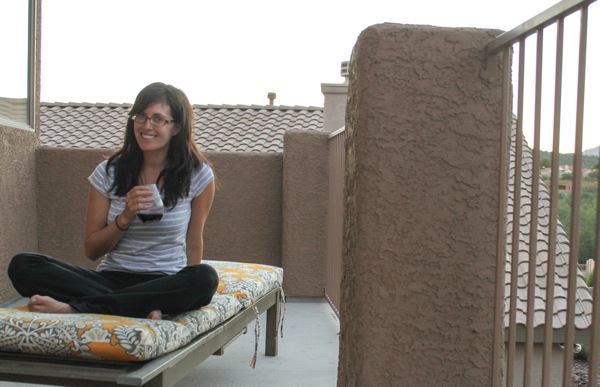 Zumba was outta control, I had a huge stretch class (over 40 ladies stretching!) and pool was surprisingly fun. They liked my playlist, which always helps things along, even when the particular class isn't my forte.
Afternoon snacks: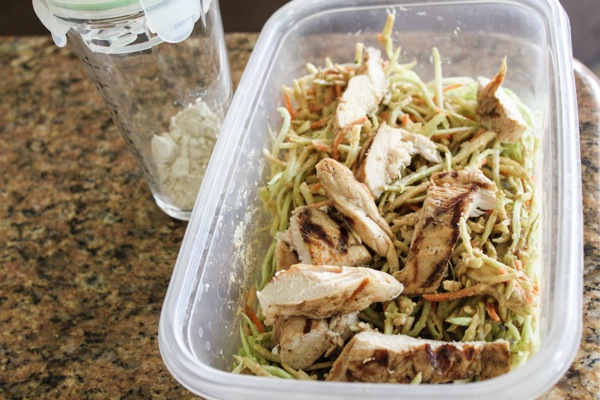 (Broccoli slaw with hummus, balsamic and chicken, Sun Warrior in a shaker. After pool, it's a frenzy to change for my next class, so the protein powder was something I could take with me. I mixed the protein powder with the orange sports drink we have, and it was pretty amazing) 
When I got home, I fed and snuggled with miss Liv while madre and nana were putting the finishing touches on dinner.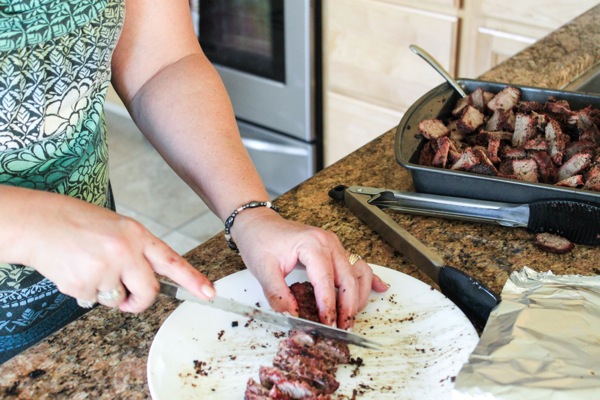 Tri-tip steak, beans, salsa, salad and gorgeous grilled tilapia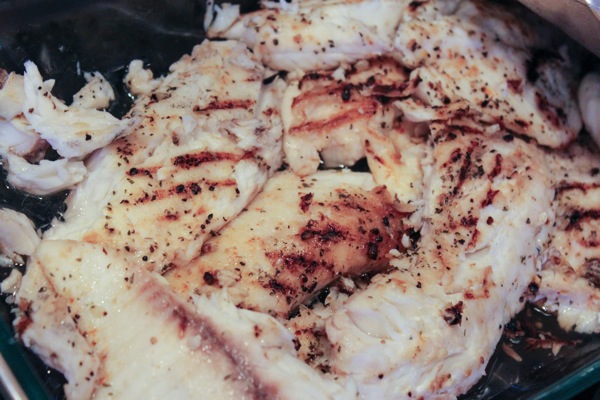 Even though I had some crackers and an egg burrito a few minutes before, I still went back for seconds. It was perfection,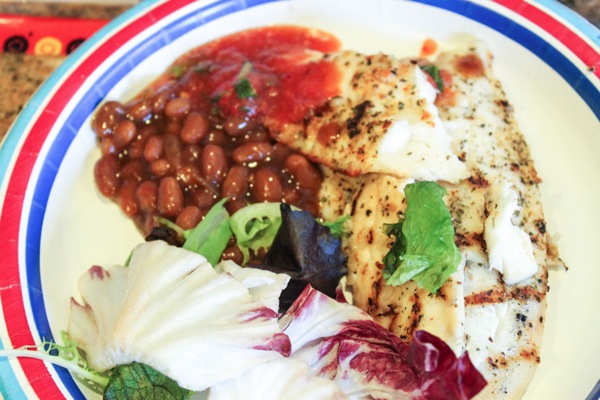 It's been such a wonderful treat to eat meals cooked by other people (doesn't food always taste better when someone else makes it?), and to be surrounded by family this past week. I'm going to be so bummed when my aunt, uncle and cousins go back to Key West- I love a full house. The exciting news is that we'll be making a little family trip to Las Vegas next week. Liv's first plane ride! Pray for me, haha.
Today, I was talking with one of my good friends at work and we were going over some secrets about our past jobs: little random things that no one really knows.
Here are some random tidbits about my current teaching job:
-One of the things we have to do for guests is offer and get them water, whether we're in the weight room or assisting classes. This is NBD, but then of course you get the people who are like, "no thanks, but more ice, about 30% lemonade, 10% tea and 60% sports drink. That's 60% sports drink, a little over half." And then I punch them in the face in my mind. In reality, I happily take the bottle and make sure those ratios are dang perfect.
-We're surrounded by treats, almost everyday. Sometimes I benefit from a little sugar buzz before teaching intense classes, but other times, I'll just feel sick if I have more than a few bites. Today I was surprised to see that there were no treats in sight, and then cookies appeared. And then I ate one.
-Our Speedo swimsuits have a zipper in the back, and I haven't met anyone yet that can contort their body to zip their own suit. We're always running around zipping each other, but if no one is in the locker room, you spend your walk to the pool with one arm twisted up your back trying to grab said zipper. I've taught with mine half zipped, praying my hair will cover it.
Here's something crazy about the Pilot's job, that I didn't know about until we'd been dating for a while and he showed me this video: 
G-LOC = G-force Induced Loss of Consciousness, which can usually affect fighter pilots and astronauts. According to Wiki knows all:
Under increasing positive g-force, blood in the body will tend to move from the head toward the feet. For higher intensity or longer duration, this can manifest progressively as:
Greyout – a loss of color vision
Tunnel vision – loss of peripheral vision, retaining only the center vision
Blackout – a complete loss of vision but retaining consciousness.
G-LOC – where consciousness is lost.
As part of his pilot training, Tom had to go into one of the machines in the above video and withstand an intense amount of Gs, so he knew what to do and what it felt like if it ever started to happen in his jet. I've actually seen the video of the Pilot's G-LOC from training school- crazy ish right there. A little more exciting than my water bottle ratios, but I do what I can, haha 😉
Spill one secret or little-known fact about your job! I won't tell. 
Hope you have a great night and I'll see ya on TABATA THURSDAY. Get ready for it!
xoxo
Gina