June 26: Trying to detour Worry City
So the entire time I've been pregnant, people have been commenting on how "chill" I've been about the whole thing. I've been eating what I've been craving, rolling with the morning sickness and fatigue (which is starting to go away!), stopped reading baby books and websites 24/7 and am trying to relax a little more.
Bella helps to relax me 🙂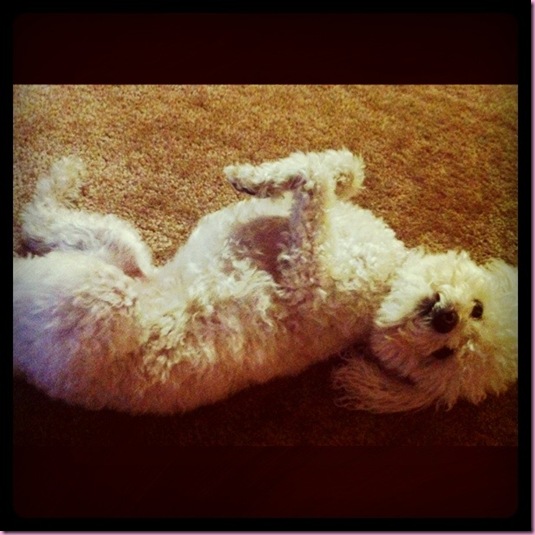 Because deep down, all of this kinda scares the bejeezus out of me and I can see myself worrying the entire pregnancy away if I drown myself in too many "what-ifs" and information overload.
This entire time, in the back of my mind, I've been praying that everything is ok and healthy and that nothing's wrong. Before I hit my 12 week mark, I was afraid to become too attached to the baby, just in case the worst possible scenario happened.
Then I hit 12 weeks and the background worry didn't go away.
In one of my baby books, I read:
"Welcome to life as a parent. You will ALWAYS been worrying from now on." Thanks for the encouragement, book.
One of the things that have been lingering in my mind is the ultrasound and genetic testing we have tomorrow. During the ultrasound, the technician measures the back of the baby's neck to test for Down Syndrome and following that is a blood test which screens for genetic anomalies.
But here's the thing:
-The blood test could be a false positive, which would open up a Pandora's box of worry and also lead to an amniocentesis, which I definitely don't want to have. (A 4 inch needle through my stomach? Um, no thank you)
-There could still be something wrong with the baby that the blood test couldn't detect.
After talking with the Pilot about it, we decided to do the ultrasound first, and they'll be able to tell from there if anything is obviously wrong. In that case, we'll push forward with the blood work and go from there. If the ultrasound looks good, we're forego the blood work.
Fingers crossed that everything is happy and healthy in there <3
Maybe they'll be able to detect if it's a boy nugget or girl nugget, too 😀