Latest most random Google search
File this one under creepy pick-up lines.
The other night, I was searching for "Do people speak Dothraki?" <— the language that they speak in Game of Thrones. I was ecstatic to find out that yes there are people that INTO IT to learn an entire fictional language, and it also made me stop and think about all of the weird/random things I search for during the day.
In lighthearted jest, many of my friends make fun of my penchant for Googling things. I will google anything and everything, and seriously the thought of Google glasses make my heart giddy with delight because I could instantly find that pair of pants that girl is wearing, or diagnose my illness (kidding but not kidding), or just know random things I've always wanted to know. Anyone else? Am I just a weird person with this?
And maybe it's in my current cold delirium, but I thought this would make a fun idea for a blog post.
What's the most random thing you googled lately?
On my list:
– How to stop thumb sucking. Everyone says "they'll stop when they're ready," but it was causing her jaw and teeth to move. Most of the time she didn't notice she was doing it, so we would just kindly remind her throughout the day. After about 5 weeks or so, I looked online for other ideas. We ordered these overpriced gloves ("You get to wear cool gloves like Elsa and these ones have an octopus on them!") but she wore them for about 30 seconds. Next, I found this stuff which had good ratings on Amazon. It tastes pretty bitter, and after reading the reviews, I knew to just put a tiny bit on her thumb right on the middle instead of painting the entire nail. I think by this point she was ready to stop; she had no prob with me painting it on after I told her what it was. It worked instantly and P is now the proud owner of the enormous stuffed flamingo she's been wanting for at least a month.
– Today's Orangetheory workout. (<— from this past weekend before I came down with this cold thing) Do you guys know about this Reddit thread? It's PURE GOLD if you're an OTF fan. I always lurk the workout or the schedule before I sign up, especially since I only have one class a week. I love knowing the workout in advance so I can pump myself up for it.
– S-corp vs LLC. I'm going to try and transition to S-Corp for the blog which should be a bundle of fun but worth it for tax purposes.
– Belt bag. I came across this one and it's pretty lovely. Just not sure 100% on board with the trend yet, so I love that it converts to a regular crossbody,
– What is colloidal silver? Madre dropped some off to me when my throat was hurting like a thousand daggers. She also brought a framed family pic and some Frida Kahlo socks because she's the best ever.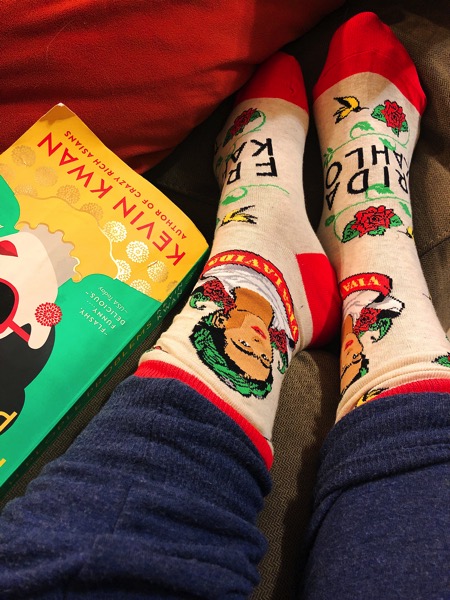 – Book suggestions like Crazy Rich Asians. I finished the trilogy and am so sad it's over. I couldn't find anything similar that caught my eye, so I downloaded Educated and Where the Crawdads Sing for our trip. I'd love any must-read suggestions you have.
So tell me, friends: what's the weirdest thing you had to know lately?
Have a wonderful day and I'll see ya soon!
xo
Gina
Ps. Amazing Beautycounter promo is live today! Get a free sun set (3 oz. sunscreen mist and 1oz. lotion) when you purchase $125 worth of products. If you're looking to make a swap to safer options, sunscreen is a great starting point, especially since chemical sunscreens are finally being questioned for their safety. You can check out the article here! If you're shopping and need help, please let me know! I highly recommend the overnight peel, dew skin, cleansing balm, and the Color Intense lipstick (garden party and brunch are my current faves).