Hey everyone! Happy Sunday to ya 😀
The rest of yesterday was bueno and I actually had a disaster-free work night! Miraculous, I know 😀
Before leaving for work, I made myself an open-faced salad with some of the goodies I picked up at the health food store.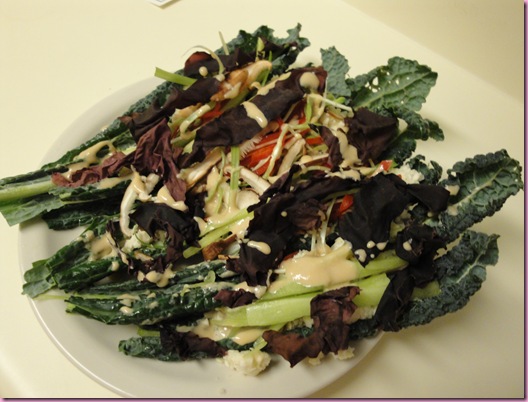 Organic kale, leftover sushi veggies, raw rice, and kelp noodle dressing, topped with dulse
Good thing no one was here to watch me eat it. I folded up each leaf and ate it taco-style, with fillings and dressing going everywhere. Not a first date kinda meal, but it was definitely delicious 😀
Work was pretty bueno and I manned the dessert/pastry station like a champ. I didn't cut myself (yes!) and got all of the orders plated and out pretty quickly if I say so myself 🙂 I'm finally starting to get into a groove over there.
Dinner was a Spice-C smoothie (we made this one in class and I fell in love instantly. Spicy smoothies are totally my thing)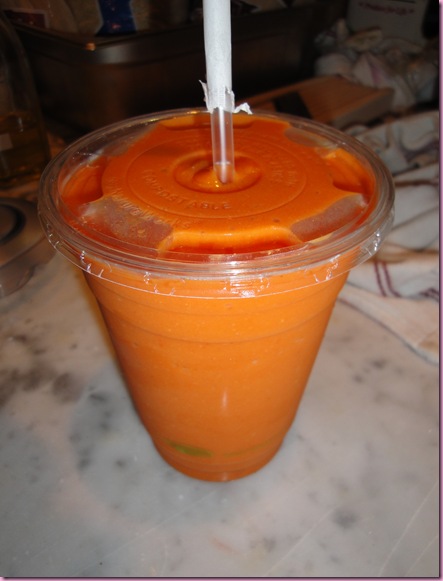 Fresh blood orange juice, frozen pineapple, goji berries, cayenne, and lime juice
Then I came home, and had a sleepover with Michelle 😀
We woke up not-too-early this morning, determined to finally get our outside run in. For the first time in over a week, the sun was shining!! Too bad we rolled out of bed crying about our yoga aches and pains. Yoga yesterday was seriously evil. I feel sore in places that haven't been sore in a loooong time, which is definitely a good thing but not so much when you're trying to run.
I had half this Lara before leaving: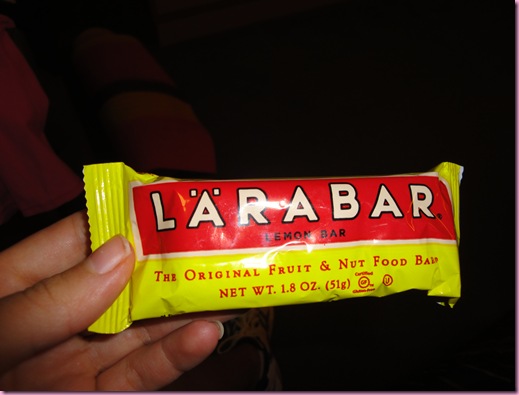 And we set out.
My legs felt like LEAD and it was the hardest 3.5 miles I've ever ran. We both decided to call it quits after that and go to bfast instead 😀
We hit up 105degrees because their bfast menu is seriously incredible.
I'm sorry if you guys are getting sick of pics from there, but I just can't get enough!
I ordered the cocoberry milkshake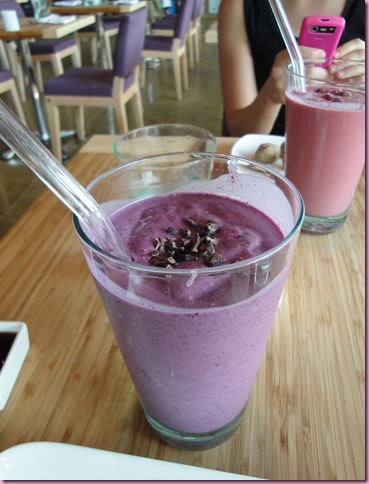 Wild Berries, Banana, Raw Coconut Butter, Peruvian Maca, Cacao Nibs
Aren't the glass straws awesome???!!
And the wild blueberry pancakes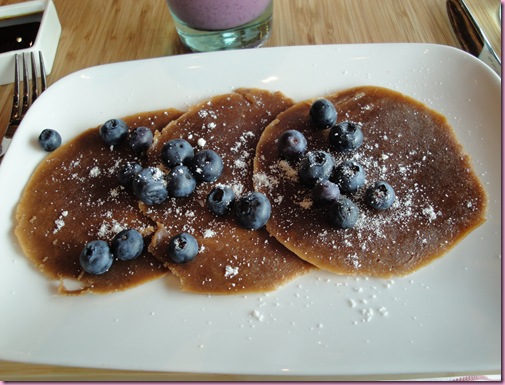 So. Freaking. Good.
I'm seriously getting spoiled here—what am I going to do when I don't have access to all of this food in a couple of weeks?? Guess I'll be going through withdrawals, or cooking a LOT. I have a feeling I'll roll with the latter, especially since I know how to make all of this now 😀
I'm back at the hotel-casa, doing laundry and decided to whip out this bad johnny.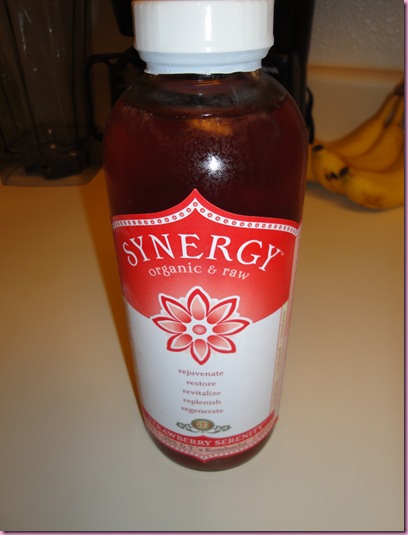 KOMBUCHA! Or as I prefer to call it, kom-blech-cha.
I really, really, want to like this stuff because it is good for you, but I have to acquire a taste for it. Hopefully it will happen soon- I have a couple of new flavors to try. I was feeling brave and opened the bottle, took a gulp and got a mouthful of bacteria strands. No joke, I had to chew it. Thanks kombucha, ya jerk. I'm still sipping along and at this pace, I might finish the bottle by Friday 😉
Hope you have a very happy Sunday!
xoxo,
G
Coming up: Blog updates! I added an "About" page and am working on the content right now, I'll let you know when it's up!