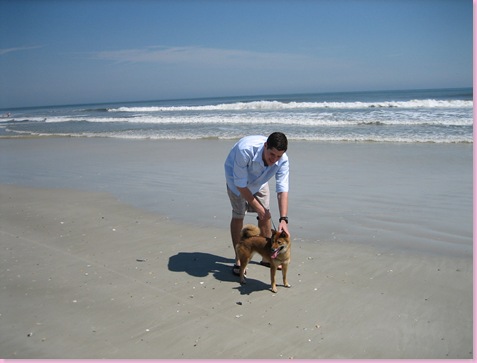 Hey everyone! No, the Fitnessista isn't suddenly typing in a much deeper voice. You've got The Pilot for this post. My better half is taking a much needed break this morning before starting her day. So, how're you guys doing? I hope you had a good weekend. Mine was great. After working until midnight with a few of the guys on a "verification" (which is a huge tactical presentation briefed to both squadrons) for the past week, I spent Saturday and Sunday relaxing with the pup.
Sleeping in… (nudging her with my elbow to see if she's going to come downstairs with me)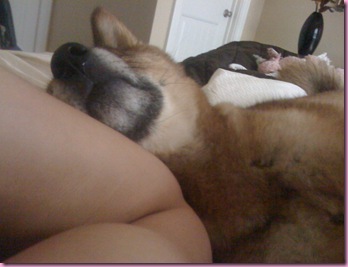 On Saturday morning, I played football with some of the guys from work and spent the rest of the day watching it. Are any of you bloggies die hard college football fans? I'm a Bama alum so I love watching the Tide do their thing and being only 6 hours from Tuscaloosa, they usually show the games on TV. I snacked periodically during the day. I'd post the pictures of my meals but I have a confession. It turns out that I've become incredibly spoiled by living with the Fitnessista and some of my bachelor cooking abilities/drive have tapered off a bit. If you feel cheated, I'll do another post with a sweet pic of my bagel, cereal and eggs. Lunch was a couple sandwiches with chips and salsa. I know…just allow your imagination to soar at the thought of such an eloquent spread. I miss my wife and her amazing meals 🙁
Sunday was pretty much the same except for a stop into work to get ready for a major inspection we're having this week. When I got back I took Viesa on a walk around the neighborhood before wheeling out the grill. It's our tradition to grill on Sundays so I brought the pup out front with me and cooked up a couple boneless chicken breasts just lightly seasoned with Weber's Grill Creations "N'Orleans Cajun Seasoning". It added just the right amount of spicy heat to the chicken. I left one of piece unseasoned for my brunette dinner date. I wasn't starving thanks to my constant snacking but it hit the spot.
Dinner of Kings: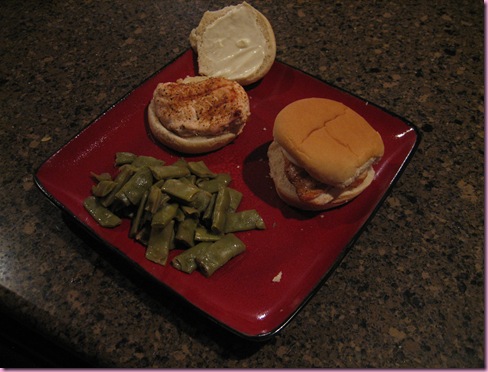 If those kings had dogs: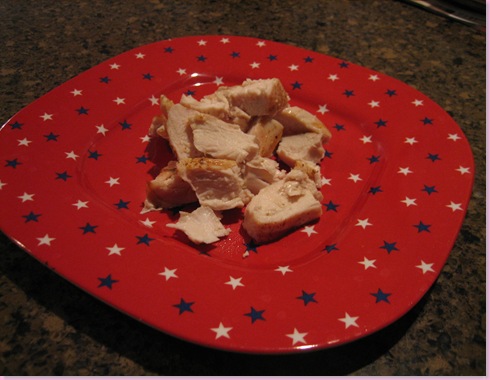 She hated it: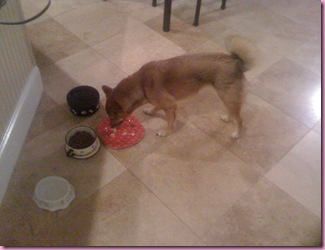 With everything going on this month at work with inspections, verifications, upgrades, etc., I haven't had a lot of down time at home (which works out well with the Fitnessita in OKC since it's better to knock all this stuff out while she's away). Thankfully, we have a lot of great friends that walk Viesa during the day when I can't get home. When I'm here, however, it's great to spend a little quality time with my buddy. Not to be a Buzz Killington but since we're probably going to have to find her a new home soon, it's nice to hang out with my pup while I can. Hopefully, she'll go to family so we know she'll be taken care of and we can check in on her when we visit.
Overall, it wasn't too shabby of a weekend. I hope you guys have a good (and hopefully short) week. I'll be flying to OKC soon to meet up with the Fitnessista then it's on to our next adventure. Whatever it is, we're glad that we'll be able to share it with you. In the meantime, if there's anything you've ever been curious about pertaining to military lifestyle from the husband's POV, feel free to ask. I'll be happy to give you my best, honest answer. Take care and I look forward to saying hi next time.
Attack!!
The Pilot