Let's talk about stretch cream
I can't believe I still haven't written about how I told my mom about the little nugget, since it really is an interesting/random story.
It was about 4 days after I found out and the Pilot and I decided it would be a good idea to tell the madre since she was here, he was not, and just in case I really needed her.
One night I was over at her house hanging out and she said "I'm going to take the alley dog some food." It was 10pm and my mom was packing up a chipotle burrito container with dog food and chicken and grabbed a bottle of water plus another disposable bowl to use as a water dish. That's the type of person my mom is… wanting to go take a dog she had seen in the alley some dinner, 10 o'clock at night. Since I wasn't about to let the madre go traipsing around in the alleys at night by herself, I told her I'd drive her.
We drove three streets down, and down the alley where she'd seen the dog while driving earlier that day, and she left the food and water dish there. When she got back in the car, I started to tell her the news as we drove back.
"I have something to tell you but you have to promise not to tell anyone and I'm pretty sure you know already." [My mom has supreme mom psychic abilities]
"Ok I promise. What?"
"We're going to have a baby."
The squeal that she made was the damn cutest thing I've ever heard. She was so excited.
"Mom, you can't tell anyone! And not the family because everyone will know and I'm scared something will happen."
She went on to hug me and assure me that everything would be fine, asked how I was feeling, how I found out, how I told Tom, and kept telling me she couldn't wait to have a little baby to make a varullo (big fuss) over.
I was instantly so glad I told her and it made me even more excited about what was going on, which I didn't think was possible.
A few days later, I was over at her house after work, lying in her bed because the fatigue had started to hit me like a mofo, and she walked in and said: "How are you feeling?"
Me: "Good. My hips hurt and I'm tired though."
Madre: "Have you bought stretch cream yet?"
This is already hilarious because that's exactly the type of thing my mom would warn me about, but even more hilarious because I'd not only stashed up on one bottle, but three, by that point.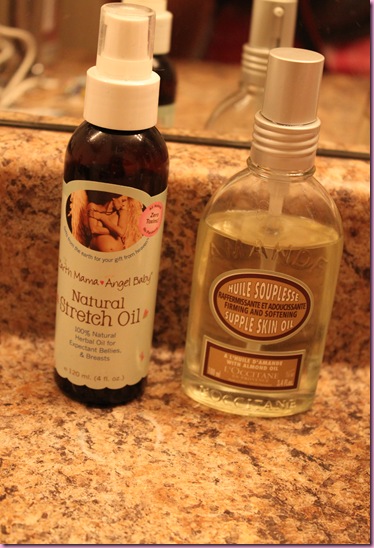 (the other bottle was taken by airport security)
After crying tears of joy on and off the day I found out and scoping out designer diaper bags, I went on a mission for stretch cream. I have stretch marks already on my thighs from the weight I lost back in the day, but I'm kind of proud of them. My body changed quickly and that's what happened- kind of like battle wounds 😉 On the other hand, when I have a baby I don't need stretch marks to prove it. I'll have, um, a baby to prove it. Haha.
Ever since I found out the news, I've been even more careful with the ingredients in my skincare and lotion, since skin absorbs the ingredients and chemicals that are included. I'll read the ingredients and check for a few things: sulfates, parabens and anything with "eth" at the end of the word. While it's debatable how much is actually absorbed into the skin and bloodstream and how much it would affect things, I'd rather just err on the safe side.
My first stretch mark prevention weapon was from Whole Foods, since I knew it would be easy to find something that fit the bill.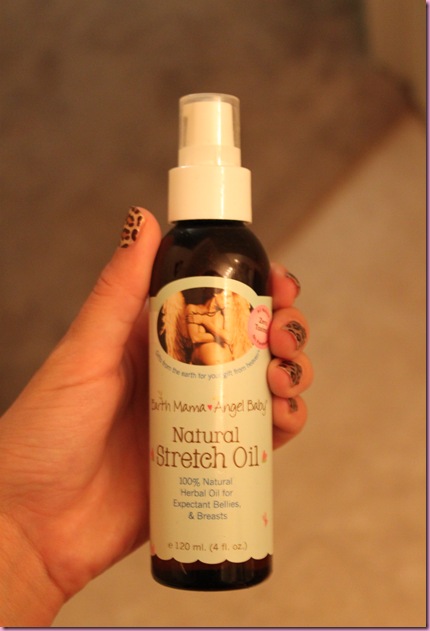 While the price tag was fantastic ($16), I wasn't a huge fan of the product. It was thick, oily and greasy. The smell was mild and not too bad, but I used it for only a couple of nights until I moved onto this: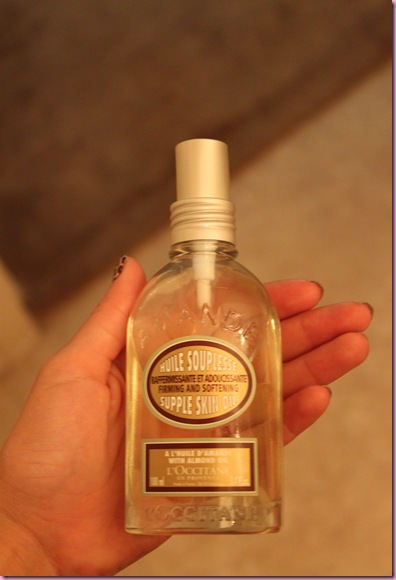 L'Occitane Supple Skin Oil. While it's pricey ($34), it's incredible. The smell is heavenly (like almonds- the Pilot asked what perfume I was wearing when I crawled into bed) and my skin actually absorbs the oil, so I feel like it must work better. I have to give a huge shout out to the girls at Sephora because when I told them I was expecting and looking for an awesome, natural stretch mark prevention option, all of the moms in the group raved about this one. They also said they have a client that has had three children and picked up a bottle during her pregnancy for each child. I also like that the box has instructions on how to rub in the oil to best prevent stretch marks.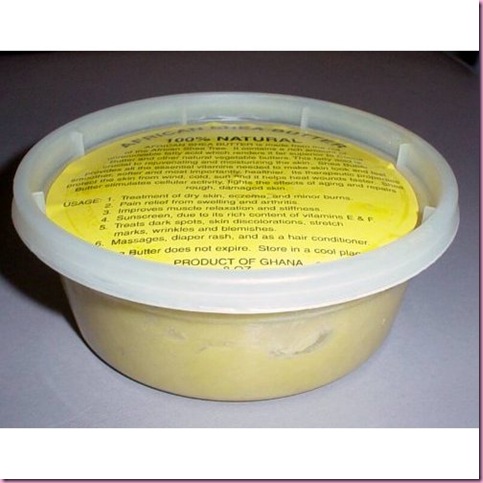 Source
I also used raw shea butter for a few nights (which was stolen by airport security when I went to Vegas- I wasn't about to bring any of the oils with me and have them explode in my suitcase), it was more of a hassle than anything. Its the most pure and natural option (and very inexpensive- $7), but heating it up with my hands to rub it in + the stank smell on an already sensitive nose wasn't going to work.
So there's my stretch mark cream story 🙂 I'll definitely be sticking with the supple skin oil for now.