Today we had our last –wishful thinking, haha- midwife appointment.
It went really well as usual, and the midwife talked with us about some concerns. We were asking about skipping the eye gel, which she ok'ed as she skipped it with both of her children, and her thoughts on the vitamin K shot, which we'll be getting. The good news is that the hospital is baby-friendly, and most of the afterbirth care and testing will be done while she's in my arms.
When she went to check the baby, she discovered that the baby's position is now like that of my least favorite egg: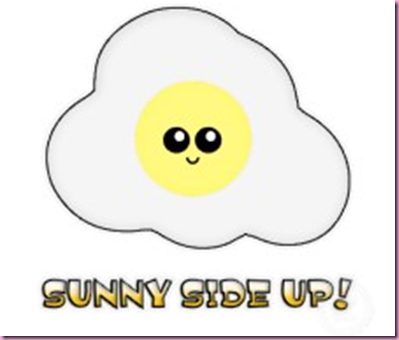 Source
Apparently, she wants to see the world as soon as she comes out 😉
I was wondering what was going on, because her movements have seemed so different than usual. She'll move, and instead of confidently knowing what part I'm feeling sticking out of my belly, I'll have no idea. And it totally explains the debilitating back pain I've been having- baby and I are spine to spine right now.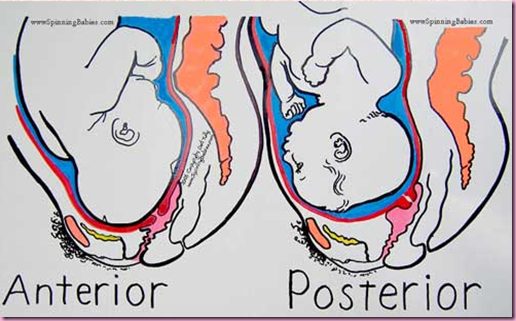 Source
The back pain has been going on since Wednesday night, and pretty much nothing has been able to make it feel better. (Back rubs from my madre have certainly helped, though) On Wednesday night, I laid on the couch, with Bella curled next to me, tears streaming down, and this morning, I had to hold onto the countertop in the kitchen before I writhed to the floor. I sat on the floor laughing because it shocked me how much it hurt –I was cracking up- and at the same time, I had tears falling down my face. It was definitely intense. Tom was laughing because he said I'm going to be the girl that the nurses are talking about because I'll be cracking up the entire time I'm in labor. My mom said I could be in labor right now and have no idea since I'm only feeling it in my back, but the midwife thinks I still have a couple of weeks to go.
Baby has plenty of time to flip back to her side, could even turn during labor, and the midwife gave us an exercise to encourage her. I'll lay on my back with a blanket under my hips, and Tom will grab each side of the blanket and lift my hips off the floor. He'll rock my hips from side to side, and then quickly raise the right side of the blanket, tipping the right side of my hips up. She suggested doing this two times per day. The good news is that she's head down, but I'm definitely hoping she flips back over before go time.
Because, as usual, Babycenter is a pro at scaring me:
If my baby is posterior at birth, how will it affect my delivery?

Mothers whose babies are face-up at birth tend to push longer, more commonly need Pitocin to stimulate contractions, and have a significantly higher risk of having an assisted vaginal delivery or a c-section.
Those who do give birth vaginally to a baby who is posterior are more likely to have anepisiotomy and severe perineal tears than moms whose babies are in the more favorable face-down position, even after you account for the higher rate of forceps and vacuum-assisted delivery.
There are a few tips I've found online:
-Pelvic tilts on hands and knees
-Hip movements while sitting on a stability ball
-Hot shower on my back
-No reclining
-Prenatal yoga
Did anyone else have a sunny-side up baby? Did he/she turn? Anything that you found to help with pain, or turning the baby?
Friends sans kids: favorite type of egg? I'm more of a scrambled, steamed or over-medium girl 😉