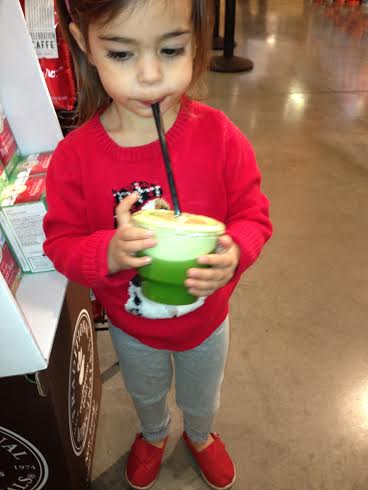 I have to tell you guys about the scary face. I'm thisclose to posting a picture of it, but then someone would have to make a meme and my child would be forever known as "evil toddler" or something like that. One day, out of the blue, she looked at us, slightly tilted her head down, and glared up with her little dark eyes. It was the creepiest thing we've ever seen, and Tom and I basically died laughing. So, naturally, she learned that the "scary face" is hilarious and will do it opportune times throughout the day. Oh man. 
Tom told me that while they were driving, and I was following them in our other car, she was saying, "Mom.. where are you? MOM? Where are you? GINA? Where are you, Gina?"
"Frosty… SNOWMAN! Uh, jolly happy SOUL. Corn cob pipe button nose…. SNOW! Jingle bells, jingle bells, jingle alllll WAY! Frosty. SNOWMAN"
Me: "Livi, did you see your cousins?"
Livi: "The hula girls. Yes"
"Dada, I want to go to Minnie Mouse house."
Me: "Livi, what do you want for breakfast?"
Livi: "Ummmm…. PIZZA"
Weekend mornings, Tom or myself will get Livi from her crib when she's awake and bring her into our bed to see the dogs and finish and waking up. He brought her in one morning, she curled up with me and said, "Mama! I missed you all day." And then my heart exploded.