We spent the morning playing at the Children's Museum with friends- it's one of Liv's favorite spots.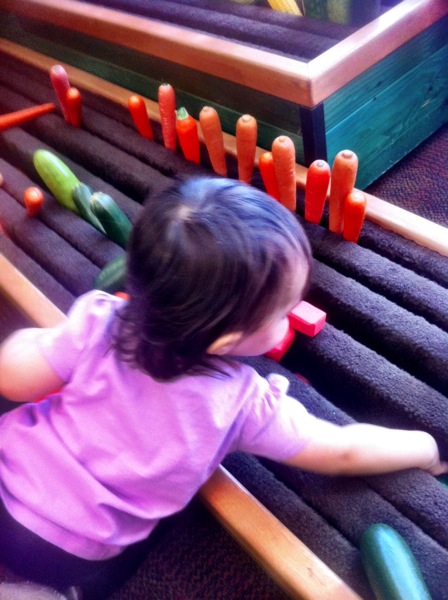 [Picking veggies]
Behind the scenes of playtime, the tow truck and the Pilot were on the way to rescue us.. my car decided to flip out on the way there. The coolant indicator light went off in orange (which means to get it checked at your convenience) for about 20 seconds until it turned red, which is a bad sign. I don't know a lot about cars but definitely know coolant is serious business- thankfully we were already close to our destination when it happened, otherwise, we would have been stranded on the way. Not sure what Betty's fate is, as I'm still waiting for the repair shop to call back :/ 
Broken phone, broken car, broken toe… they say it comes in threes. Hopefully we're done now!
I'm currently eating a giant bowl of breakfast cookie dough cereal: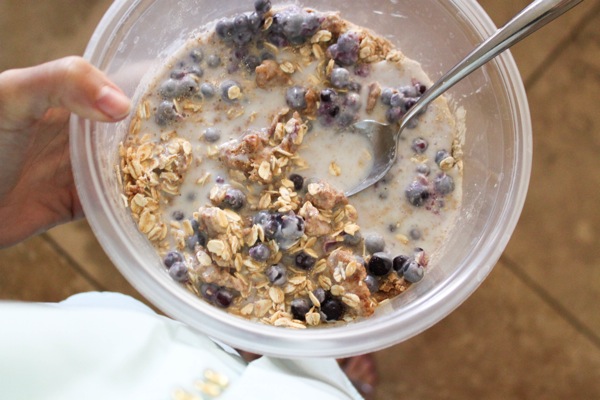 For the nut butter portion, I used some almond butter my friend Sarah from San Diego sent me. Such an awesome surprise! I can tell that it has a little bit of coconut oil in it and the texture is amazingly similar to Justin's nut butters. SO good.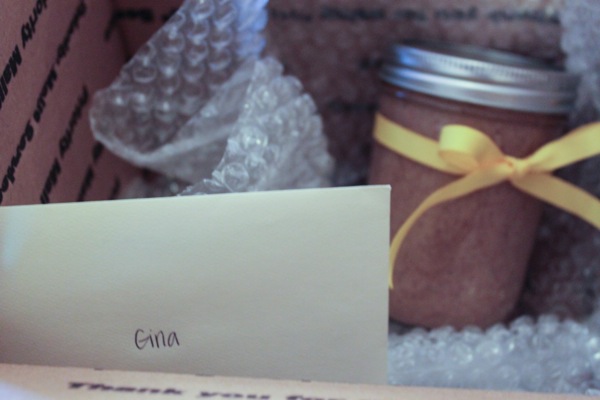 Another recent foodie treat: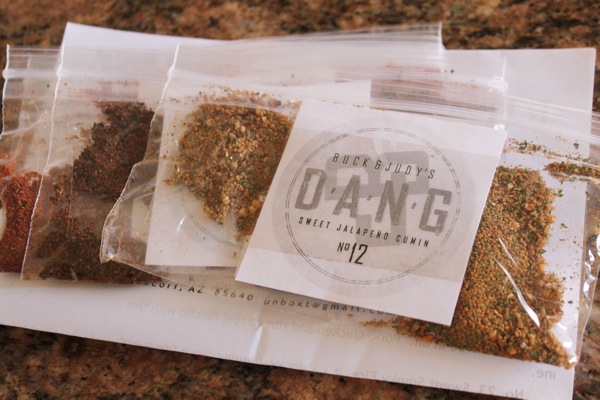 A friend from work gave me a ton of new spices to try, which work well as meat rubs. One of them has espresso powder and they all smell heavenly.
Hot bar snack: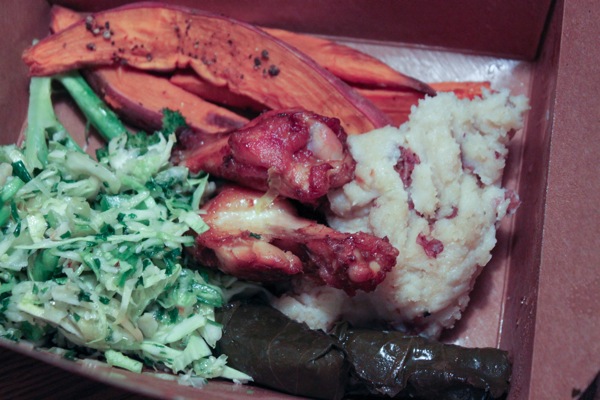 Chicken drumsticks, mashed potatoes, grape leaves, sweet potato wedges, broccoli, salad (which had scallions, cabbage and a glorious sesame dressing)
In the month of March I'm going to emphasize salads again, since the weather is warming up and the theme for March is GREEN. In addition to enjoying more fresh fruit and veggie salads (like this one… it's a staple right now), I'm also going to experiment with new salad recipes. It's so easy to get stuck in a rut. Who's joining me? We can use the hashtag #greensformarch – I can't wait to see your awesome salad pics.
Hope you're having an amazing Friday. 
See ya soon on the Fashion page- I have a great post from Meg to share with you.
xoxo
Gina
Sponsor shout out: A few of you have let me know about the pop up ad on the bottom of the page. I'm getting it sorted out right now (I thought it was just going to be a footer ad, didn't know it would be blocking content or you'd have to click out of it. I'm sorry about that). As of right now, most of my ads are chosen for me through a couple of ad networks. I've opted out of certain campaigns and companies I don't agree with. I'd love to eventually have ads that I've curated myself for individuals and companies I use regularly and choose as partnerships. This month is the first month I'm starting to do a little more of that, so thank you so much to Nike for being a March sponsor! I always have been and will continue to be totally transparent with you guys about stuff like this- the blog is something I enjoy so much and everyday I'm thankful it helps me to support our family…. or in this case, helping towards my broken car. <3