As you guys know, I'm a HUGE fan of power yoga. It's one of my all-time favorite workout loves, and something I always come back to, even after a bit of a hiatus. Right now, I'm on a power yoga high as I've been recently reunited with the practice. In Tucson, I've had a bit of a tougher time finding a studio close to me (AZ Power Yoga is amazing, but really far from pretty much everywhere in Tucson), and finally found one I adore with an amazing teacher (aaaand it's only $4! Skidoosh.)
I can't believe I haven't done a "Focus On" post for power yoga! No time like the present… nothing reminds you to stay in the present like an incredible yoga practice <3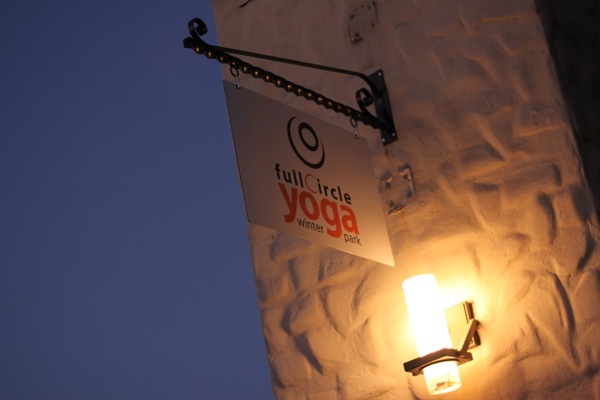 [When I wrote this, I was writing from a participant's perspective, not as a certified instructor. I'd been practicing yoga for 10 years, regularly for 5, and had taken a variety of classes around the US. Power yoga is by far my favorite, but I also enjoy Bikram and gentle hatha yoga from time to time.]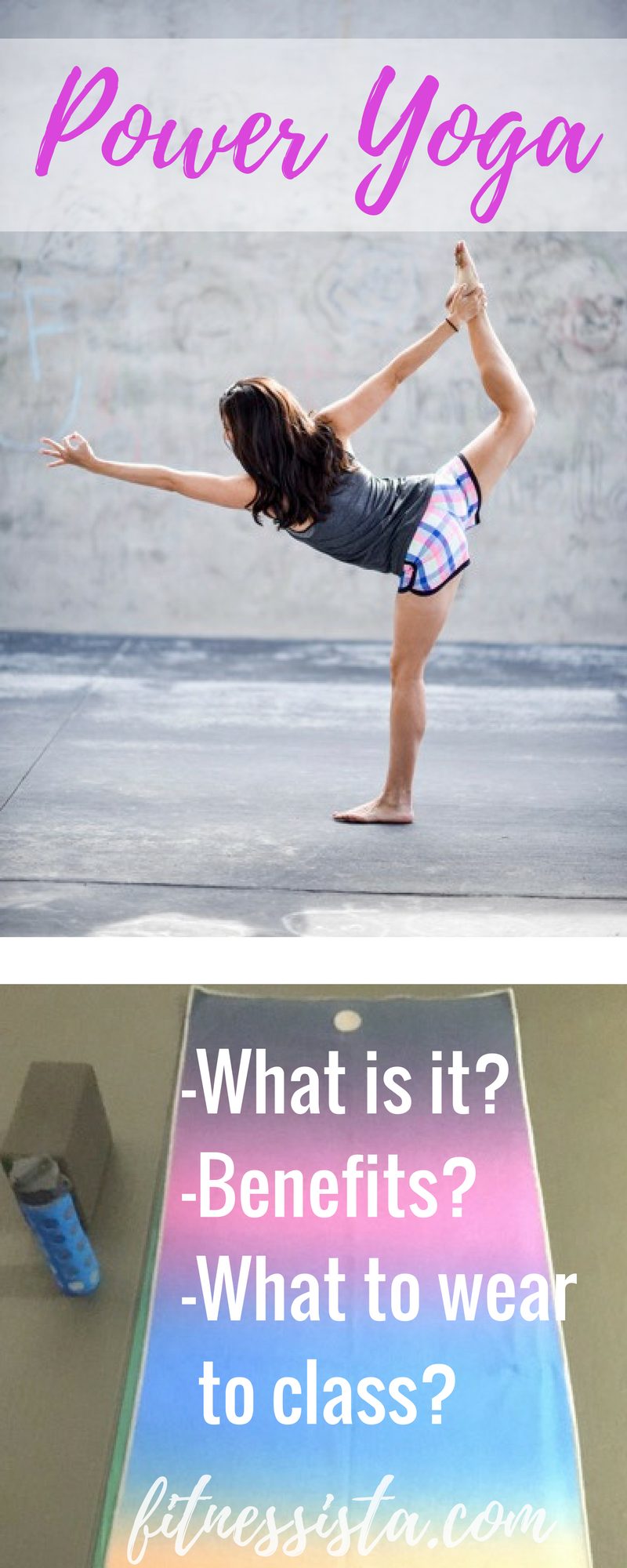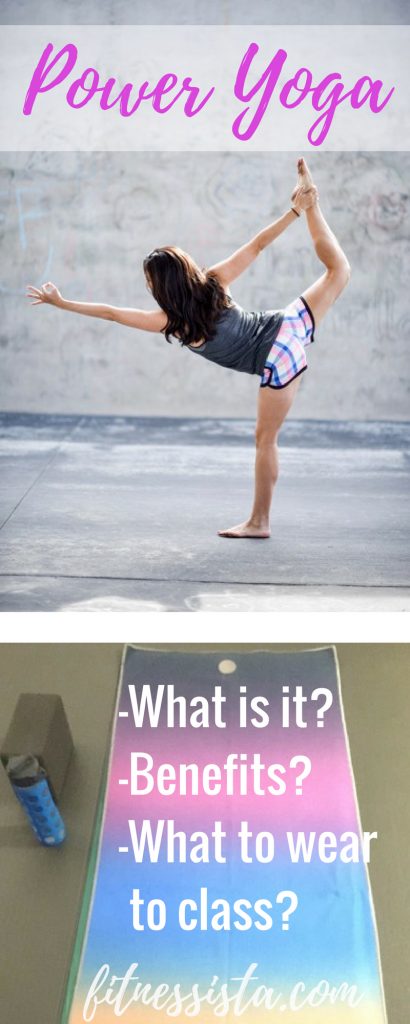 What is Power Yoga?
Heated vinyasa yoga is usually referred to as "power yoga", in which you flow from one pose to the next using your breath. It's a very athletic practice with a cardiovascular element, and you'll also work on core strength and balance. You'll still hold poses, but often they're part of a series that you'll add onto for the duration of the class. Sometimes power yoga can be VERY fast and furious, and the room is usually heated. Some studios are much hotter than others, going from a comfortable warmth to a scorching oven; you have to find the studio/instructor combo you like the most.
What Should I Wear to Power Yoga?
Always hydrate well the day before and up to your yoga practice. Some studios recommend practicing on an empty stomach- I'll find that some fruit or half a bar is a good pre-yoga snack for me. You don't want to feel uncomfortably full, but it's also a little awkward to be the one in savasana with a growling, angry stomach. Wear something that you'll be able to sweat buckets in, something that's comfortable, and won't enable you to flash your goodies in a variety of poses. I prefer the lululemon Boogie shorts and a tank but you'll see any combination of clothing (or non-clothing, rather) under the sun- just wear what makes you feel good and that you don't mind drenching in sweat!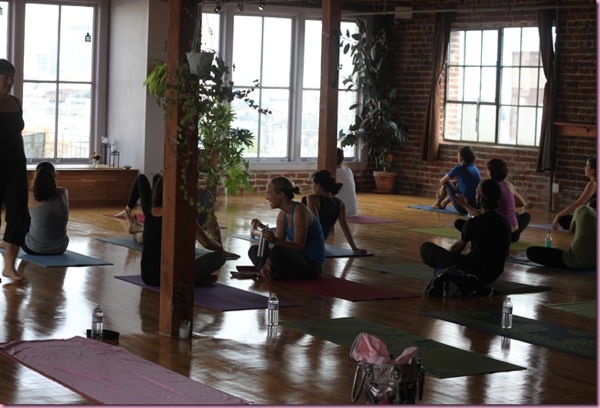 Bring a water bottle, towel or mat towel to cover your mat
(unless you have a mat that doesn't get slippery with sweat), mat (or you can borrow one form the studio) and shoes that can be easily removed. Most yoga studios ask you to remove your shoes outside the studio, so I find that slip-ons or flip flops are good options. I also like to wear my hair up and a headband, so I don't have rogue, drenched tresses in my face. Another tip is to bring a set of clothes to change into, plus a baggie for your other clothes- driving home in a pool of sweat gives me the chills.
Pros of Power Yoga
-I always feel like a million bucks after an awesome power yoga class. I walk out of the studio, a happy, delirious yoga noodle and continue my day with extra clarity and optimism. I especially love the yoga pep talk that many instructors will give and I also LOOOOVE good assists with poses.
-Yoga has so many fantastic benefits including lower stress, improvements in sleep quality, flexibility, muscle strength/tone, increased sex drive (hubba hubba), and lung capacity, which can translate to better performance in other exercise modalities.
-Mental benefits. This is one of the main reasons I love yoga so much. I always feel like I'm one step ahead of myself (which is beneficial and extremely annoying at the same time), and yoga reminds me to sloooooooow down. It's refreshing to go to a class and forget the to-do list at the door.
-Low cost options. Like I mentioned before, the class I love is $4, and there are a ton of other yoga specials I've noticed in Tucson ("power hours" which are $5, Groupons and Living Social deals for unlimited classes, etc.). Yoga can be very expensive, but I love that studios are making the practice more budget-friendly. If you don't have a studio near you, there are a lot of fantastic DVDs and at-home options, but if you're a beginner, I suggest taking a class with an instructor instead of trying to learn on your own (which can be a quick ticket to injury city).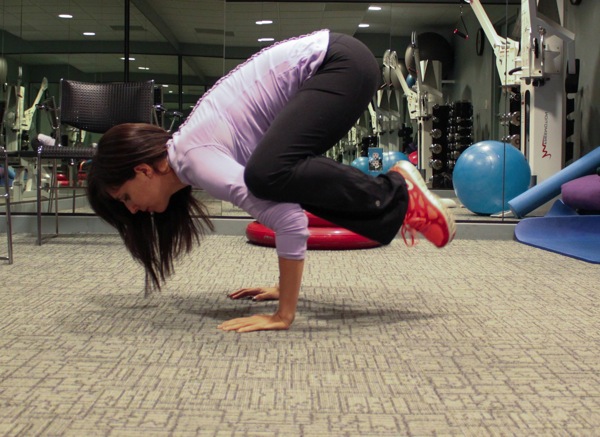 Cons of Power Yoga
-Time commitment. Many power yoga classes are 90 minutes, which is too long for me including the commute and shower time; there's no "save the gym hair" after a hot yoga class. Thankfully, I can take the 60 minute class, or do some of a DVD or podcast at home to fit in with my schedule.
-Just like anything else, the instructors and studio make all the difference in the world. I've practiced in inviting spaces with teachers who were kind, helpful and got into the depths of my soul with their savasana pep talks, and I've also practiced in a studio that smelled like hamsters with Yogini Queen of the Universe barking pose orders at me. It depends on where you go, so don't let one bad experience taint a potentially amazing journey.
-Familiarity with the poses. Since many power yoga classes can be very fast-paced, I recommend power yoga to intermediate to advanced students who know the English and Sanskrit names for most of the poses (especially the more common ones like upward-facing dog, down dog, plank, chatarunga, warriors 1-3, chair pose, triangle, crow, and extended side angle).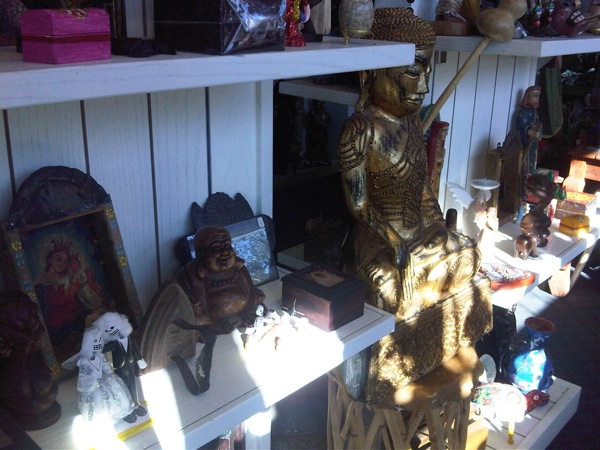 What's the difference between Bikram and Power Yoga?
You can read my Focus On post for Bikram here but the main difference is the structure of the class. Almost every power yoga class you attend will be different, according to the instructor. Bikram is the same every time. It's a set order of poses for a set amount of time. For power yoga, the instructor has the freedom to craft the practice according to their personal direction for the class.
Do you love power yoga, too? Is it something you'd like to try?
I'd love to do a link-up of your favorite yoga studios (power or anything you love) near you, so we can share recommendations with each other!
Here are my favorites:
Orlando Power Yoga (Orlando)
Full Circle Yoga (Orlando)
The Yoga Room (OKC)
M Body Yoga (Jacksonville, FL)
Bikram Yoga of Jacksonville (Jacksonville, FL)
Yoga to the People (San Francisco)
La Jolla Yoga Center (San Diego)
Yoga Oasis (Tucson)
Hot Yoga on 4th (Tucson)
More yoga posts:
Does yoga count as strength training?