When I graduated from high school…um…a few years ago, my big sister Ashley took me to New York City as a graduation present. It was SO much fun and I definitely fell in love with the busy streets and massive buildings. Ever since that trip, I've been dying to return. Well, Kyle and I will be celebrating our 1 year wedding anniversary in May (!!) and we have decided to hop on a plane to the Big Apple to celebrate! This has my mind buzzing 24/7 about the fun things we'll be doing! Central Park, exploring neighborhoods, and we can't forget a Broadway show. Being obsessed with fashion, I am already trying to imagine what I'll be wearing to explore the city with my honey. Maybe I'm crazy for already thinking that far ahead, but I know it'll sneak up on me before I know it!
There are a few essentials I'll be saving up for to buy for the trip and there's no place like Polyvore.com to facilitate my fashion dreams. I've come up with a couple of outfits that would be absolutely ideal for NYC. To explore my account, check out my page. Here you can find exact details about the items in each grid.
Firstly, a look for strolling through Central Park!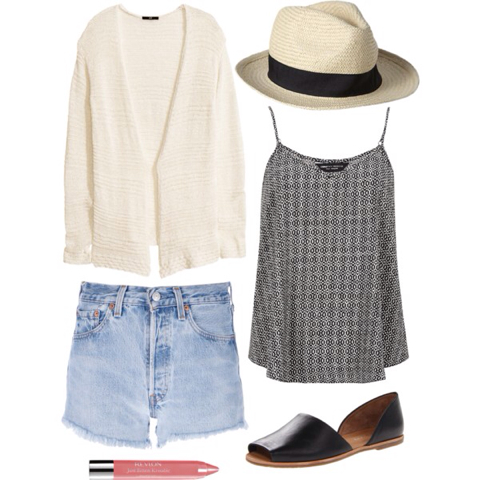 Something simple and slouchy would be perfect for a day in the sun, exploring coffee shops, and soaking up the New York Spring air. An affordable oversized cardigan from H&M would be too cute with those Franco Sarto summer sandals.
A comfortable getup will be entirely necessary for Museum day. I love the Museum of Natural History and I know K will too. We happen to be staying very close to the Guggenheim, which I am ecstatic about.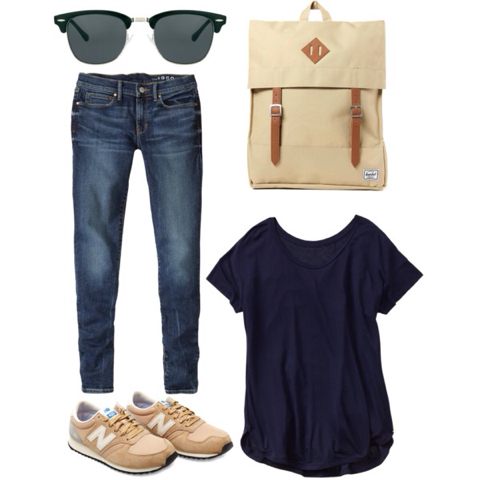 You can't go wrong with Gap denim and a comfy tee (also from Gap). How do we feel about backpacks? They seem like a perfect way to carry all the necessities for a busy day in the city!
Okay, this third outfit is what I picked out for a day of shopping around and acting like tourists. I want to feel comfy yet cute while we do cliché things like ride the elevator to the top of the Empire State Building, and take pictures in front of the Macy's where the Thanksgiving Day parade happens. I got goose bumps just thinking about it!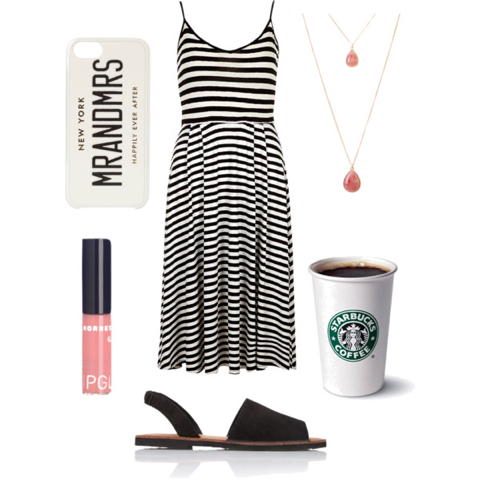 This Dorothy Perkins dress seems like a wonderful fit (I may have already ordered it in black) and the prices are extremely reasonable! A long statement necklace will polish this look off and I had to throw in that Kate Spade cell phone case. I feel like it was made specifically for this trip ?
Last but not least I dreamt up what I'd wear to a Broadway show. Side note: if you have seen any of the shows running right now, PLEASE comment with suggestions of what to see! We haven't chosen yet so input would be much appreciated.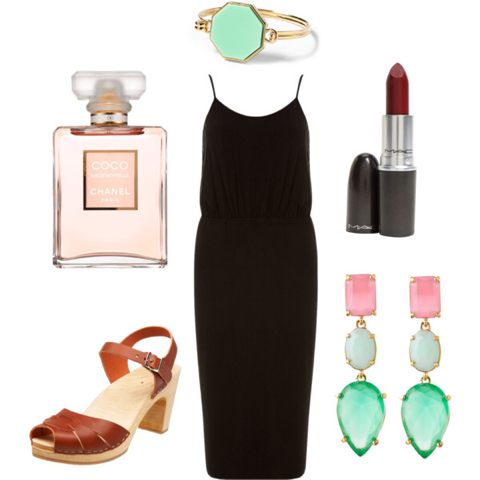 This look matches without being TOO matchy. The Swedish Hasbeen clogs keep it summery. To make it a bit dramatic, I added a nice dark red Mac Lipstick (Lady Danger is the exact color).
That's what I've come up with so far. If you haven't already downloaded the Polyvore app, please do and leave your page name in the comments so I can check out your outfit creations ?
Can't wait to be a part of the NYC hustle and bustle. If there's anything we MUST do while we are there, please share!
Xo- Meg