Reebok Skyscape Launch Party + a giveaway- ENDED
Hi guys! This post is sponsored by Fitfluential LLC on behalf of Reebok. Of course, all opinions are my own. I'm thankful for this wonderful opportunity to travel to NYC and enjoy the launch party with blog friends <3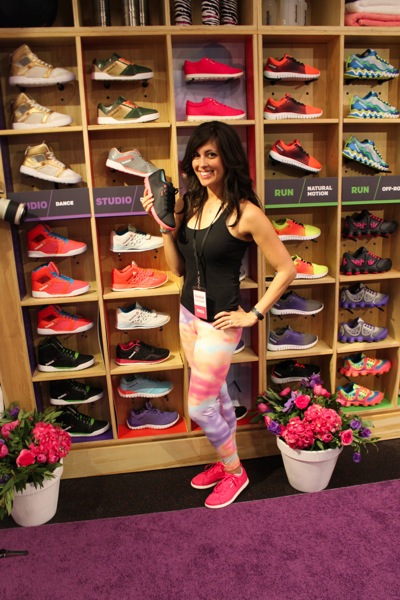 The main reason of our trip to NYC was to represent Fitfluential at the launch of Reebok's new casual everyday shoe: Skyscapes. I've been super stoked about the release of these sneakers. Remember when I went to Boston with Reebok? We were asked to pick our favorite shoe on an entire wall of up-and-coming styles. My easy choice: Skyscapes! I held the shoe up and told everyone that they were my favorites because they were super light, available in fun colors and prints, and could easily translate from the gym to errands with a pair of jeans or cotton casual dress.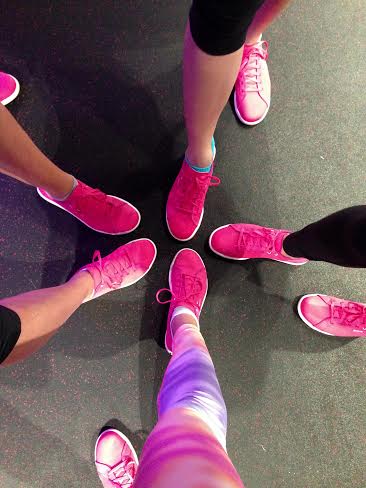 This week, the Skyscapes are officially available; Reebok celebrated the launch with a party at their Fit Hub. When we walked into the Hub, we were surprised that it was hot and steamy inside. Apparently a hot yoga class had just finished up (<– they use their hubs as retail stores and the opportunity to provide community fitness classes). The room was adorned with fresh flowers, yoga mats were in the center ready to go, beverages and breakfast appetizers were available. It was a beautiful setup and perfectly embodied the spirit of the shoe: light and airy, like walking on a cloud.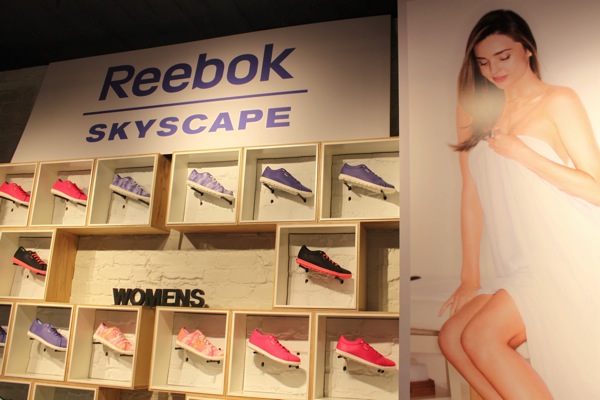 Since she's the official spokesmodel for Skyscape, MIRANDA KERR WAS THERE. She was absolutely gorgeous (of course) and totally down-to-earth.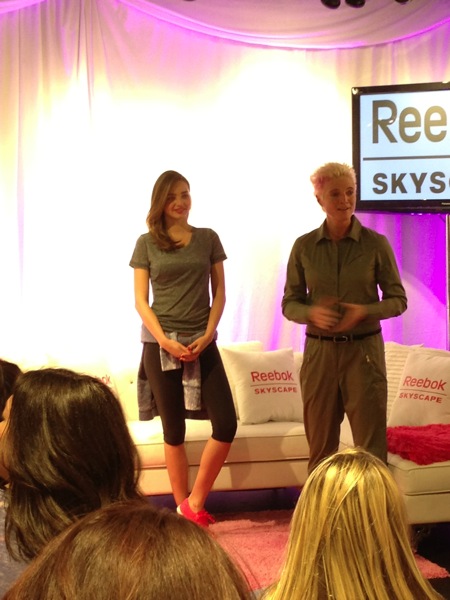 We were also treated to a Ballet Beautiful class, taught by Mary Helen Bowers, who created the workout format. Mary Helen danced with the New York City Ballet Company for 10 years and is also credited with training Natalie Portman for her role in Black Swan. I absolutely loved experiencing the Ballet Beautiful. The shortened class was about 20 minutes, split between floor work (core, obliques, glutes, inner and outer thighs) and standing work (more glutes, quads and calves). It was similar to a barre workout, sans the barre, with fluid movements. They offer online classes, which I can't wait to check out.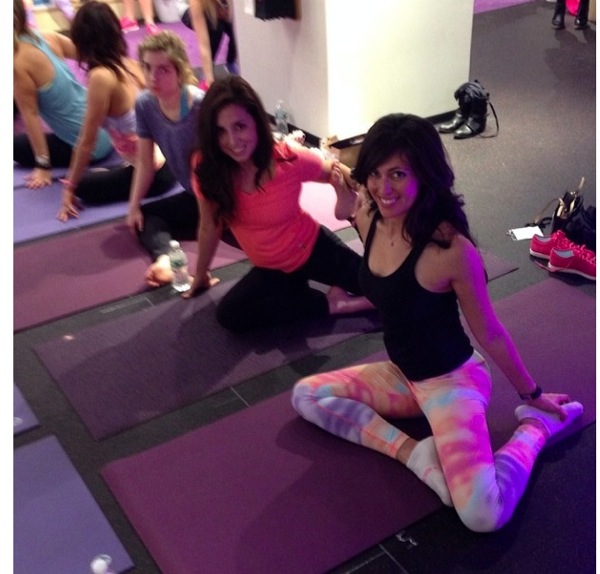 (with Roo!)
We were able to chat with Mary Helen Bowers, who was extremely knowledgable and fun. I asked her for her top three fitness/healthy living tips to share with you all, and here's what she had to say:
1) Make time for yourself, even if it's just a little, every day. Every little bit truly adds up, so even if it's just 10 or 15 minutes, it still counts towards achieving your goals.
2) Don't view your workouts as a punishment. They should be something that you enjoy and that you look forward to! She said that it's a little bit of luxury to take care of yourself every day.
3) Focus on rest, water and eating well. Your workout should be a part of that. When you take care of yourself, you look better, feel better and are happier.
I like the fact that she emphasized the importance of balance in a fitness routine. She doesn't believe in doing a ton of cardio, but creating a mix of strength, moderate cardio and flexibility.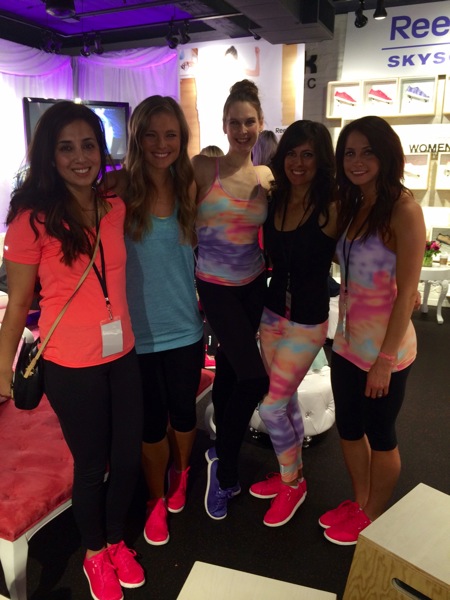 (with Roo, Julie, MHB and Heather)
We also got the chance to talk to Miranda Kerr. She was a blast to talk to -we actually ended up talking about babies and labor for quite a while before we went into fitness stuff- and we all noticed that she was especially engaging during the fitness class portion. She would interject with tips on how she uses the exercises in her own routine and how she fits fitness into her busy schedule. She's a big fan of dancing around with her three-year-old little guy, rebounding, yoga and Pilates. She had a great tip about using planks for a 10-minute total body workout: turn on some great music and plank (with variations) for 10 minutes. Rest as you need to. I'll definitely give it a try!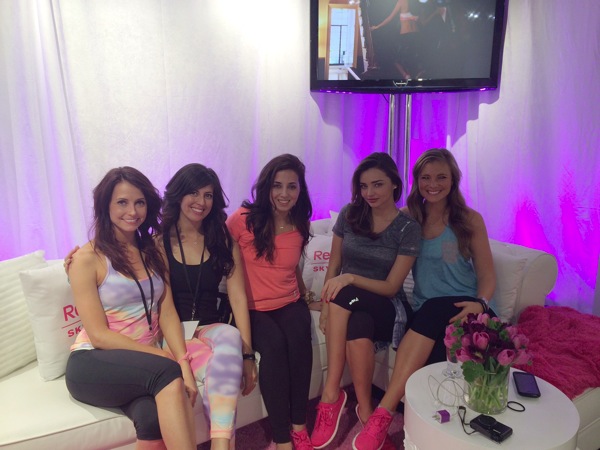 Whenever I passed this wall, the lower half of my body disappeared.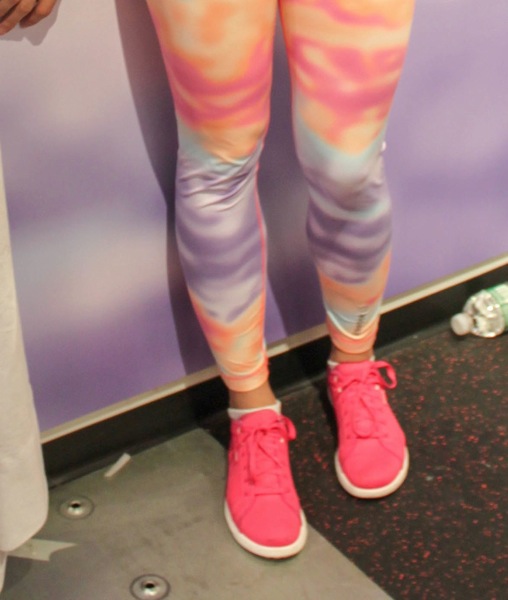 #camouflage
Needless to say, it was an amazing event <3
The Skyscapes in action with some style variations: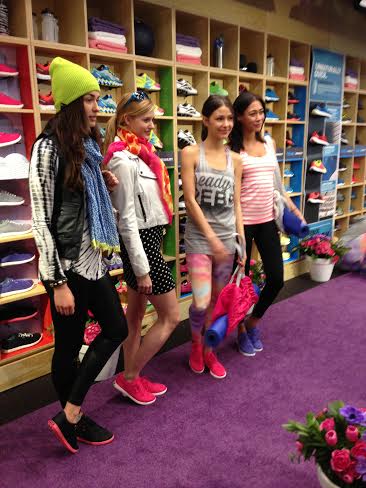 A little bit of info about the new sneaks:
-They were designed with the 23 hours hours in mind that you don't spend working out: to and from the gym, running errands, hanging out, etc.
-They were designed to feel "so comfortable you forget you have them on," which is easy to do since they're so lightweight. Skyscapes are an awesome traveling shoe because they're so light. At only five ounces, you can toss them in your suitcase without having to worry about extra weight or bulk.
-The upper portion is made out of a soft two-way stretch material (similar to bra material) with cloud-like pillows on the sole. They machine wash beautifully, and the seamless style keeps them from irritating or digging into your foot. (Tip: if you're going to wash these in the machine, make sure to take the insole and laces out before hand. You can wash the insole separately, and then let the parts air dry before reassembling them.) I've washed mine twice already
-The Skyspring technology helps to support the foot and provide all-day comfort. We walked around NYC for a few hours after the event, and I was so glad I was wearing these shoes. Very comfortable the entire time.
To celebrate the launch of the Skyscape, how 'bout a little giveaway? This portion of the post is sponsored by Caroline, as she wanted to share the Skyscape love with a lucky reader.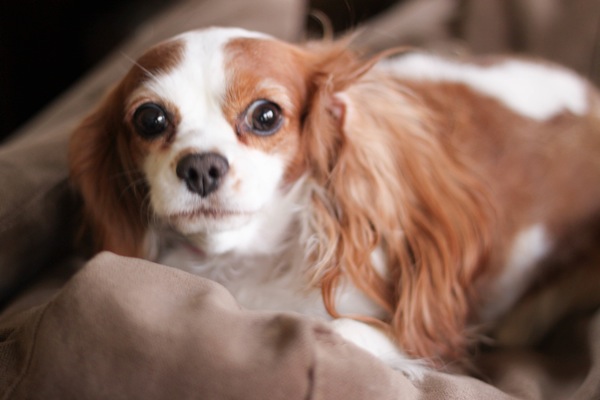 Leave a comment with the color Skyscapes you would like, or how you'd wear them! I'll pick a winner TONIGHT (3/13) at midnight and announce in tomorrow's Friday Faves post.
*** This giveaway has ended! Please stay tuned for more fun giveaways soon <3
xoxo
Gina