Hey guys! This past weekend my fiancé got out of work a little early, so we spent the day together hanging out, shopping, sipping coffee, and enjoying each other's company. On my days off I like to dress myself up a little, so I pulled one of my favorite little black dresses from my closet, paired it with some flats and hit the road.
It wasn't until I was looking back at our photos from the day that I realized how much I was depriving my LBD of it's creative potential! The little black dress is a blank canvas, whose simplicity deserves to be decorated. Since I was in a hurry to leave, I paired my LBD with a simple pair of bow flats and a ponytail.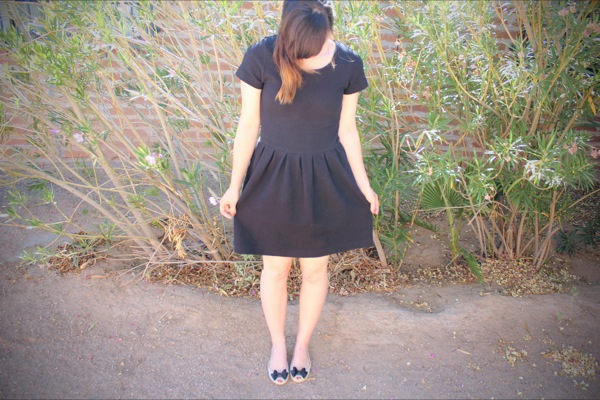 While simplicity can be important at times, I did some online window shopping and found some great accessories that would given me a MUCH more put together look! It's amazing how much of a difference adding small details can make.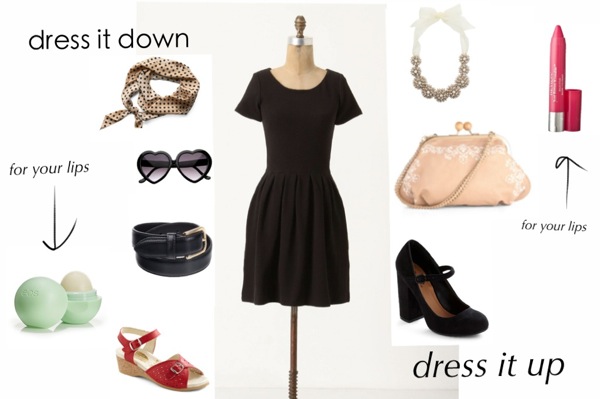 Dress it down:
When this is appropriate: ALL THE TIME! It's okay to look cute running errands 😉
What this look entails: A lovely Modcloth polka dot scarf, oversized heart sunnies found on Amazon.com, a skinny leather American Apparel belt, and the "View-of-the-sea" sandal (also Modcloth).
For your lips: EOS lip balm. One of my personal favorites to keep your lips soft during the day!
Dress it up:
When this is appropriate: Date night, weddings, or any dressy event.
What this look entails: Kate Spade "Gerbera Garden" necklace (splurge), the cutest little clutch I've ever seen on Modcloth, gorgeous maryjane heels also from Modcloth.
For your lips: Revlon's new 'Just Bitten Lip Balm'. The smoothest lip color you'll ever use. Much lighter than lipstick and not sticky like gloss. Bravo, Revlon.
As you can see, you can bring so much more to your LBD by paying attention to small details. The same goes for any basic piece in your wardrobe (button up shirts, cotton tank tops, maxi dresses). Give it a try and you'll be pleasantly surprised how cute you look and feel!
-Meg
Where did you buy your favorite LBD?