Hope your Friday has been this kinda awesome: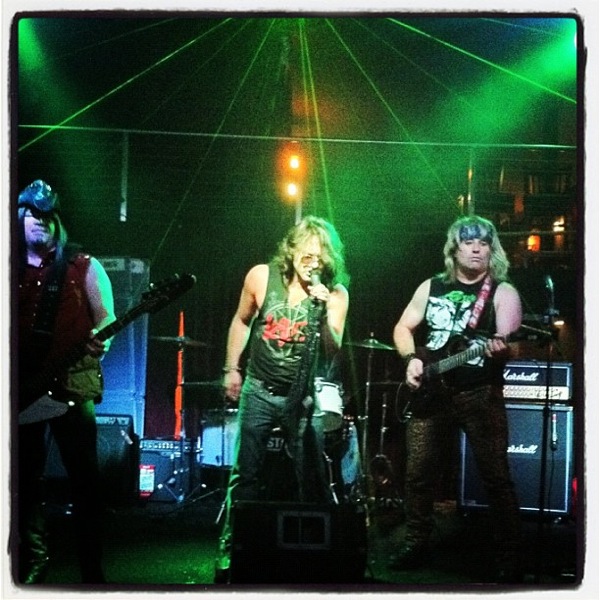 (A hair band the Pilot saw in Cali. I looooove 80s bands. There's one in Tucson that plays -or used to play?- at the Cactus Moon on Tuesday nights. Lots of Bon Jovi, which makes me happy)
Breakfast: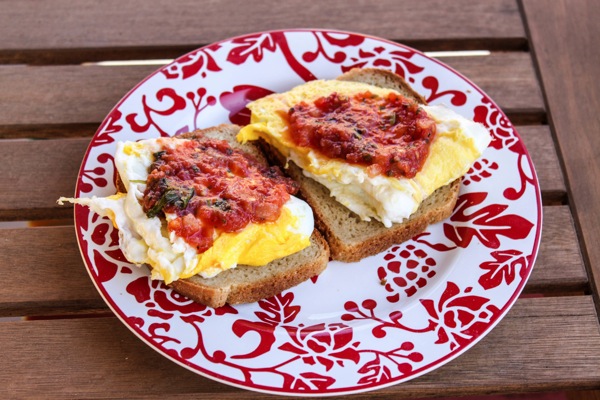 (2 eggs, brown rice toast, salsa)
Today was gloriously relaxing, which is a good thing since my Saturdays are so crazy. I have world beat and Zumba tomorrow -amaaaazzing- so it's nice to take it easy. Livi and I played and hung out, I worked on Summer Shape Up stuff while she napped, and my friend Emily came over for lunch.
This afternoon, I figured we'd go run a little errand to the jewelry store.
As far as getting back into post-baby shape goes, I wanted to wear my jeans again one day, but it wasn't my main concern. The clothes in my closet could wait, especially since I live in workout clothes most of my life anyway.. and they're nice and stretchy 😉
Something I COULDN'T WAIT to wear again: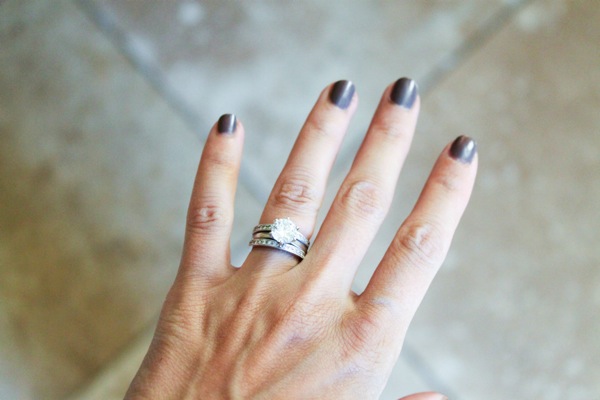 my wedding rings!
I still can't believe it's been almost a year since I've worn them. 
While I was preg, people would look at my belly and immediately look to my ring finger to see if I was married (nice, huh?). I was going to get a band to wear in the meantime but ended up not wanting to spend the dollas, so I've been patiently waiting to wear my rings again. I tried to put them on a couple of times in the past few months, once incident ended with me screaming, running my finger under water, said finger turned a purplish color and the Pilot had to set me free.
My Mother's Day gift was to get them re-sized, so I figured I'd wear the rings up higher on my finger to the jewelry store. They slid right on! So exciting. 
Since Liv and I wear already packed up and ready to go, we went down to the mall instead to enjoy the AC and walk around. The Pilot met us there for smoothies.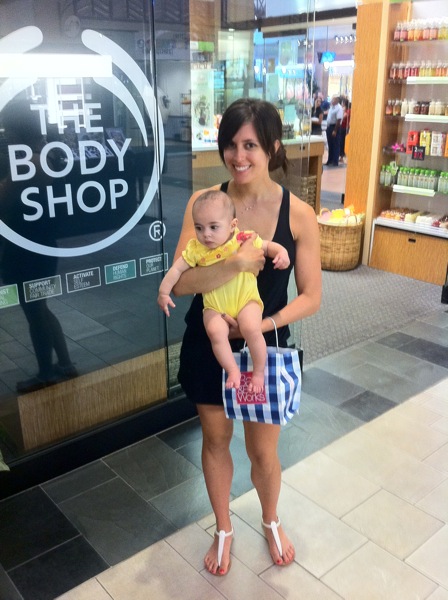 I tried the Berry UpBEET Jamba Juice smoothie… was not a fan. I drank about half of it because I was thirsty, but not my fave. 
The Pilot went to pick up dinner while I came home to put the little one to bed: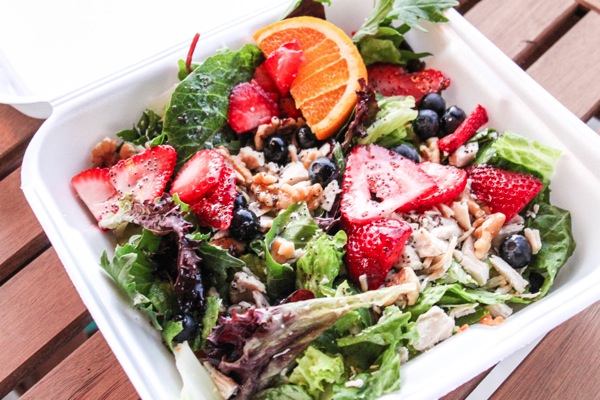 (Best salad with greens, walnuts, chicken, strawberries, blueberries and poppyseed dressing)
The rest of the night looks a little like this: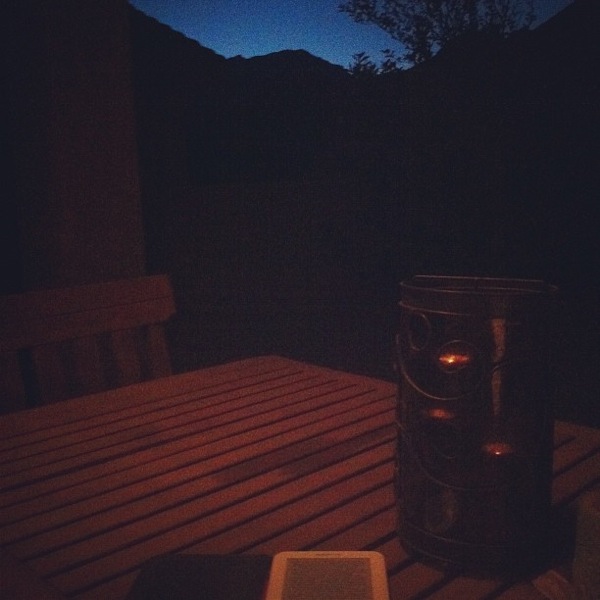 Kindle and candles on the patio 🙂 (Note of 50 Shades of Grey: I had to take a break. The awkwardness and horrible writing was killing me)
Hope your weekend is off to a wonderful start.
xoxo
Gina
Summer Shape Up heads up: Summer Shape Up 2012 starts MONDAY! I have a feeling it's going to be the best one yet. I've been testing the workouts and kicked my own booty, so I really hope you love them, too.
All of the details will be up in Monday morning's post, but for those of you who like to plan ahead, here's what to expect:
-4 weeks of workouts, meal ideas and grocery suggestions. Workouts will be printable and I'll also have some videos so you can see what the moves look like.
-ALL of the workouts can be done at home with minimal equipment. All you need need is a set of dumbbells or resistance bands (or water bottles/soup cans!), a stability ball and a bench or sturdy chair. 
–Use Sunday as a rest day and Monday for moderate steady state cardio (20, 30 or 45 minutes)
-The workout plan and calendar will be up Monday, so you'll be able to plan out your workouts in advance and shuffle your schedule as necessary
Who's joining in the fun? I'm excited to follow along with everyone and of course, be the biggest cheerleader 🙂
Question for ya: would you like to have a way to track your progress on the blog? Or something you can print out to check your progress? Let me know what you think or any ideas that would make it easier for you.