I hope you don't mind a different Weekend Wears format this week! I have found myself simply swamped the last couple of weeks and haven't had the chance to lug out the ol' DSLR (fancy camera) for some decent pictures. To make a long story short, Kyle has been working crazy excessive restaurant hours, we have found a new home to replace our current home when the lease is up (we move in less than 18 days), so I have been doing a LOT of early spring cleaning and pre-packing in ALL of my spare time. We are lucky to go grab coffee together once or twice a week. I can't wait for a stress free April 😉
The Last week, Kyle and took 1 day off of work (together…gasp!) and ventured up to Phoenix for the Suns Vs. Celtics Game. We squeezed three days' worth of vacation activities into one day and it was a whirlwind! We shopped at all of our favorite Phoenix spots – Last Chance, Fashion Square, etc. – and got to enjoy some time with my sister, her husband, and Viesa! This is what I wore for shopping-filled day: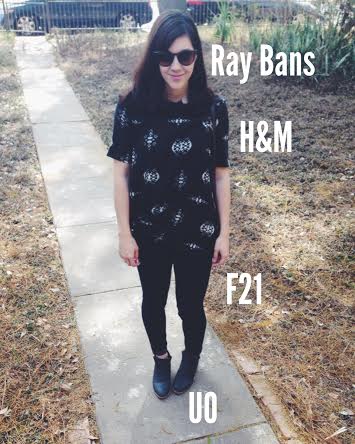 The Aztec number I'm wearing is actually a dress that I decided would look cute as a knotted top. I paired it with a comfy pair of denim and my go-to Ecote boots from Urban. I like to keep it simple when I'm out of town so I don't have to pack as much!
The mini-trip was a blast, but then I was back to reality. I finished up what was left of my work week and spent my weekend sorting through all of the acquired crap  stuff we have managed to stock up on in our first 9 months of marriage J I took a brief break from all of that excitement to meet my family for my cousin's birthday lunch. I decided I'd change out of my sweats into a more appropriate outfit.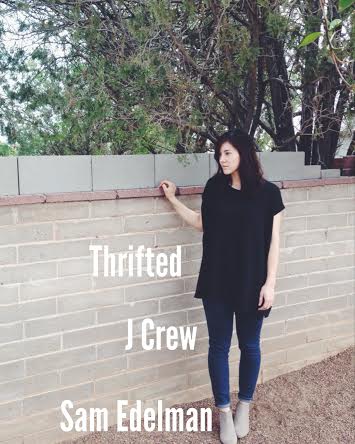 Since I've been all about comfort and simplicity lately, I wore a thrifted flowy top, J Crew denim that I purchased from Buffalo Exchange, and my prized Nordstrom Last Chance find – Sam Edelman booties. $130 boots I picked up for $30. This outfit made me wonder why I ever pay full price for anything!
Yesterday I got a brief opportunity for coffee with the fella before he left for work, and I again rocked a primarily thrifted look.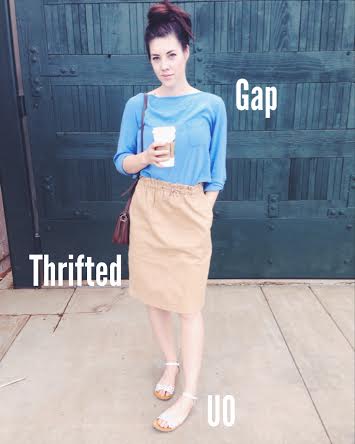 This Gap top and no-namer skirt caught my attention at Savers thrift store. I loved the color of the top and the skirt was a nice fit without being too short. I've been hunting for a neutral color skirt to mix and match with! The top and skirt combined were $10. Since the weather was warm and delightful, I wore my favorite Urban Outfitters sandals I purchased last year.
I'm hoping to stay sane in the next few busy weeks, so please bear with me if my posts are a bit irregular!
Did you pick up any new goodies this weekend?
Xo-Meg