Hi guys! Happy humpday 🙂 I'm really excited about today's Focus On post, as it's a workout I've been wanting to try. Maybe when I'm in NYC in a couple of weeks, I'll be able to catch a class! I reached out to some Twitter friends to see if someone would like to help out with the Flywheel post, and was so excited that Meaghan kindly offered to write one. Hope you enjoy! See ya later today. xo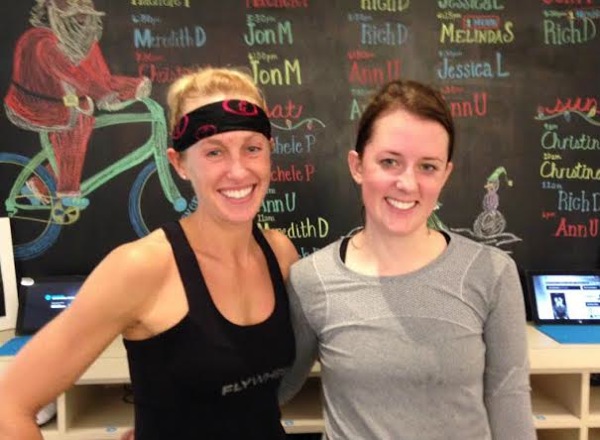 I'm Meaghan, a 24 year old fitness blogger. I've taken spin classes since I was in high school, but about two years ago I took my first Flywheel class while visiting a friend in NYC. I've been hooked ever since! Every time I'd visit NYC after that, I always made sure to make time for a class until I finally moved here last summer. Ironically, weeks after I moved, Flywheel opened in Boston, so every time I go back and visit, I make time for a class there.
I love Flywheel because I know I'll get pushed to my limit in every class. Your instructor makes or breaks your spin class, and Flywheel's high standards for instructors means that whenever I go, whatever city I am in, I'll get a great workout. When I'm on the go, I appreciate not having to "figure out" who are the best instructors- they are all great.
What is it?
Flywheel is a popular spin studio started in New York City by Ruth Zukerman, one of the founders of Soul Cycle (maybe you've heard of it?). Ruth branched out and started Flywheel in the Spring of 2010, and there has been a Flywheel vs. Soul Cycle war going on ever since! Since opening in the Flatiron district, Flywheel has expanded to multiple US cities, cruises ships, and even has a location in Dubai. Recently, the addition of Flybarre has added barre enthusiasts to their fanbase.
The statistics element of Flywheel is what really sets it apart from other spin studios (more on that below!) This is a workout for those who are competitive- either with others or with themselves. The class won't let you slack off- if you do, you'll be last, and most people don't like to be last.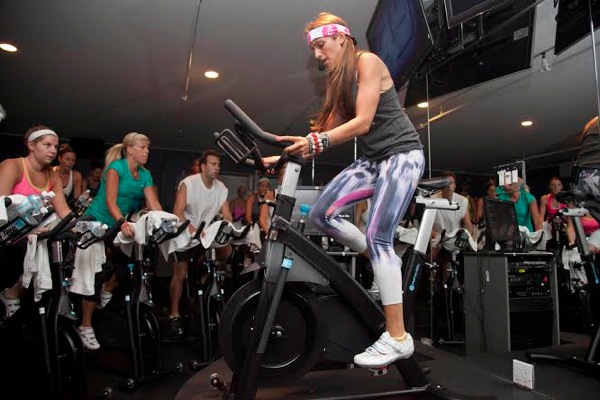 What to expect:
-In a 45-minute Flywheel class, you can expect great music, a heart pounding cardio workout, arm work with weighted bars, and an extremely motivating instructor.
-Each bike has tracking devices that track your RPMs, torque, speed and distance. If you opt-in during registration, these stats are displayed on overhead screens during "races," where you can literally race against the rest of the class during short sprints. Additionally, your stats are stored in your private account on the website, so you can track your improvement over time.
-The instructor will suggest RPM and resistance levels for you to work towards throughout the class, although in the end, it is your workout and only you can adjust the resistance levels or speed. If you are a beginner, there is no shame in simply working as hard as you can, no matter what your numbers are.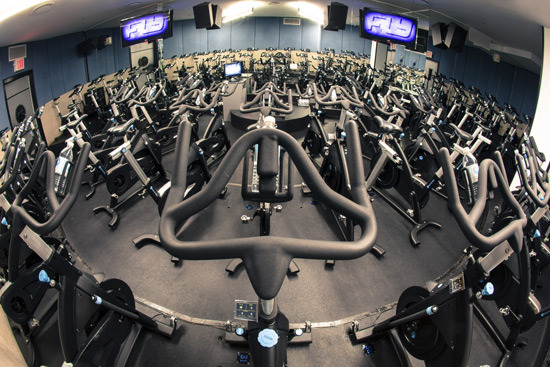 What to wear:
Comfortable workout clothing- the 'uniform' at Flywheel seems to be Capri tights and tank tops- nothing too baggy that could get caught in pedals or handlebars. Additionally, Flywheel sells their own line of clothing which is popular amongst devotees. You can borrow a complimentary pair of spin shoes upon arrival, and there are several staff members available before class to help you clip in to the bikes.
Pros:
-You are guaranteed a great workout. I have never walked out of a Flywheel class feeling like I could have worked harder, or gotten a better workout. It will push you to your limit every time- no matter how uninspired you may have felt before class! Flywheel's slogan is "never coast," which I think is perfect-there is no way you'll go into class and not be inspired to push yourself!
-As a numbers nerd, I enjoy being able to track my improvement on the website over time. There is something about knowing those numbers will be stored FOREVER that makes you want to push just a little harder during class.
-Free spin shoes! Other studios charge you up to $5 to use their shoes, but at Flywheel they are complimentary.
Cons:
-The focus on statistics can make it hard to "lose yourself" in the class. Sometimes you want to get lost in the music and forget about everything else, and at Flywheel that is a little harder because you are constantly checking your numbers on the little screen on your bike.
-Price. Flywheel isn't cheap- prices vary depending on the city, but in NYC, classes are $32 a pop. These prices are on par with other classes in the area, but an expensive 45 minutes nonetheless.
Have you tried Flywheel? Do you think it's something you would love??
I blog most days at New York Views & Nike Shoes (http://nyviewsnikeshoes.com)- stop by and give it a read! I write about fitness classes I take around the city, marathon training, and my experiences exploring my new city. I incorporate class reviews, the occasional interview and giveaway, and some of my (beginner!) photography. I hope you get to try Flywheel soon if you haven't already- drop me a line at my blog and let me know how you like it, I'd love to hear from you!