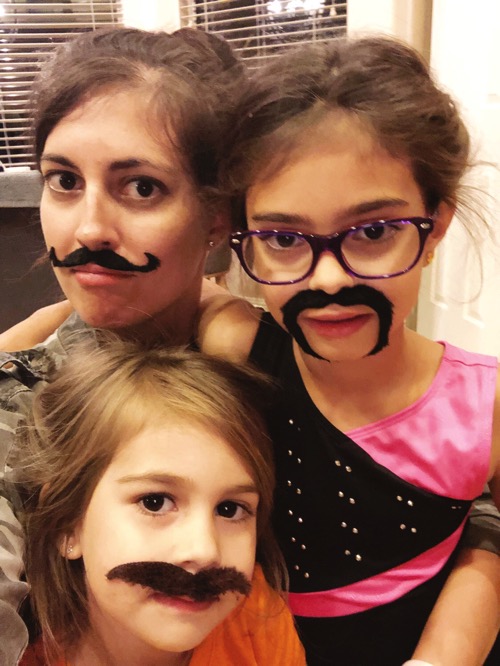 (A pack of adhesive mustaches = hours of fun)
Hi friends! Happy almost-Friday! I'm so happy you guys enjoyed yesterday's podcast episode. Please check it out here if ya missed it! A while ago, I posted some mom confessions (and some hacks) and loved reading all of your comments. For today I have some more confessions to share (my hack game is weak lately but confessions run aplenty).
– The Descendants 2 and Zombies soundtracks are LIT. (Do people still say that?) I think my kitchen dance moves are too, until Liv covers her face and says, "Please stop dancing like that, mom."
– I pack crudités as part of the girls' lunches even though I know they never eat them. I just want their teachers to know I do try to get them to eat vegetables.
– When I wake up too late to cook a legit breakfast, I heat up Whole Foods breakfast burritos from the freezer and they think it's the coolest thing ever. P says, "Mama you make the best burritos!" and I'm just thankful Chef Mike did the cooking.
– They're also convinced that I actually make the Annie's mac n' cheese from a box and the compliments ROLL IN. I feel like a chef by boiling pasta noodles and adding butter and cheese powder. On the other hand, when I make beautiful maple salmon with roasted veggies and rice, they act like I served them a dead bug.
– Sometimes when I have a mouthful of chocolate I tell them it's cauliflower because dinner's almost ready.
– The girls insist that I lie with them in bed until they fall asleep, and I was falling asleep so often that something had to change. (I usually work after they're crashed and it was so.hard. trying to accomplish anything as a half-asleep Zombie.) I put in headphones and listen to a podast or audiobook while I lie there, and after 20 minutes or so, I sit at the edge of the bed and watch Netflix on my phone. #winning
– I told my mom the girls were acting like wild monkeys every time we went to Whole Foods – they literally think it's an obstacle course – and she told me to make sure to tell them about the new rule. The rule at Whole Foods is that kids have to stay close to the cart. If they're wandering around and the manager sees, you get kicked out, because you know, Whole Foods is fancy and they don't want kids being wild and running around. Um, it worked like a CHARM.
– I wonder how long it will take the girls to realize that we go to the car wash when I'm feeling frustrated. Usually, I love hanging out with them and they get along extremely well. On the occasions that they're bickering a lot or not listening, or I've just hit my wall, I say, "Get in the car! Let's go to the car wash!" and they're like, "YAY!" and I'm like, "Thank you god for this 5 minutes of silence and clarity to just get my life back together." The orange lava pours onto the car as we roll through, they cheer, and when we emerge from the car wash, I feel like I can tackle the rest of the day. Needless to say, the monthly car wash membership pays for itself in sanity.
Please share a confession with meeeee.
xo
Gina