A couple of weeks ago, I posted on Instagram Stories that we were driving around, and P was complaining about the Disney music.
"Stop that song! I no like it. Change it!"
Over and over again.
Finally, I was just like, "Ok, if you don't want to listen to your music, we'll listen to my music."
I turned on Cardi B. (radio version), and… silence.
She LOVED it. It was possibly inappropriate, but thankfully we're not yet to the point where she repeats back song lyrics. (She's probably just saving all of the worst ones in her brain for the most inopportune time EVER.)
It was kind of a Bad Moms moment, and when I shared it, I got so many hilarious DMs back.
So I thought it would be fun to compile some more mom confessions… and hopefully hear some of yours, too.
Mom confessions (+ some hacks):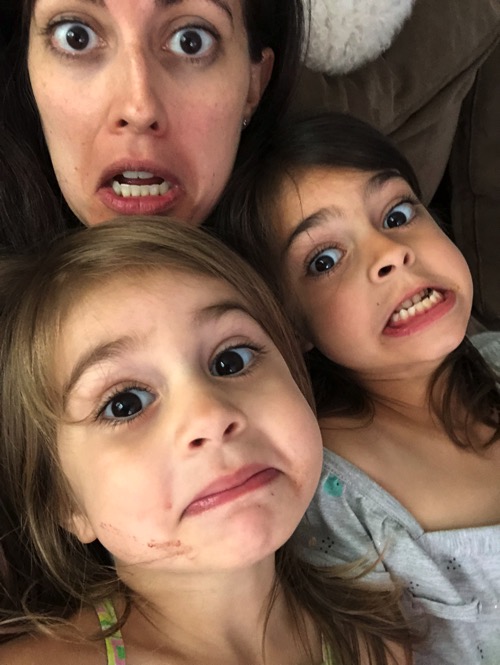 1. Every single morning in carpool drop-off, I pray intently that there's absolutely no reason I'd have to get out of the car. I'm in my pajamas, no bra, and not even wearing shoes. Keeping it classy in the morning.
I also eat Liv's soggy leftover waffles on the way home every.single.day. and that's my breakfast until I have time to make a real meal, usually around 10 or 11.
2. We have two iPads, but the girls are only allowed to use them when we're traveling. On road trips, we use a headphone splitter for the iPad so they can watch a movie while we drive. We used to stream the iPad audio through the Bluetooth in the car, but then we realized we couldn't talk much so they could listen to the movie. Driving to and from Orlando a couple weekends ago was pure bliss because I could listen to all the podcasts I wanted while they were totally happy watching Coco in the backseat.
3. Sometimes both kids shower and get shampoos after swim lessons… but only one of them actually had class. (There are a few showers and never a line, so it's not like we're hogging the bathroom or anything. But there's no way I'm doing two bath times.)
4. A few people have asked how we sleep in on the weekends:
In the living room, we'll set out two bowls of cereal covered in Press N' Seal, two waters, + the TV remote. Liv and P come into the living room and snack on cereal while watching Netflix until we're awake. We get an extra hour of sleep and it's the best ever.
Scenes from the living room on a Friday night: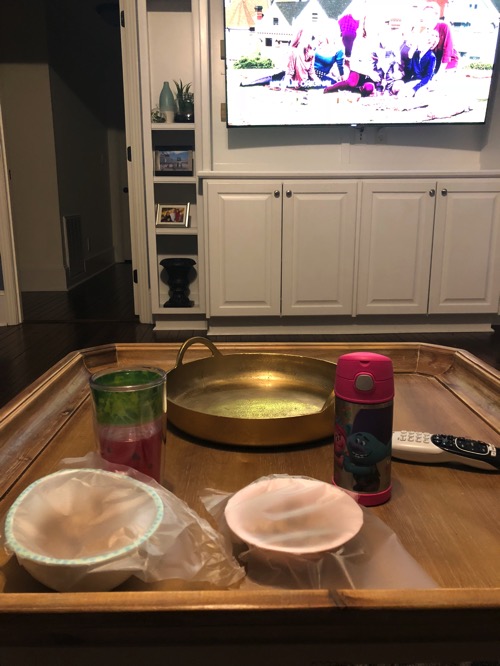 5. Sometimes we sit in the Starbucks parking lot while we snack because that means I can eat my egg bites while they're hot and both kiddos are restrained.
6. Parenting is SO MUCH PRETENDING TO BE ASLEEP. I pretend to be asleep for at least 45 minutes each night while we put them to bed (so that they'll actually fall asleep), and feel like a complete zombie afterwards. Parenting is a little bit of hiding, like when you're scooping chocolate chips out of the almond butter jar, partially hiding in the pantry because I don't want them to have chocolate right before bed.
7. Parenting is also a lot of accidental headbutts from your children. P crashes her skull down onto my face at least once a day and actually made my lip bleed from it. When they're born you curse their giant heads, and when they're older, you lament the fact that they're extremely sturdy and heavy, too. (I mean it's good on the occasions when they fall, but still very painful when they headbutt you.)
8. Sometimes I make myself an enormous lunchtime salad… even though I had lunch already. I'll sit on the couch with it and watch the girls swarm around me like salad-loving vultures as they pick out huge bites with their fingers. I make them a salad with dinner almost every night and they rarely touch it. If I make a salad for myself, they eat the whole thing, so it's my not-so-sneaky way of getting them to eat vegetables.
So, fellow mama friends: please drop your confessions and/or mom hacks in the comments section! Friends sans kiddos, I'd love to hear about something your parents used to do that you think is hilarious now.
Happy Wednesday and I'll see ya soon!
xo
Gina
More of my mom/life hacks are here. <3