Mother's Day is a little less than two weeks away, and once again, I'm so excited to be able to spend it with the amazing women in my family. Every day I wake up so happy to be in Tucson; we're making up for holidays and fun memories since we were stationed away for a while. We should have one more year here, but after that, we have no idea what's happening or where we're going. For now, we're making the most of it!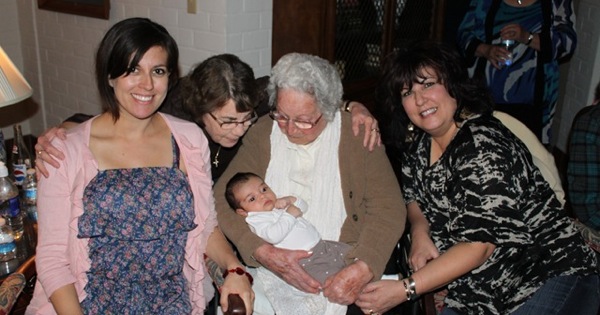 (Five generations)
Mother's Day itself is going to be spent post-wedding celebration with the entire family, which will be a blast. Since I wanted to do something fun with mom and nana outside of the wedding, we're going to celebrate with brunch next Sunday (on Cinco de Mayo!).
As far as gifts go, I told Tom that I would love three things for Mother's Day:
-a card from Livi
-a pedicure
-a nap
All of those things make me a happy girl, indeed… especially since I haven't had a pedicure in months and months and my World Beat and Barre-teaching feet are looking a little rougher than usual 😉
If you're starting to think of Mother's Day ideas for the women and caregivers in your life, I thought I'd share some fun ideas, as I'm always looking for new things to gift my madre, nanas, stepmom and MIL. Please let me know if you have any other ideas, too!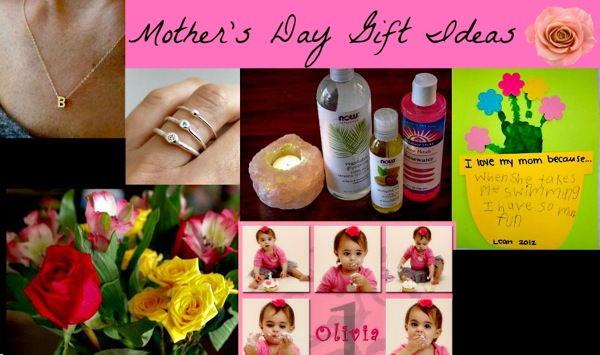 Initial jewelry. I have a simple "O" silver ring from Oliv that I wear everyday. Necklaces are always fun, and I also adore stacking the initial rings. I'll definitely be adding to my initial ring stack as time goes on.
Spa treatment, perfume/lotions, new jammies. You could even make her some of the refreshing rose facial spray!
Flowers. A classic bouquet is always lovely, but even better: place some potted flowers or herbs in her yard to surprise her.
A DIY card. If you have a younger sibling, you could do something as pictured above, or make a cool photo card online.
Photo collage. Photos are always a wonderful and inexpensive gift; Livi loves to give her nanas framed photos 🙂
Please let me know if you have any other fun ideas! Sending love to you and your family.
xo
G