my 2018 fall capsule-ish wardrobe
Hi friends! Hope you're having an amazing morning. Today is a packed day with podcast interviews! I have three in a row and am so excited for upcoming episodes. We have quite a few fascinating topics with extremely knowledgable guests coming up. So pumped!
For today, I'm popping in to share my kinda capsule wardrobe for fall. I call it a capsule-ish wardrobe because I tend to stick with the same staple pieces throughout each season and rotate in new and old faves. This year, it's more out of necessity than anything, because I donated and packed up most of my clothes in Valdosta. I have hardly any fall clothes here with me! Just a couple of these tunics, plaid shirts, jeans + black pants, and a couple of sweaters I recently grabbed at Express.
For a while, I tried the capsule wardrobe thing. I got rid of most of my clothes – many of which I hadn't worn in years – and stuck with the same staple pieces. I loved the simplicity of it but at the same time, I like trying new things. I felt this weird pressure to not buy anything and then when I did allow myself to just drop it and order some new stuff… well, I went a little crazy. It's kind of like depriving yourself from treats; it makes it so much more tempting and can lead to going overboard later. For me, it was the same way with clothes. I do much better with moderation than all or nothing.
So this season, I'll rotate through the same staple pieces like I usually do. But I won't stop myself from adding in some of the trendier items that catch my eye. 😉
Here are some ideas if you're looking to build your fall 2018 capsule wardrobe:
[The large image below is clickable! Click on anything you like and the link will automatically pop up.]

(asterisks are identical or similar to something I already own and love)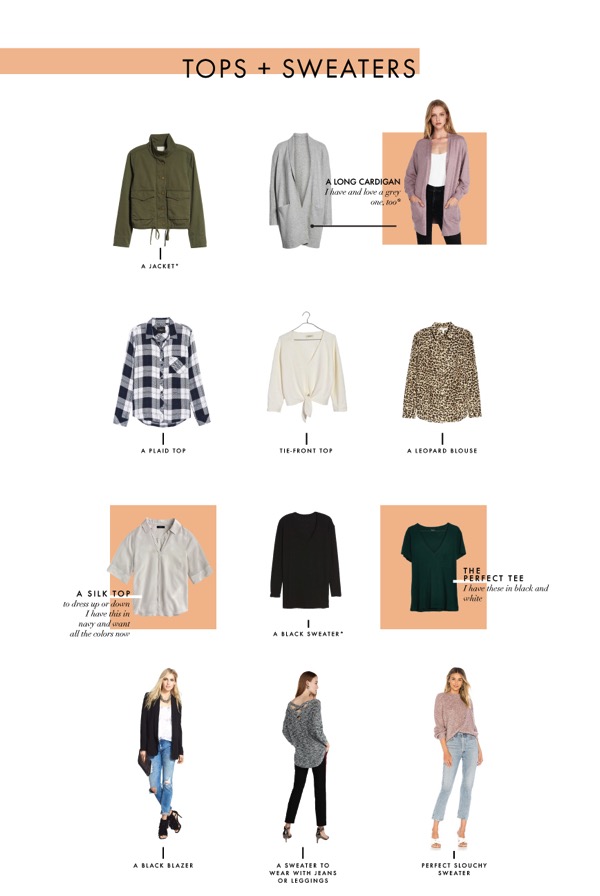 Tops and sweaters:
Tie-front top. These are so perfect for every day.
A long cardigan (I have and love a grey one, too)*
A sweater to wear with jeans or leggings* Can't wait to wear this one with my Spanx faux leather leggings.
A camo jacket*. I wasn't sure how much I'd wear this, but it's become my go-to lightweight jacket.
A black blazer. Love the cut of this one!
A leopard blouse. Gimme leopard everything.
The perfect tee (I have these in black and white)*
A silk top to dress up or down* (I have this in navy and want all the colors now…)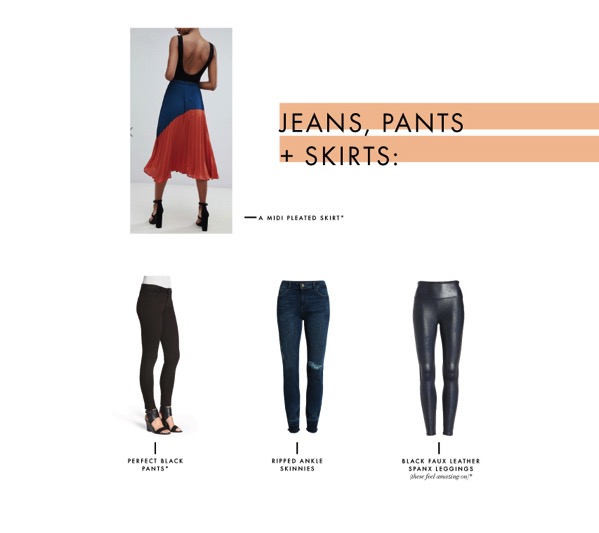 Jeans, pants, and skirts:
A midi pleated skirt* This one is liiiiiittle tight (I think it runs even smaller than the sizing recommends, but I'm going to make it work)
Black faux leather Spanx leggings (these feel amazing on and are SO, so flattering)*
Dresses:
A wrap dress in wine* I wear this dress with sandals, heels, or booties
Black leather slip dress (these are so trendy right now, but unfortunately the less expensive ones look more costume-y)
Suede dress. Suede is on-trend for this fall and adds an interesting texture to basics
A floral dress to wear with heels or booties
Flattering everyday dress (and $56!)
Love the fabric on this dress!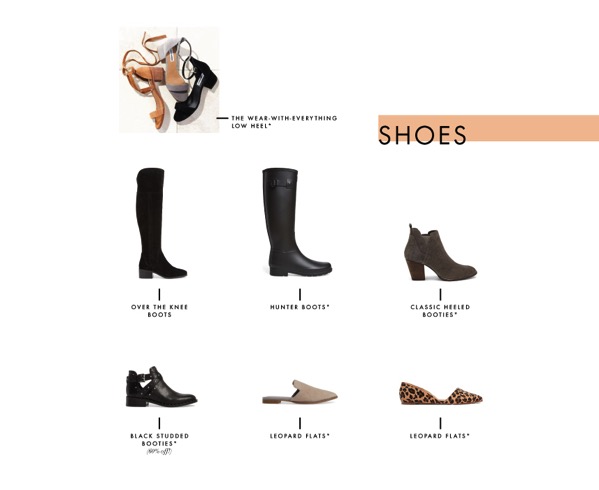 Shoes:
The wear-with-everything low heel* I can't even count how many times I've worn these. I like that they dress up a look but the heel is low
Black studded booties* (60% off!)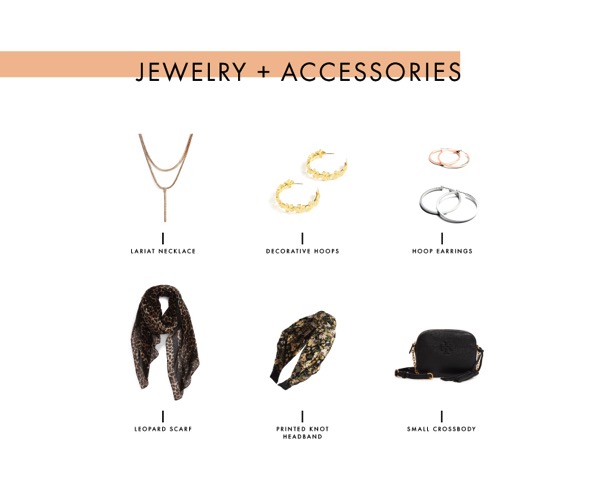 Jewelry and accessories:
Hoop earrings and decorative hoops*
Are there any trends you're loving for fall? I'm kind of obsessed with the feathers, leopard (YAS), leather dresses, and unique sleeves that are popping up.
xo
Gina