Hiiiii 🙂 Things have been pretty stale on the ol' fashion page, but I'm excited to share some of the things I've done to minimize my stuff and create my own version of a capsule(ish) wardrobe. This idea was 100% inspired by my buddy in all of this, Maria, and this awesome blog and post. I thought it would be a great opportunity to pare down the unnecessary pieces I've been holding onto, especially since I rotate through the same items so often. I think many of you can probably relate: even if you have a a variety of outfits to choose from, it's easy to fall back on the same favorites. Why not minimize the stash down to the things that fit well and you truly love?
Some things about our version of the capsule wardrobe:
-Workout clothes and pajamas don't count 😉
-Not sticking to a specific number, but rather a "less is more" mentality
-Focus on a large shopping trip to last the season, emphasizing awesome deals and sparse items throughout the season to accessorize or fill in the gaps
-It's an experiment, but I feel like it's been a successful one, because at least half of my clothes went off to sell or to Goodwill. I've become a huge fan of Thred Up; they send you a bag, you fill it with clothes, and you can make money, similar to Buffalo Exchange (but minus entertaining a little one while the stylish girl picking through my clothes asks a manager for a second opinion on the printed leggings). If you want to check it out, here's the link. It's an affiliate link and win-win; we each get $10 credit to our account.
Here is the awesome checklist that Maria put together and said it was cool to share with ya: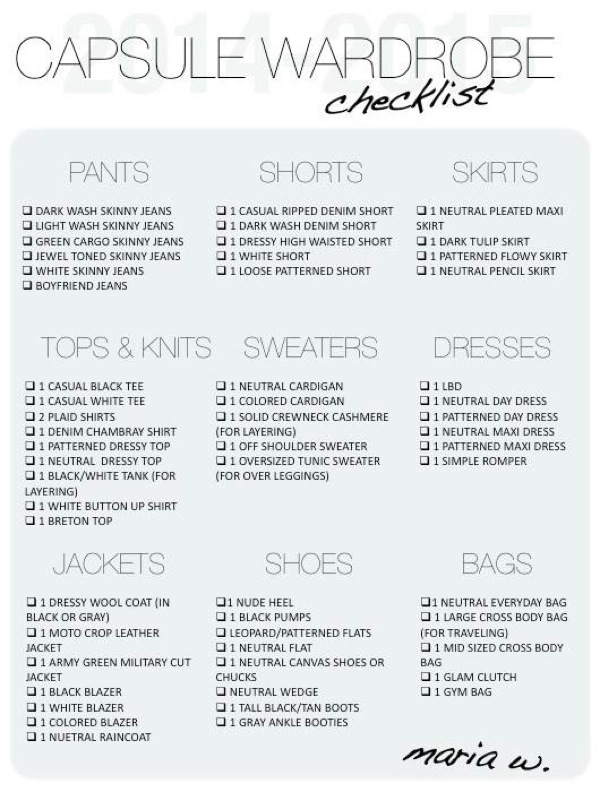 I did a variation of this for my staple pieces -especially since she's in Germany and needs more sweaters and jackets, I reduced those on my list- and added them all below.
*The ones I have are bold, and the spaces I'm working to fill in are not bold. I've also included some links below to the things I have and love. These are affiliate links, have no impact on purchase price, and I get a small kickback for clicks. Thank you sincerely for your support <3 If I didn't link to the product, I couldn't find the same one I have or find anything similar.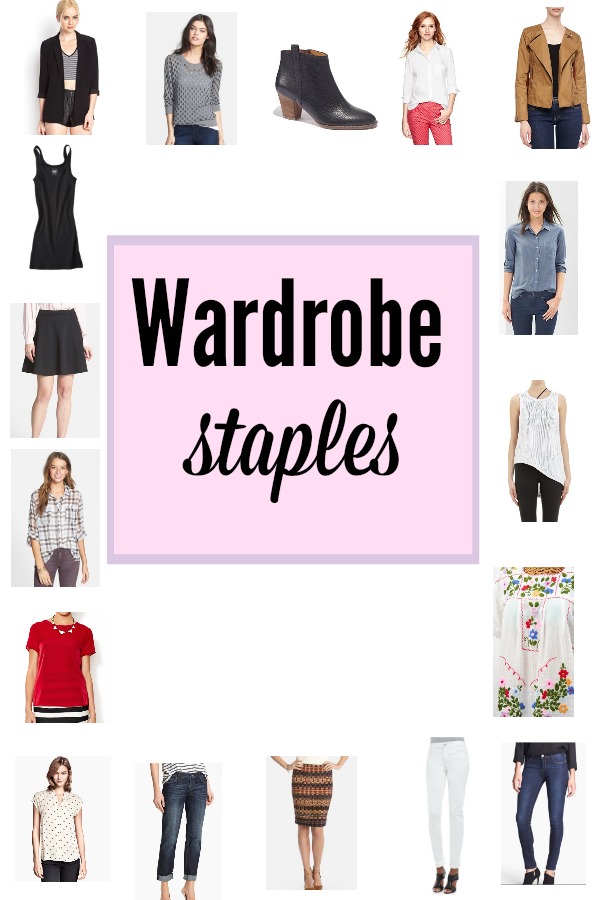 Tops:
Black and white tanks (for layering)
Two plaid shirts (have this one and love it, but would like another)
Printed dressy blouse (mine is 3/4 sleeve but similar)
Printed tank (similar)
Casual, flowy tank (<— NOT the one I have -the Pilot would no longer be married to me if I got a $300 tank top- but it's the only one I could find online that looks exactly like it)
Pants:
Boyfriend jeans (thrifted these for $8.99!)
Jewel-toned jeans (have a maroon pair, but not in love with them)
Skirts:
Jewel toned maxi skirt (in purple)
Neutral maxi skirt (I've been wearing my black and white striped maxi dress like a skirt with a tank on top)
Shorts: (haven't found a ton that I love; I usually just wear my dark wash)
Casual ripped denim shorts
Flowy printed shorts
Dressy high-waisted shorts
Sweaters and jackets:
Leather moto jacket (I would love one, but don't think I'll get a ton of use for it out here)
Neutral cardigan (black)
Colored cardigan (older maroon one from Stitch Fix)
Dresses:
LBD (flowy, pretty and super flattering. On super sale right now too)
Neutral day dress
Patterned day dress
Neutral Maxi dress
Patterned maxi dress
Simple romper
Shoes:
Nude heel
Black pump
Neutral canvas shoes or chucks
Neutral wedge
Tall brown boots
Nude booties
Bags:
Neutral crossbody
Large crossbody (for travel)
Glam clutch
I've found that a list is going to keep me from impulse buys. There are some pieces that will help to round things out in my wardrobe, but for the most part, I feel like I have the staples set. It's been nice to mix and match through things that I really love and fit me well, instead of holding on to things that I *liked* but didn't seem to really use.
Do you tend to rotate through the same items too? Would you ever do a capsule (or capsule-ish) wardrobe? Anything funny/random in your closet and you'll never let go? For me, it's my signed Ryan Cabrera shirt haha. I used to be a big fan back in the day 😉
xoxo
Gina