My PDB (Post-Delivery Body): Round 2
Quite a few of you have asked if I'm going to write about my post-delivery body this time, since I wrote about it with Liv. Here we go; although I can't guarantee how regular this series will be. 😉
I haven't really had a lot of time to think about my body post baby. I'm too wrapped up in the reflux rendezvous (soothe baby P, baby spits up, change all parties in the splash zone, feed baby, repeat) and taking care of Liv. In between, of course, I look at my family and think how did I get so lucky?, then it's right back to it.
There are times when I notice my lack of strength (6 weeks without working out is FOR REAL), and that things definitely don't look the same. I've lost a lot of muscle definition, and my stomach still kind of looks like a sad old man face. I know I'll be able to get my strength and definition back over time. In the mean time, I'll just be thankful that I was able to house and birth a (very large, and healthy, thank God) baby. Pregnancy and childbirth never cease to amazing me. It's truly one of the greatest miracles of life, and I feel grateful every day that I was be able to carry and deliver our babies. This is why I feel awkward complaining or discussing a post baby body, because it seems so trivial in a world where many women want to have a baby more than anything, and they're not able to. I feel like they would want my "sad old man face" belly, and for that reason along with many others, I'm thankful for this experience and everything that comes along with it.
Does that mean that I don't want to get back in shape, be able to lift heavy weights, sprint, barre, Spin, and yoga my little heart out?
I CAN'T WAIT TO DO ALL OF THESE THINGS.
Yes, I'm yelling, because I'm really excited about it.
I want to get back into everything for the mental benefits. Working out makes me feel like a human. I give myself goals to work towards, I LOVE teaching a room full of inspiring and motivated individuals, and working out is my stress reliever. The physical benefits are just the icing on the cake.
Mentally, I'm feeling a lot better than I was, but my hormones are still a bit all over the place. I've had days where I've cried quite a bit, because P seemed like she was in so much pain, and I felt overwhelmed and helpless. Other days I feel like "ok, I've got this." I talked to someone about it who specializes in maternal mental health, and she said something that made me feel a lot better. She said, "Considering everything that's been going on, do you think it makes sense for you to feel like this?" By giving myself permission to feel sad, stressed, and anxious about P's reflux and choking incident -she's had a few more, but thankfully none as bad as the first one- it took some of the sadness (at least the verge of tears all day) away. I also think taking placenta pills have helped stabilize my mood, and like I said before, even if it's a placebo effect, I'll take it. I'm also glad I won't be running out of pills any time soon; my acupuncturist got 270 pills out my enormous placenta haha.
Here's what I'll be working towards post-baby, mentally and physically:
-Getting into a fitness routine again, at least 4x a week. The good news is that teaching helps me to create a weekly routine, and it looks like I'll be teaching two Spin classes, two barre classes and one yoga class each week in the new year. It encourages me to make time for fitness. In my current state, where I need to remember to put a different shirt on than the one I slept in, this is appreciated.
-Take some time each day to meditate, even if it's just 5-10 minutes. Meditation was a huge part of my life before I had P, and I haven't been able to make time for it. I know that taking a couple of minutes each day to center myself would help immensely.
-Following the strength plans in Post-Baby Bod. The plan is completely finished, but I want to check out the flow and timing of the various exercises before I release it. My tester group rocked out the workouts (and had amazing results!!) so I can't wait to share it with you all. I'll be Instagramming and documenting the whole thing.
-Focus on eating well, getting outside each day, and showering on a daily basis. They seem like such simple things, but when you have an itty bitty one, sometimes you look at the clock, it's 5pm and you're still in pajamas. I had a couple of days like that last week, and I felt pretty terrible (lethargic and blah). By having to give up dairy and eggs for P's reflux, it's forced me to eat much healthier than I would choose to. Breastfeeding sweet tooth is serious, and I've been making some vegan treats to quell the beast. You'd think that having to eat veggies, grains, fruits, nuts, and meats would be a good thing, but my soul needs some sweets or savory delights in there, too. It's a matter of finding ones that I can enjoy right now without it affecting P.
-Orangetheory once a week. I saw my greatest fitness gains when I was doing Orangetheory, especially with running. It's the one class that's just for me (since I don't teach it), and it's going to be amazing to have it back in my life.
-Continuing to enjoy active events as a family. It's fun to kick a soccer ball around the park, walk while Liv rides her scooter, and get in activities as a family. I'm so excited for P to be a part of that.
Here's my last "official" belly photo at 39 weeks: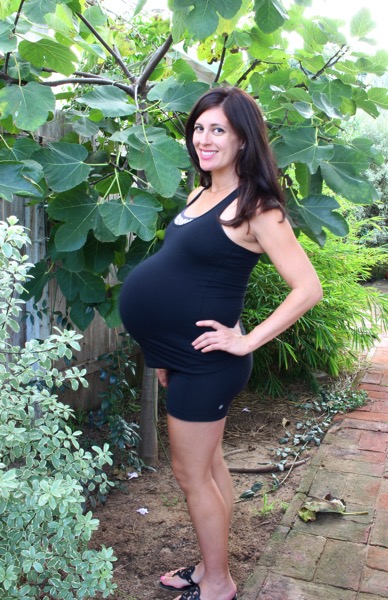 (Little did I know I'd make it to 41 weeks and 3 days!)
and here's where we're at right now, 6 weeks postpartum.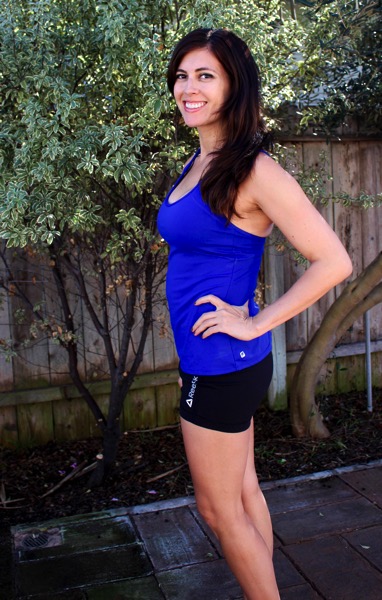 My pre-baby clothes fit me, albeit a little differently. I'm not sure what my weight or body fat % is, but they'll probably weigh me at my midwife appointment this week.
In the meantime, I'm going to enjoy getting back into the fitness world, show myself some patience -it takes 9+ months to grow a baby- try to take some time for myself amidst the craziness, and enjoy the ride.
xoxo
Gina
My PDB posts after Liv was born:
Want to be the first to get Post Baby Bod? Be sure to sign up for the newsletter here.