I've been on a protein pancake kick lately.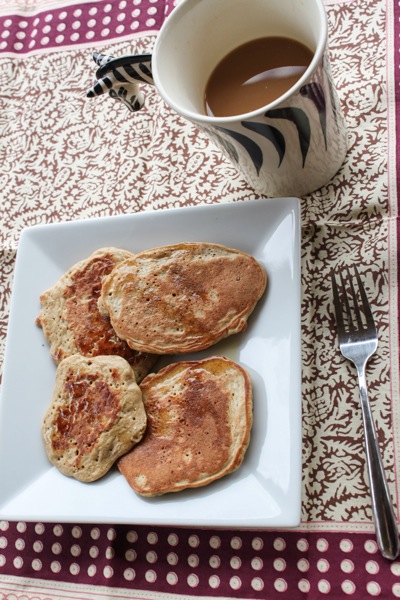 I realized they're just as quick and easy to make as my beloved egg burrito, and keep me satisfied for a long time. This morning's batch accidentally had about a tablespoon of baking powder, since I kind of stopped measuring things. I tapped the can a little too fiercely and my pancakes ended up tasting like baking powder, and since there was no time to make another batch, I covered them with almond butter, maple syrup and then jelly. It worked.
This morning we had to take Liv to the ped's to get her 6 month shots.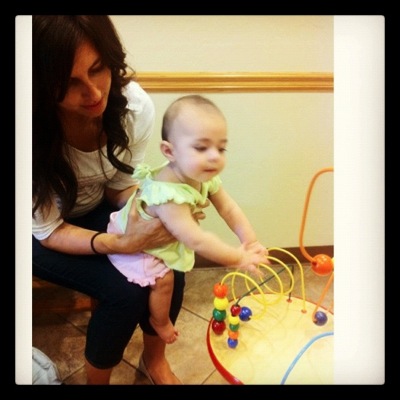 (The best pic we could get- she was dominating that ball table thingy)
The Pilot brought me an eegee so I'd feel better. As calm and relaxed as I try to be for her sake, in the end, I'm always holding her as she cries afterwards with tears streaming down my face. She's laying on the table so happily, cooing at everyone and then as soon as the shot goes in (the nurse is ninja quick), the big frowny face and alligator tears come out. Breaks. My. Heart.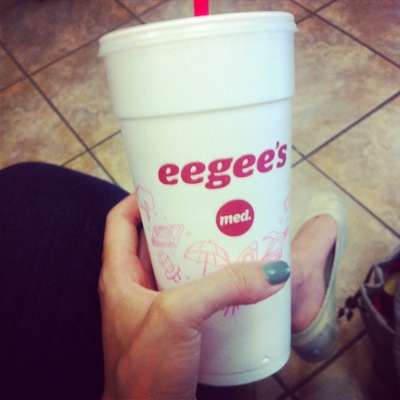 We wait ALL YEAR for July to be here. Watermelon > all other eegee flavors.
Dinner tonight was kind of a fun little surprise: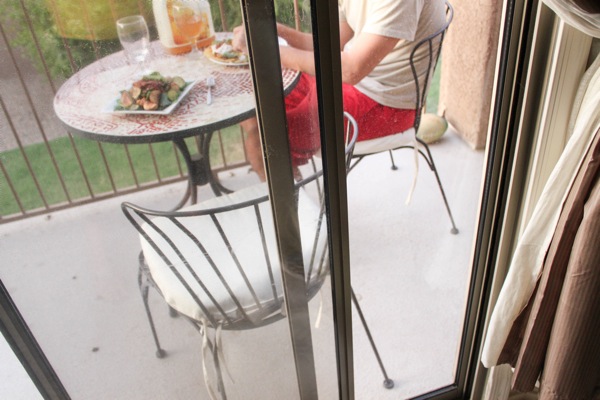 While I was putting Liv to sleep, the Pilot set out our new balcony chairs and cushions (World Market is having an awesome sale), so we could dine on the balcony.
Chicken tacos for him: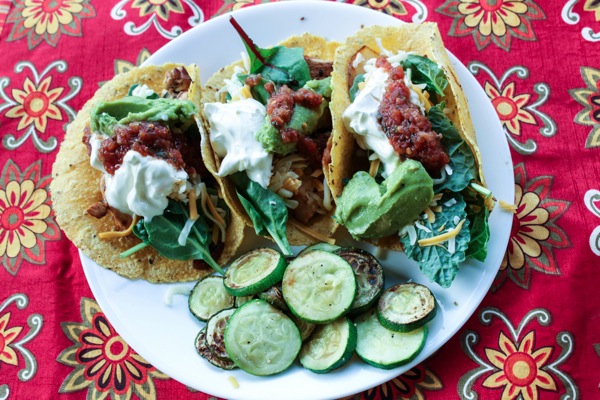 (I cooked the chicken with onions so they caramelized, and seasoned with cumin, paprika, seat salt, pepper and chipotle Cholula)
and taco salad for me: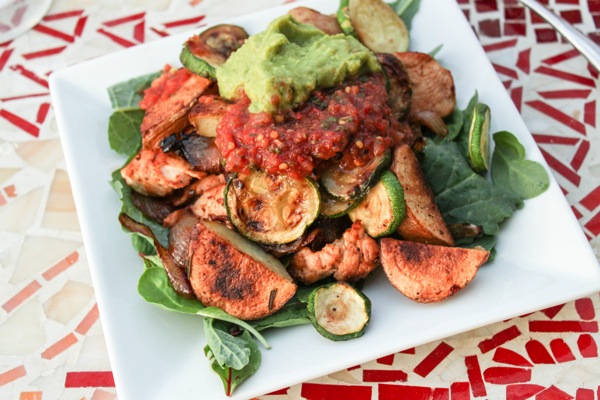 With guac, potatoes, zucchini, chicken onion mixture, greens, covered in salsa
I would have had mine taco-style, too, but had brown rice cereal as an appetizer while I was cooking: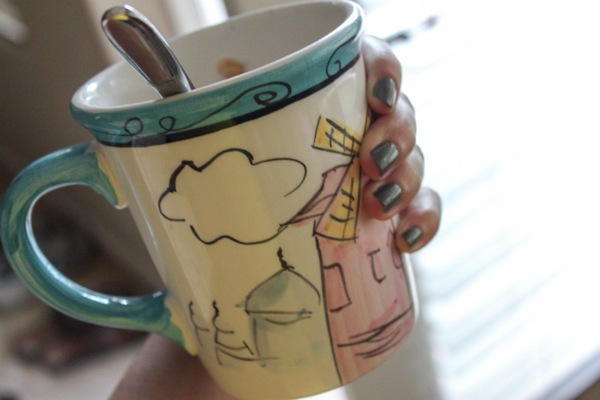 An amazing little feast: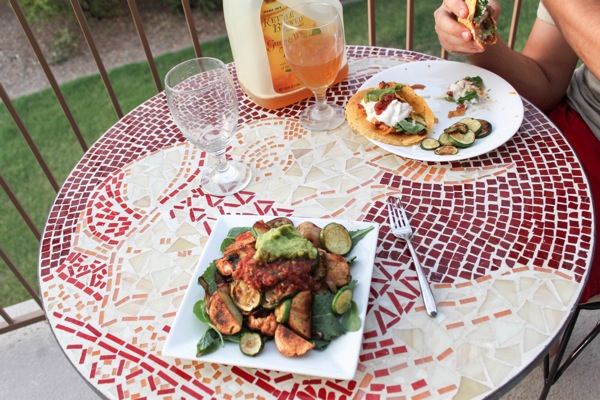 With Bella and her crazy chicken eyes, praying some food would fall: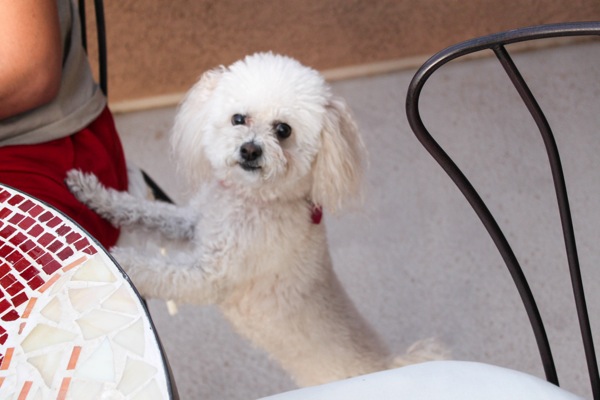 and a verrrrry nice view. The sunset wasn't too bad, either 😉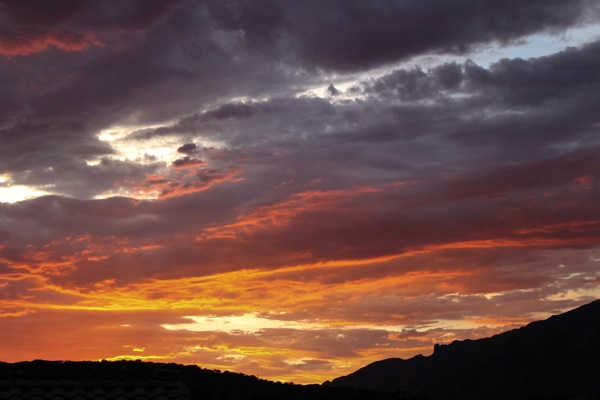 I'm off to film this week's Tabata Thursday video. Who did the Schweaty July Workout today??
Have a great night and I'll see ya in the morning!
xoxo
Gina
New Family post! Liv is 6 months old <3
Head's up: Tarte (one of my favorite makeup lines- they make the eyeliner and eye shadow palette I'm obsessed with) is having a new set available this Friday only at QVC.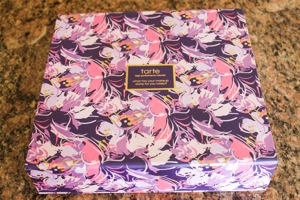 It's valued at $160 and is under $50 for the 6 items, including:
-lip shine (in a perfect shade of pink- it looks more like a tint and goes on smoothly)
-foundation (which I usually skip and use tinted moisturizer instead. Since my current moisturizer isn't tinted, I gave the foundation a try and it was very nice to have my skin all be almost the same color. It was like, not cake-y, and word to the wise: it runs a little dark. I got the light shade and it's perfect, when I'd usually use medium)
-maracuja oil rollerball, which contains Vitamin C and essential fatty acids to smooth, brighten and firm skin. I used it before bed the other night and loved how soft it made my skin feel.
-creaseless shadow/liner combo- new fave, 100%. It was a fun switch-up and the eyeshadow lasts all day and is a lovely light, shimmery pinkish plum color.
-foundation brush- excellent quality and I used it to make sure I didn't get that funny foundation chin line
-mascara- this is the only thing from the set I have yet to try. I save mascara for "special occasions" (like date night or a party) because I think that everyday use actually makes your lashes look shorter. I'm weird, but whenever I actually do use mascara, I feel like it works better because it's not something I usually use? Anyway, I'm excited to try it out.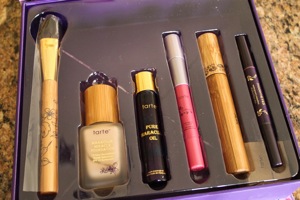 Tarte creates products with incredible quality, as they last a long time, have staying power and gorgeous colors. Bonus: they're also natural and cruelty-free (never tested on animals). A percentage of proceeds from the sale of this kit will go to SAP (Sustainable Amazon Partnership) which helps promote lasting sustainable management of the Brazilian Amazon Rainforest. Definitely worth checking out! (Don't forget, it's this Friday only at QVC.com)
Thank you to Tarte for sending me the set to try out! It was a freebie, but as always, all opinions are my own <3