Happy half-birthday to you,
Happy half-birthday to youuuuuuu,
Happy half-birthday, little love of my life…..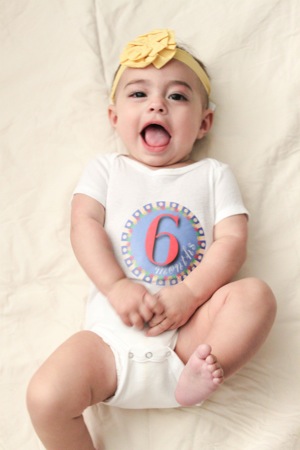 I can't even believe it's been 6 months already. Watching her change and grow, learn, start to move, eat solid foods,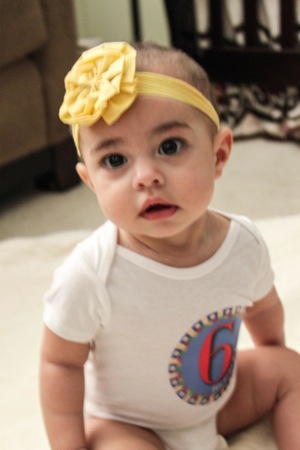 it's been absolutely amazing.
Here's what's new this month:
-Moving and shaking! Little Miss will probably start crawling at any time now. She can get on all fours and rock forward and backwards, but can't quite move her knees yet. She'll move her hands forward, slide onto her belly and then lift up into a "Superman" position. It's so much fun watching her try to figure it out. With that will be the fun of baby-proofing. We're going to get started this week by mounting the TV to the wall (and hiding the cords through the wall), mounting furniture, locking the cleaning cabinet and picking up some baby gates. Our little cousins are staying with us next week, so it will definitely be good practice for what's to come.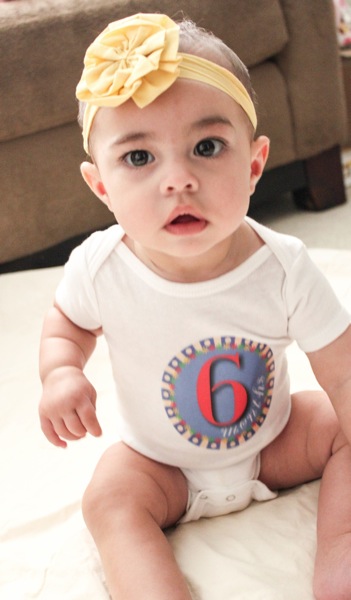 -Talking like crazy. Her little babbles and opera star trills have turned into full-on conversations in baby language. When Tom took her over to her BFFs house for a pool date the other day, the second the babies saw each other, they smiled, reached for one another and proceeded to have at least a 10-minute "conversation," babbling back and forth. So stinking cute- I was bummed that I missed it.
-Favorite things: right now, she's still crazy about books (I hope she always loves reading), plush toys, Elmo and pulling Bella's fur. I try to tell her "gentle hands" but for now, that means grab a chunk and pull. Poor Bell, but she quickly forgives Liv when she has sweet potatoes for dinner and Bella gets the leftovers. 
She loves this cup: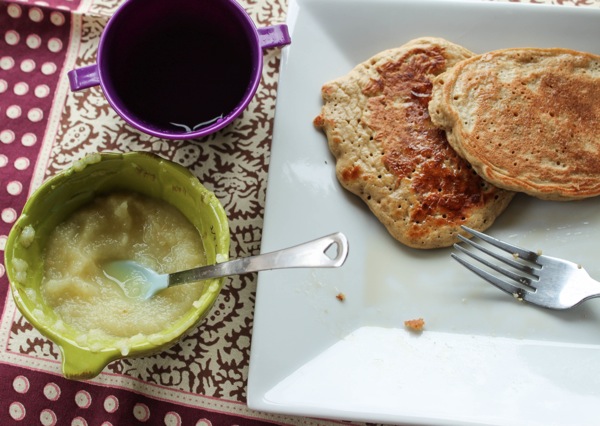 This table (a gift from a family friend)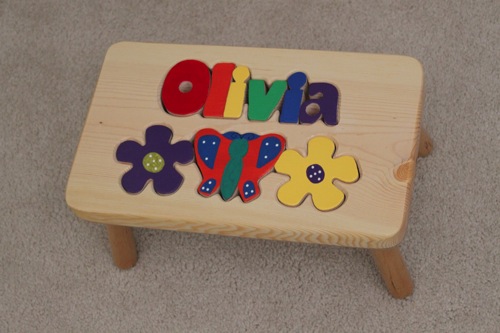 Singing! Current faves are songs that are made up, including the Livi song and B-E-L-L-A ("There was a Livi had a dog and Bella was her name-o")
+ anything that makes crinkly noises, like the wipes bag.
We're also having a blast taking classes at MyGym. Lots of playtime and songs for Liv, time to talk and catch up with some fellow mom friends for me 🙂 
-Food. I love watching Liv try and experience different foods and have been making her food at home (usually steamed and blending in the food processor). She loves the mesh feeder, too. I was really big on Baby Led Weaning, and Tom was fiercely against it, and then we had our first and only incident when she bit off a larger piece of cantaloupe and scared the hell out of us. She's only eating purees and food through the mesh thing since then, at least until she gets a couple of teeth and can chew. It's nice to have feeding time be fun time, instead trying to breastfeed, likely being denied, giving Liv a bottle while pumping, and spending hours pumping in addition to that each day. Instead, she'll drink a bottle, I'll make myself something to eat and a plate of food + water for Liv, so we have a little "meal date" together.
I wanted to breastfeed for at least a year, but despite everything I did, it didn't work out that way. I made it almost 6 months, which is a huge victory for me, considering I was working with one side and exclusively pumping for the past few months. Towards the end, I saved everything I pumped and froze for her to drink after her 6 month shots. It might help, it might not do anything, but I feel better knowing she'll get some breastmilk on shots day.
While I'm sad that this part of my life is over for now (it feels like something died, which is dramatic, but it's pretty heartbreaking), I'm proud of myself for sticking it out as long as I did. At the same time, one of the major stresses in my life (pumping like crazy, damaging the tissue of my right side from the hours I spent pumping it when nothing would come out, 19 pills a day) is gone, and that's more energy and time that I can devote to taking care of Livi. I'm hoping that with our second child I'll be able to successfully breastfeed with one side, but if it doesn't work out that way, I'm not going to be as hard on myself as I was in the very beginning. Still, I can't help the twinge of jealousy I feel to see moms breastfeed their babies.
-When Liv was teeny tiny, it was hard for me to imagine her smiling and talking- she seemed like she'd just be a cuddly little baby forever. Her personality has developed so quickly and becomes more vivid and apparent everyday. She's clear about what she likes and dislikes (she'll blow raspberries if she doesn't want something), and loves being a part of the action. She's easygoing, spirited and curious, and I'm so excited to be able to show her things for the first time. While we were in La Jolla, I could watch her face walking the birds, seals and staring at the ocean all day.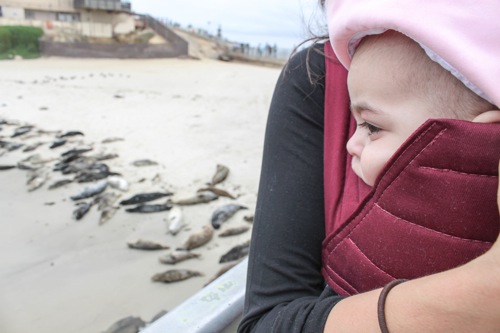 Lately with Livi around, we've been getting asked for advice from parents-to-be. I always tell them congratulations and that it's the most amazing thing ever, and just to remember that it gets better and easier everyday. People told us that in the beginning, and it's so true. Every day is easier, every day is more fun, and every age seems like the best age. (I may revise that when she's a teenager, haha)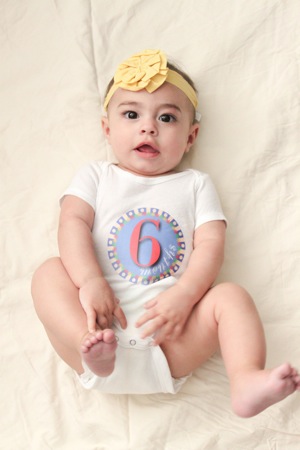 Thank you, little Livi, for an incredible 6 months <3
Some fun reads:
More Awkward TTC Moments 
 10 Things I Want My Daughter to Know (LOVE this)
More re-caps: